When we first moved to NE Missouri, we purchased a Sun Oven brand solar oven. It came highly recommended by our friends and neighbors, and we were able to do a group purchase for a small discount. Three years later, I can say with certainty that it is one of the most useful tools on our off-grid homestead. In this post I'll share my best tips on how to bake in a solar oven so you feel empowered to give it a try!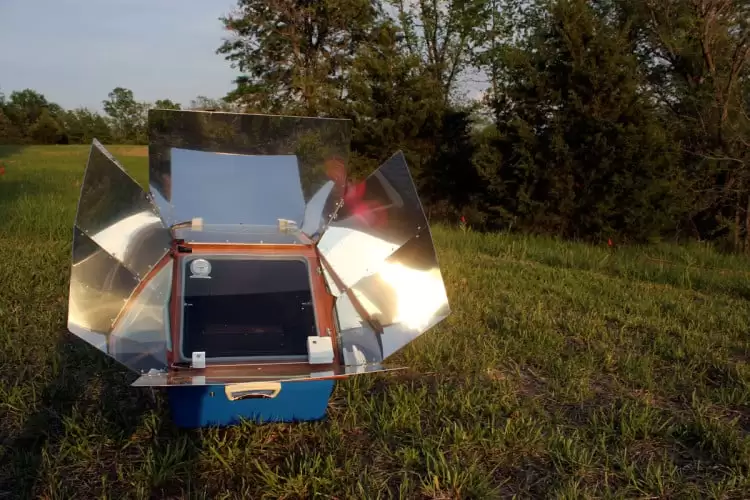 Why Should You Bake in a Solar Oven?
Because we do not have an oven in our home, we use our solar oven year-round, as often as possible. It allows us to bake, roast, dehydrate, and heat with great ease. Even if you have a home oven, I would still recommend making or purchasing a solar oven for several reasons:
1) In the summer heat, who wants to bake indoors?
2) Solar ovens use the ultimate renewable resource – the sun – to create heat, thus saving you resources and money.
3) A solar oven is a great tool to have if your oven breaks, you run out of propane, the electricity is down, etc. It's a perfect addition to your preparedness toolkit.

What Can You Bake in a Solar Oven?
Anything you can bake in a regular oven! I have successfully baked countless dishes such as frittatas, roasted root vegetables, lasagna, braised rabbit, rice, blueberry muffins, bread, cookies, and cheesecake. I have also used our Sun Oven to dehydrate zucchini chips and sun-dried tomatoes, and to cook down tomato sauce into paste, and apple sauce into butter.
The only qualification I will make is that I find that the Sun Oven does not do as good of a job browning and crisping as a home oven might. When I roast potatoes in the solar oven, they will end up soft and delicious, but rarely golden brown and crisp.
How Long Does it Take to Bake in a Solar Oven?
When I post photos of our solar oven bakes, this is one of the most frequently asked questions. The answer really depends on the temperature inside the solar oven. One of the features I really love about our Sun Oven is that it has a temperature gauge built in, so I know exactly what the temperature is inside.
On a hot sunny summer day, the temperature is typically between 300 and 350 degrees F. On a sunny but cold winter day, we rarely get temperatures above 250 to 300 degrees F.
If the solar oven temperature is at 350 degrees, and I have a recipe that calls for a 350 degree oven, then I assume the baking times will be the same, set my timer for the duration indicated in the recipe, and check on the bake at that time, just like I would in a home oven.
If the temperature is lower, the cooking or baking will take longer. Because I need to turn the oven to keep it facing into the sun, I simply check on the dish each time I turn the oven.

Using your solar oven really is quite simple, but here are some tips and tricks for how to bake in a solar oven that I have learned over several years of use.
How to Bake in a Solar Oven
Keep the glass and reflective surfaces clean – This may seem like a trivial detail, but since your solar oven uses reflection to focus the sun's rays into the cooking box, the cleaner the reflective surfaces, the better the reflection. I regularly wipe the surfaces down with vinegar and water.
Track the sun – Rotating and tilting your solar oven frequently to keep it facing directly toward the sun will help the oven heat to it's highest potential. This is especially important if you are need to achieve high temperatures for roasting or baking.
Or not… – On the flip side, if you are dehydrating or slow simmering (for instance, making apple butter), keep the oven turned slightly away from the direct path of the sun.
Keep it full! – On a sunny day, you can cook several different batches of food, one after the other. Just yesterday, I put squash in the oven to bake at 10am. At 1pm, I baked a batch of brownies, and at 3pm, I put a frittata in the oven to bake. If I had more daylight, I would put a pot full of water in to heat for dishwashing, making best use of the sun.
Use smaller containers – Particularly when baking muffins or breads, I get a more even bake when I use small containers such as mini-muffin tins or small loaf pans. When I'm baking cookies, I make them small and even sized.
Anchor the base – Our Sun Oven came with some metal stakes to anchor the oven into the ground. Of course these were lost at some point, so we use a brick, a rock, or, these days, a heavy toy tractor. You really don't want a gust of wind to knock over a solar oven full of apple puree. Ask me how I know this 😉
A solar oven really is an indispensable tool for an off-grid homestead. I recommend the All-American Sun Oven. Make the investment once, and enjoy using it for years to come.
Pin it for Later: