I love cheesecake, and back in Oregon when we were milking Alpine goats, I made it regularly with our soft goat chevre. I adapted a recipe from Donna Hays, and instead of using ricotta and cream cheese, I just substituted chevre. This winter squash cheesecake recipe is one of the most delicious cheesecakes I've ever made, and the fact that it's made with almost all locally grown ingredients makes my heart soar with delight.
On my birthday five years ago, when I was 9+ months pregnant with Everett, I made an enormous cheesecake, cut half for myself, and saved half for my good friend Kerstin, whose birthday is the day after mine. Kerstin lived uphill from us – up a very steep hill – and on the morning of her birthday we set off on a hike with cheesecake in hand. Wouldn't you know, the very next day I went into labor ten days early, and delivered Everett at home. Some cheesecake!
With our incredible winter squash harvest, we've been cooking one every other day, so I always have some squash puree sitting around. When the stars aligned and I had fresh soft cow's cheese from Creme Brulee, squash puree, AND a sunny day to bake in the Sun Oven, I jumped into action and created this sweet and spiced cheesecake (with some inspiration from Martha Stewart's recipe). It was so good that I made it again a few days later so I could, um, document the recipe. Right.
This is an incredibly local recipe, and I don't necessarily expect everyone to have soft cow's cheese, or Sweet Meat squash, or sorghum sitting around (if you do, great!), so feel free to substitute as needed.  Ricotta and cream cheese would sub nicely for the cow's cheese, you can use any type of pumpkin or squash you like, and the sweetener is also switchable. I like to mix everything except the eggs in the food processor, taste it until I get the seasonings and sweetness right, and then add in the eggs.
The key to a delicious cheesecake is to let it cool thoroughly.  The scent of this pumpkin-spicy cheesecake will make you want to cut into it immediate. But don't do it. Wait at least 4 hours, and preferably longer before eating. It will be so worth the wait!
Winter Squash Cheesecake Recipe
CRUST
2 1/2 cups gingersnap cookies or graham crackers
2-3 TBSP butter or coconut oil, melted
FILLING
2 cups winter squash puree
2 cups soft cow cheese (like a fromage blanc, or sub in chevre, or half ricotta and half cream cheese)
3/4 cup sorghum (or your sweetener of choice. If using honey, start with 2/3 cups and taste for sweetness)
1 tsp cinnamon
1/4 tsp clove
1/4 tsp ground ginger
1/4 tsp freshly grated nutmeg
3 eggs
Directions:
Preheat your oven to 300 degrees F
Place gingersnap cookies in a food processor to crush
Combine with butter, and press firmly into the bottom of a 9″ springform pan
Place all filling ingredients (except the eggs) in a food processor, and blend until a smooth and creamy consistency. Taste the filling and adjust the sweet and spiciness.
Add the eggs and continue to food process until the entire mixture is blended and creamy
Pour filling mixture into the springform pan
Bake in the oven for about 1 hour and 10 minutes, or until set
Remove from oven, place on a cooling rack and let your winter squash cheesecake cool completely for at least 4 hours (yup, 4 hours!).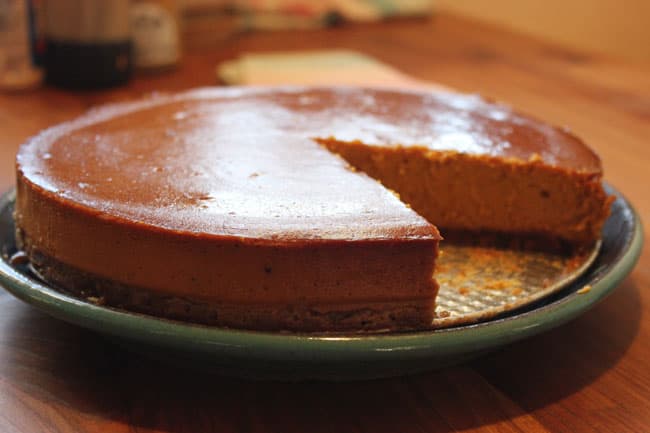 Love the recipe? Pin it for later!