Because we live in a tiny 350 square foot house, we have not found a way to fit an oven into our small kitchen. However, my husband and I both LOVE to bake. In the summertime, we harness the sun and bake in a Sun Oven. The rest of the year, we experiment with ways to bake without an oven. Last year, we perfected two methods of baking without an oven – stovetop bakes and Dutch oven bakes. This winter, we had great success with yet another method of baking without an oven: Woodstove Bakes.
Many of our friends have Amish-style cookstoves with ovens and cook surfaces, but we only have a woodstove for heat. One day I had the idea of baking IN our woodstove. And so the fun experimentation began.
My husband spent a decade baking sourdough artisan bread in a homemade brick bread oven. We had to leave this oven behind in Oregon, and really miss his amazing bread. Our first woodstove bake was a loaf of sourdough bread, baked in a deep dish cast iron skillet.
A successful wood stove bake depends on the right amount of hot coals in the firebox.  The photo above shows too many red hot coals – the final product will burn too quickly and the inside will not cook through.
The bed of coals pictured above is much better – still a few red hot coals, but most are cooler. We found that the best results were achieved when we placed the cast iron skillet atop a fire brick.  The fire brick protects the bottom of the pan from burning, while still allowing the bake to cook through.
Baking in a woodstove is not an exact science, nor is it possible to close the stove door, set a timer and walk away. Rather, it requires a bit more attentiveness and checking on the bake periodically.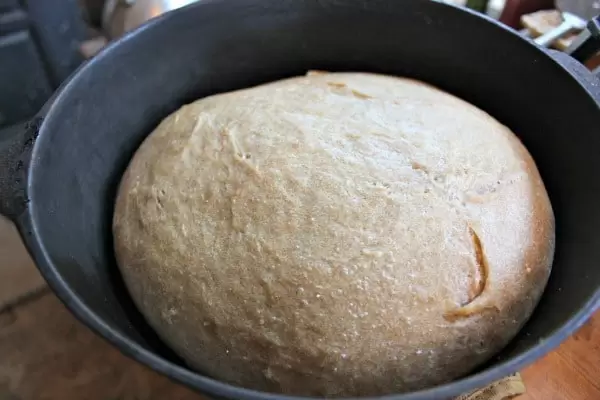 Perfect looking bread! A few of our bakes had a slightly smokey flavor, caused by wood that was not completely burned down to coals. It was not an unpleasant flavor, simply reminiscent of campfires.

Living off-grid and in a tiny house requires lots of creativity and problem solving.  Woodstove bakes are just one more way to create the food we love without equipment we don't have space for!
---
 Pin this post for later: