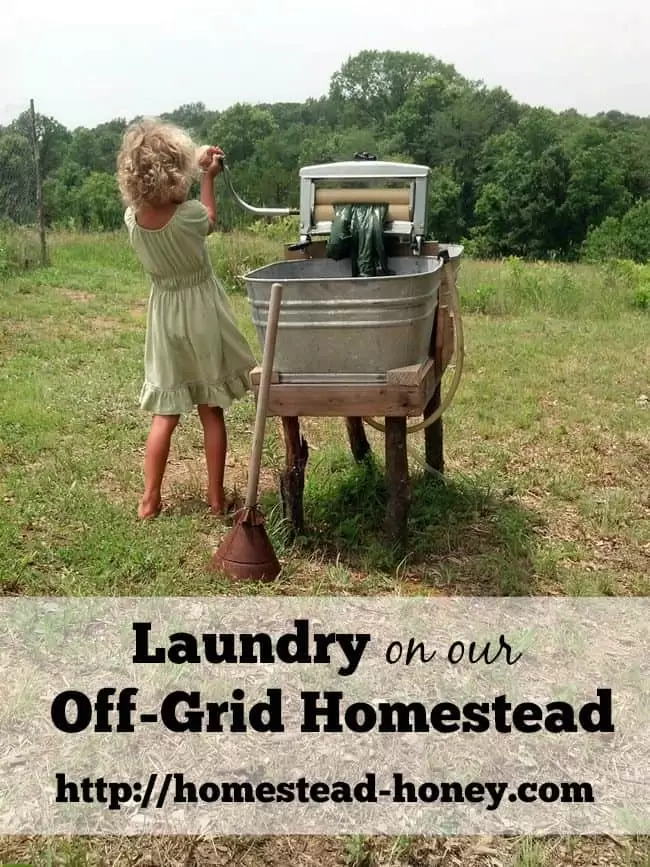 After bathing, laundry is one of the more challenging aspects of living on our off-grid homestead.  Between having two kids, doing hard physical work (and sweating buckets in the summer time), and using cloth washrags for our milking routine, we generate a lot of laundry, typically between 3-4 loads per week.
Because we do not have pressurized running water, we are not able to run a regular washing machine. In our early days of living on this land, we had a beautiful dream of washing clothes by hand in an Amish-style washtub. The washtubs are quite dreamy, really. You simply fill one side with your washing water and soap, and let the dirty clothes soak for a bit.  Then, you can use a washboard, or just agitate the clothing by hand. After washing, you run each piece of clothing through rollers to squeeze out the liquid, rinse on the other side with clear water, and then run the clothes back through the rollers to dry them before hanging on the line.
As beautiful and efficient as this sounds, the reality is, we simply don't have time to wash our clothes by hand.  We will occasionally do small loads, partly because it is truly fun, and the kids are able to participate fully in the entire process. I also love that I CAN do laundry at home, completely self-sufficiently, even if this season of our life doesn't allow us to do so.
There are other off-grid laundry options. A friend offered us this small handwasher, but it only fits a few items of clothing at a time. For now, as unglamorous as it sounds, we do our laundry at the laundromat. Once a week we schedule our town errands such as laundry, library, and food shopping, and get everything done in one fell swoop. Instead of using the laundromat's dryers, we head home with our wet clothes and line dry.
Even in the winter months, we hang clothes outside on the line. In the coldest weather, wet laundry will freeze-dry quite effectively. During rain or snow storms, we get quite creative, stringing rope from one end of the house to the other to form makeshift clotheslines.
This summer, we received a Homesteader Drying Rack from Homestead Store, and it has been an incredible addition to our laundry routine.  Because we do so many loads at once, we sometimes run out of space on our (huge) clothesline.  On those days, we set up the wooden rack on the grass.  When it rains, I bring it into the house.  The Homesteader model is so large that it fits about 2 loads of laundry, but it folds up to compactly store on hooks behind our tool shed.
Homestead Store also has an amazing assortment of homesteading essentials, such as books, DVDs, stainless steel kitchen tools, cast iron cookware, tools, beekeeping supplies, and so much more. I feel like I could spend hours dreaming over their assortment!
Homestead Store has also generously given us a discount code to use on their entire site.  Enter the code "homesteadhoney" to receive 10% off your entire order at homestead-store.com.