Winter just does not feel like winter without an ample supply of baked goods. My husband is a cobbler and pie lover, and I a muffin, cake, and cookie gal. Together, we have spent many a winter eve enjoying a fresh blackberry cobbler with whipped cream, or woke to a delicious blueberry muffin. But this winter, baking has been a bit more challenging because we do not have an oven.
Thankfully, we have learned how to bake without an oven.
Baking when you don't have a readily available oven sitting in your kitchen takes a bit more time, planning, and creativity, but we have grown our skills to include several methods of baking without an oven. Among our favorites are Dutch ovens, and what I will call Stovetop Bakes. In this post, I share our experience with Woodstove Bakes.
Baking in Dutch Ovens
Being more of a backpacking family than a camping family, we had never really explored the world of Dutch oven baking. Typically, Dutch oven users suggest using charcoal briquets, and it is a more refined way of controlling temperature for your baking, but our family prefers to use wood over charcoal briquets. It's a lot cheaper, and we never run out of wood!
First, we build a great big campfire in our backyard…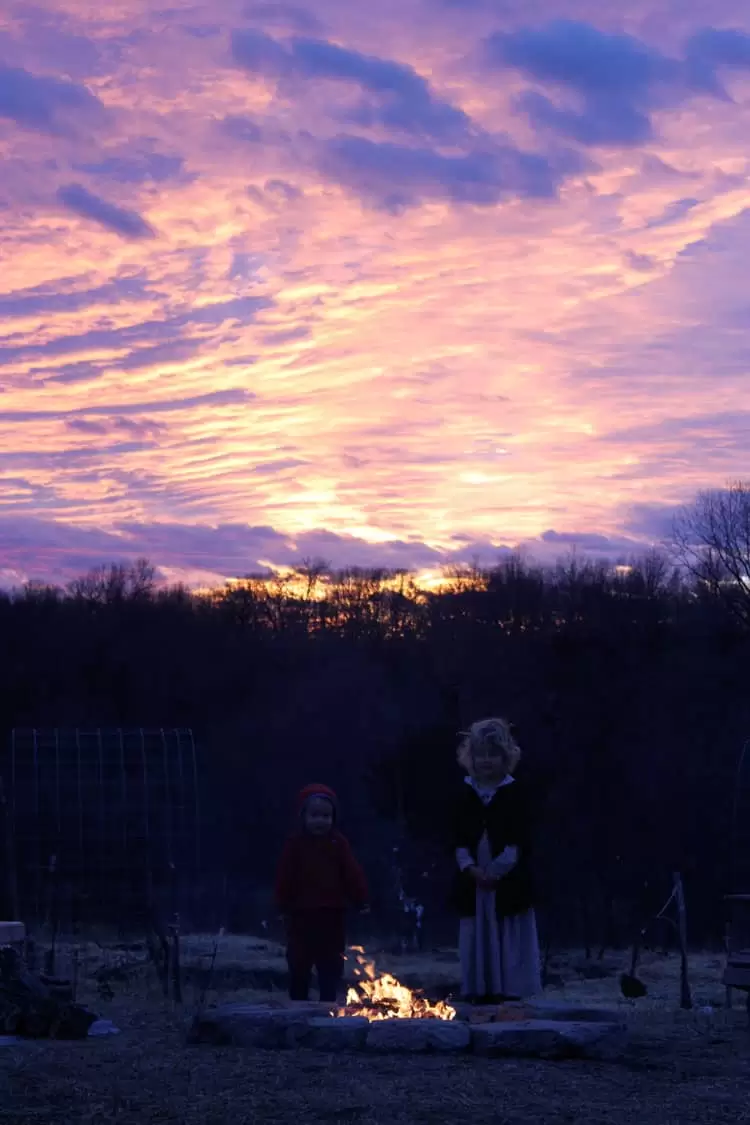 Then, we pile hot coals on top of the Dutch Oven, and underneath. You'll want to put about 2/3 of the coals on top, and 1/3 on the bottom. A great Dutch oven pot will have a lip on the lid to hold the coals in place, and legs to allow you to place coals in a circle underneath the pot. This is a good model to check out.
Because it is harder to control the temperature using wood, we keep a close eye on the baking until it's done. So far, we've enjoyed buttermilk biscuits, and blueberry and apple cobbler!
Here are some other Dutch Oven recipes that I'm excited to try:
Zucchini Bread, from Learning and Yearning
Dutch Oven recipe round up from MomPrepares
Dutch Oven Lemon Roasted Chicken from Montana Solar Creations
How to Bake on your Stovetop
An easier, quicker method of baking a delicious fruit dessert, or a savory pot pie-like meal, is cooking a stovetop "slump". A slump is technically a stewed fruit dessert, in which a biscuit topping is put on top of the fruit filling.
We first discovered the slump in the cookbook Rustic Fruit Desserts. Since our first experiments a few weeks ago, we've come to love the ease with which we can "bake" such a satisfying and warm meal or dessert. Rather than baking in the oven, you cook a slump on a stove top with the lid on, and the topping steam-cooks. You'll want to use a heavy weight pot such as these Dutch ovens from Le Creuset.
Above is pictured a savory slump – a chicken pot pie, really – but cooked on the stovetop. So GOOD!
And this is a blueberry apple slump. Aside from the fact that the topping does not get browned, you'd never know it was not baked. Can you see in this photo how the topping sort of "slumps" down. Hence the name?
Next time you find yourself without an oven, try one of these creative ways to bake!
Building an Outdoor Pizza Oven
Pin it for Later: