Winter just does not feel like winter without an ample supply of baked goods.  My husband is a cobbler and pie lover, and I a muffin, cake, and cookie gal.  Together, we have spent many a winter eve enjoying a fresh blackberry cobbler with whipped cream, or woke to a delicious blueberry muffin.  But this winter, baking has been a bit more challenging because we do not have an oven.
Thankfully, we have learned several creative ways how to bake without an oven.
My two favorites are Dutch Ovens, and what I will call Stovetop Bakes. In this post, I share our experience with Woodstove Bakes.
Baking in Dutch Ovens
Being more of a backpacking family than a camping family, we had never really explored the world of Dutch Oven baking.  Some, like my friend Annie at Montana Solar Creations, consider this an art form!  She has written a fantastic guide on how to bake in a Dutch Oven, which you'll find here.  Erica at MomPrepares also has written about how to use a Dutch Oven here.  She was lucky enough to attend a class where she learned to cook an array of Dutch Oven treats such as Pork Loins, and Pineapple Upside Down Cake!
Both of these posts suggest using charcoal briquets, and it is a more refined way of controlling temperature for your baking, but our family prefers to use wood over charcoal briquets.  It's a lot cheaper, and we never run out of wood!
First, we build a great big campfire in our backyard…
Then, we pile red hot coals on top of the Dutch Oven, and underneath.  You'll want to put about 2/3 of the coals on top, and 1/3 on the bottom.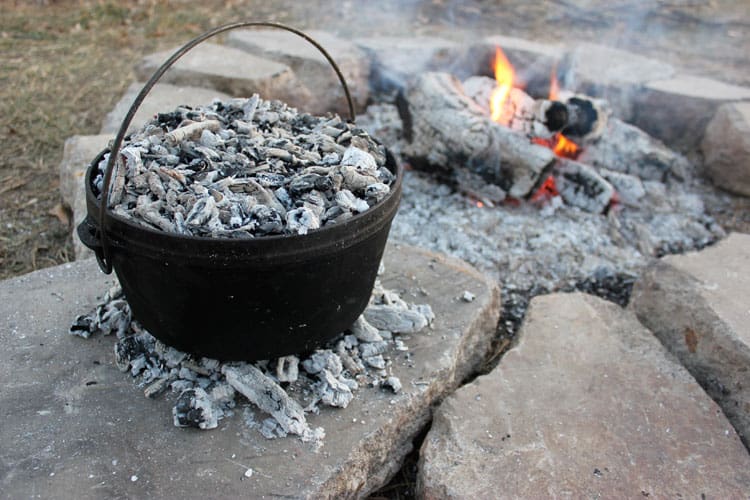 We keep a close eye on the baking until it's done.  So far, we've enjoyed buttermilk biscuits, and blueberry and apple cobbler!
Here are some other Dutch Oven recipes that I'm excited to try:
Zucchini Bread, from Learning and Yearning: http://learningandyearning.com/2012/08/17/dutch-oven-cooking-zucchini-bread/
Dutch Oven recipe round up from MomPrepares: http://www.momprepares.com/dutch-oven-recipes/
Dutch Oven Lemon Roasted Chicken from Montana Solar Creations: http://www.montanasolarcreations.com/2012/10/foodie-friday-simple-dutch-oven-lemon.html
Stovetop Bakes
An easier, quicker method of baking a delicious fruit dessert, or a savory pot pie-like meal, is cooking a stovetop "slump".  A slump is technically a stewed fruit dessert, in which a biscuit topping is put on top of the fruit filling. Rather than baking in the oven, you cook a slump on a stove top, and the topping steam-cooks.  We first discovered the slump in the cookbook * Rustic Fruit Desserts. Since our first experiments a few weeks ago, we've come to love the ease with which we can "bake" such a satisfying and warm meal or dessert.
Here is a savory slump – a chicken pot pie, really – but cooked on the stovetop.  So GOOD!
And a blueberry apple slump.  Aside from the fact that the topping does not get browned, you'd never know it was not baked.  Can you see in this photo how the topping sort of "slumps" down.  Hence the name?
Until the day comes that we get a cookstove, or it is sunny enough to use our Sun Oven, I'm happy to explore the wonderful worlds of Dutch Oven and Stovetop Baking.