Tallow is a saturated animal fat you'll want to keep stocked in your pantry for its countless uses, including homemade cosmetics and natural skin products, and candle or soapmaking. Read on for 16 creative and very practical uses for tallow!
This post may contain affiliate links. Please read my Privacy Policy & Disclosures for more information.
As a family who loves meat but seeks to raise animals in a way that honors their life, we try to use as much of the animal as possible.
For instance, when we butcher our chickens, the cleaned feet go in the stock pot, and the feathers go into our compost pile.
From pigs, we use every possible cut of meat and render the fat into snow-white lard that we use for cooking and frying.
In commercial meat processing situations, fat is usually collected and rendered for animal feed.
Even a small-scale pasture-raised beef farming friend of mine recently lamented the fact that his animals' gorgeous fat was largely considered a waste product.
If you raise your own cattle, or if you purchase a side of beef, consider rendering the fat into tallow.
You can find easy, step-by-step instructions on how to render tallow here:
Easy Guide to Render Fat into Tallow
Once you've made tallow, what will you do with it? Here are a few ideas to get you started!
16 Uses for Tallow
1. Make Tallow Soap
Tallow is an ideal fat for soap making, both because of its skin-nourishing qualities, but also because it is a homesteader's fat. To ensure that you leave any beefy smell behind, you should start the soap making process with tallow that has been purified for soap making.
When you're ready to give it a try, I recommend checking out The Nerdy Farm Wife's Natural Soap Making eBook to learn the basics, and then dive into this easy and skin-nourishing recipe:
2. Use Tallow for Cooking
In our home, we use lard for high-temperature cooking or frying. But tallow would be just as delicious, and if you make it at home, you have an inexpensive and local fat supply. (Just as a side note, I saw a pint jar of tallow for sale in a natural food store yesterday at a mind-blowing price of $18.95!!).
My friend Quinn says, "If you've got tallow, use it to make fried chicken! Holy macaroni, nothing compares!" You might also try a recipe like these Elderflower Fritters.
3. Make Tallow Candles
Pure tallow can be used to make very simple emergency candles. Tallow can also be added to beeswax candles to cut expense.
Our neighbors use up to 50% tallow in their homemade candles. They advise that when adding tallow to candles, make tapers a bit thinner, so they burn cleanly and evenly.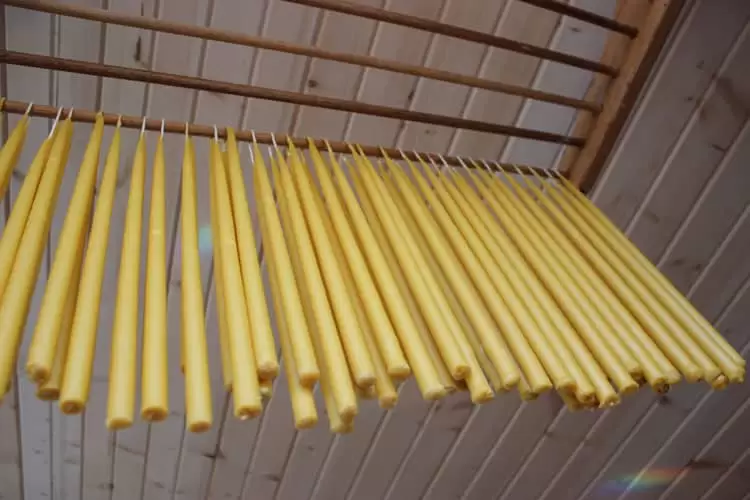 4. Make Tallow Laundry Soap
Once you've mastered tallow soap making, tallow laundry soap is quite simple to make with the addition of washing soda and perhaps some essential oils for a pleasant scent.
Tallow laundry soap cleans well but is gentle on clothing.
5. Nourish Your Skin with Tallow Balm
Tallow can be added to balms or lotion bars to create a moisturizing skin care product. I've been using the grass-fed tallow balm from Toups and Co. Organics.
They have done a really nice job creating a product that feels nourishing but not greasy, and the addition of essential oils add a pleasant scent.
6. Condition Your Hair
Not only does tallow moisturize and take care of your skin, but it's also great as a deep conditioner for hair.
If you struggle with split ends or frizz, particularly in winter, you may benefit from an occasional deep-condition with purified tallow. Rub into your ends, then run your fingers through your hair to use up any remaining tallow on your hands.
You can try making a tallow shampoo bar to help keep your hair clean and moisturized.
7. Season Your Cast Iron Pans
We primarily use cast iron skillets and dutch ovens for cooking. Keeping cast iron well-seasoned is easy when you use tallow.
8. Condition Cutting Boards
If you use wooden cutting boards, wooden cooking utensils, or anything wood in your kitchen, tallow can help keep these tools in tip-top shape.
Wood cutting boards and counters need to be conditioned. It helps them last longer, especially when exposed to regular moisture.
Simply rub a small amount of pure tallow into your cutting boards on a regular basis – perhaps make it a quarterly routine to season cutting boards and cast iron skillets!
9. Use Tallow for Lubrication
Skip the WD-40 and grab some tallow.
I'm sure my dad would be horrified by that statement, but tallow is a natural lubricant. It's possible to use it on any moving part, so if you need to lubricate a piece of machinery or squeaky door hinges, reach for the tallow.
Tallow even helps to prevent the development of rust!
10. Polish Wood with Tallow
I mentioned that tallow can be used to condition and care for wood cutting boards, but you can also use it on all your wood furniture.
Mix a few drops of lemon (or other) essential oil into tallow for an easy, inexpensive wood polish. Rub in to your wood with a clean cotton rag.
Not only will tallow naturally protect the wood, but it brings out the grain and shine.
11. Make Suet Bird Seed Blocks
If you have backyard chickens, you can make homemade suet bird seed blocks. You might even make these to feed the birds hanging around your home!
Instead of using other fats or peanut butter to keep the block together, grab some tallow and mix the ingredients in with it. The extra fats are great for birds during the winter months when they need the fat to stay warm.
12. Add to Your Animal Feed
Whether you have cats, dogs, or chickens, melted tallow is a fat source for your animals. Mix small amounts into their winter diet to boost their fat consumption.
This helps with fat storage in the winter, so they'll stay warmer. For your cats and dogs, it will also help their skin. Many indoor animals struggle with dry skin from the air inside of the houses. The extra oil keeps their skin oily and healthy. (Disclaimer: I'm not a vet, so use common sense, or chat with your animals' vet 😉 )
13. Protect Chickens from Frostbite
If you keep chickens in a cold climate, you know that their combs and wattles are prone to frostbite. Many chicken owners swear by covering these with Vaseline, a by-product of petroleum.
If you would rather use something more natural, tallow can be spread over their wattles and combs safely to combat frostbite.
14. Make a Natural Diaper Rash Cream
Tallow is a safe, effective ingredient in a homemade diaper rash cream.
Mix tallow and coconut oil (or another liquid oil) to create a spreadable cream. Be careful using too much tallow with cloth diapers though. It's possible that it will cause a build-up.
15. Make Homemade Crayons
Yes, really! If you have some carnauba flakes and tallow at home, you can make adorable, homemade crayons with food-grade ingredients.
I love this project idea for kids! Check out this recipe and tutorial by Mommypotamus.
16. Treat Sunburns
Spent too long outside? Tallow makes an excellent sunburn treatment. It helps with inflammation and irritation, while moisturizing and soothing the burn.
It works because tallow is rich in vitamins A and D. Both of these vitamins are key for skin healing. You can use tallow plain, or mix it with some chamomile or peppermint to further soothe your sunburn.
What is your favorite use for tallow?
I'm always looking for new ways to use this valuable product. Leave your ideas in the comments!
And if you like this article, please share and subscribe! You may also enjoy these related articles: