Beginning on January 1st I have been participating in the Whole30 program.  Whole30's website describes the program as "short-term nutritional reset, designed to help you put an end to unhealthy cravings and habits, restore a healthy metabolism, heal your digestive tract, and balance your immune system." Another way of thinking of it is an elimination diet that excludes inflammation-causing foods for 30 days, then systematically reintroduces food groups one at a time so you can take note of what works and doesn't work for your body.
I first heard of Whole30 last summer, and when I expressed my interest in giving it a try, my family's response was one of disbelief, mixed with a bit of teasing. You see, I LOVE my sugar and my dairy, and the Whole30 program excludes both. Also, all grains, legumes, alcohol, and some additives are off-limits for the entire 30 days (well, actually longer, as the Reintroduction period only brings in one food group at a time).
(In case you're wondering, Whole30 is a completely free-of-charge experience, with no obligation to sign-up for anything. You can purchase the Whole30 book for some great recipe ideas, but most of the information contained in the book can be found online. I checked the book out of my public library and enjoyed reading it.)
Honestly, at that time, I agreed with my family's assessment of my chances of success. How could I possibly exclude my favorite foods? And furthermore, why would I even want to? After all, we grow and raise much of our own food, including delicious raw Jersey milk. Did it make sense as a homesteader and local foods advocate to steer clear of bio-regionally appropriate choices just for the sake of an elimination diet?
Why Whole30?
Fast forward to the holiday season and the short December days. I found myself feeling sluggish and reaching for sweet treats for mid-day energy boosts. Sugar began to feel like a crutch, like an unhealthy addiction. I realized that "cutting back" on sugar wasn't going to be enough. I needed to eliminate it completely to release its grip on me.
I am a person who does really well with support and accountability, so when I learned that Linda from The Organic Kitchen was going to lead a Whole30 Facebook group starting on January 1, I jumped on board. I read the Whole30 book, prepared some Paleo mayonnaise, purchased some almond milk, and made some delicious sunflower butter. I stocked up on extra vegetables and planned a week of meals. Preparedness is key to success on Whole30, and I was ready.
The Whole30 Experience
The first three days were horrible. I was so miserable – headachy, body aches, tired – but what the Whole30 book does really well is prepare you for what's ahead, so I knew these were common symptoms as our bodies get used to our "new normal." Come day 5 and 6, I felt good. Although a lot of people report remarkable changes in health and energy level, but I did not have such marked changes, most likely because my baseline diet and health were very good.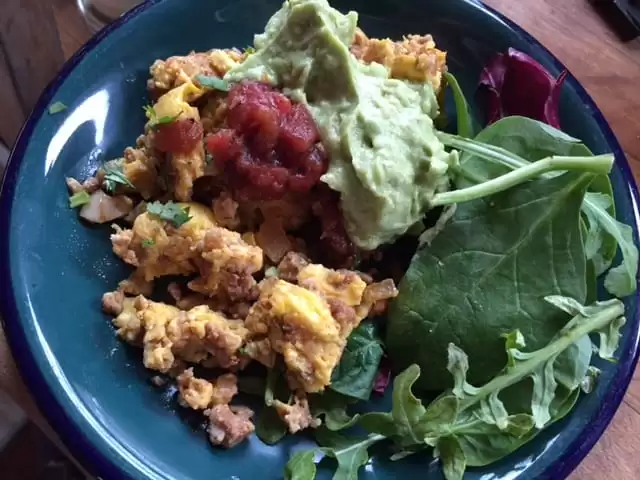 My meals, which were based around vegetables, meat, healthy fats, and fruit, were quite simple and very satisfying. A few favorites were:
Beef chili with tomatoes and sweet potatoes
Poached eggs on salad for breakfast
Tuna salad (I always had homemade mayo on hand, so this was a quick and easy meal)
Salmon "burgers" made with canned wild salmon, eggs, squash, and a tiny bit of almond flour
Our home-grown pork chops with applesauce
Roasted root vegetables
Mashed sweet potatoes and potatoes with ghee and grass-fed beef burgers
Beef stews of all kind
Root vegetable "hash" with fried eggs
My biggest complaints about the Whole30 experience was that I spent almost twice as much on groceries as I normally do, making sure I had plenty of fresh vegetables, nuts, and avocados. It also felt challenging to plan and prepare meals for myself, while the rest of my family ate non-Whole30 meals. Attending community potlucks was difficult, but I learned to plan ahead and bring something hearty as my contribution.
Many people report significant weight loss on the Whole30, but one thing I really love about the program is that they discourage you from weighing-in. In fact, they tell you to put away the scale and focus instead on "non-scale victories" such as energy level, resolved symptoms, skin changes, or reduced pain. My biggest "non-scale victories" were:
Clear sinuses and free breathing
Very even energy levels throughout the day (no blood sugar spikes and dips)
A sense of accomplishment and empowerment

Does Whole30 Fit in with Homesteading?
I really grappled with this question, as it's really important to me that my diet is a reflection of my values. On our homestead, we grow vegetables, and raise animals for meat, eggs, and dairy. My freezer is full of home-grown pork, locally raised beef, frozen fruits and vegetables, and animal-based fats (butter and lard). My root cellar is stocked with root crops, meat, and apples. My chickens are laying ample eggs for our family's needs, and we get between 1/2 and 1 gallon of milk per day. With the exception of dairy, ALL of these foods are completely in-line with the whole foods approach that Whole30 promotes.
However, I have not eaten dairy in 38 days (I'm almost done with the Reintroduction phase), which seems a bit ridiculous, given that I milk a beautiful cow each and every day. I believe that dairy, particularly raw dairy, is a wonderful addition to our homestead diet, and I enjoy eating dairy. I will be glad to add it back into my life when I complete the Whole30 experience.
Yes, I did purchase some specialty items for the Whole30 (coconut aminos, almond flour, and almond milk), but most of what I ate was exactly what I normally eat – a well-balanced diet comprised of whole foods. If I had done the Whole30 in August, I have no doubt that I would have been able to source about 90% of my vegetable, fruit, and meat needs locally.
What I Learned
I have learned quite a bit from this experience, most notably that I often reach for food, particularly sugary foods, when I'm bored or restless. (I also reach for my phone for a bit of Facebook time, but that's another 30 day challenge!). Eliminating sugar from my diet for such a long period caused me to experience sweetness in a new way, and I appreciate whole fruits so much more.
I have yet to reintroduce gluten-containing grains, but what I've learned so far is that my body does not respond well to legumes. I experience digestive distress, but more interestingly, extreme fatigue and brain fog when I eat legumes. I also had a flare-up of lower back and hip pain after reintroducing dairy, which warrants further investigation.
I actually have some excitement about doing the Whole30 again, and aiming for a 90% local foods experience. That would feel like an empowering diet that would nourish my body and my community.
** If you're interested in the Whole30, I highly recommend finding a support buddy, or joining a supportive group like this one (which is also completely free-of-charge). And if you can get your family on board, then even better!
---
Pin it for Later: