While I never expected to be living electricity-free for quite so long, there are certain benefits that come with unplugging. For one, we get to experience the warm glow of lighting with beeswax candles each and every night! After purchasing way too many cheap (or not so cheap) candles, we finally took the plunge into making our own beeswax tapers yesterday.
Preparing the dippers with wick. This particular dipper makes six candles at a time. We purchased this taper dipping rack through Glory Bee, and borrowed several more from our neighbors.
Pouring melted beeswax into the dipping vat, which sits inside of a larger pot of simmering water. We did this on our woodstove, although you could also do it on your range. Once the dipping vat was full, we returned the beeswax pot to the stove to keep warm, topping off the vat as needed. We purchased the beeswax from a local honey farm, although we hope our hives will produce ample beeswax in coming years.
Beginning the dipping process!  With the borrowed dipping racks, were able to make 12 sets of 6 candles at a time. By the time we finished dipping the last, we were ready to begin again with the first. This job went much more smoothly with two people working together. We kept the entire area between the woodstove and the drying rack covered in newspaper to minimize mess.

Getting thicker! We ended up doing 10 dips total, which has resulted in beautifully burning candles that don't drip a bit!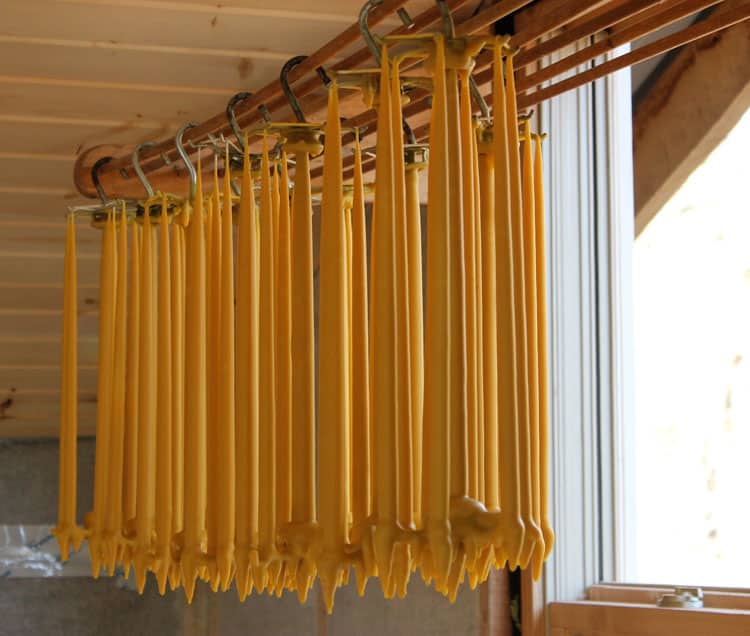 All done!

Cutting the candles off the dipper.
Everett helps clean some wax off the equipment!
Voila! 72 beautiful, sweet smelling candles to light our home. More tips about lighting with beeswax candles can be found in this post.
Pin it for later: