For the past month or two, I've been pouring over fruit tree catalogs, pondering which varieties to add to our homestead orchard.  Last year, we ordered and began planting fruit trees before we even had a skeleton of a house!  I was a bit overzealous last spring, and the task of planting 18 fruit trees, 6 fruiting bushes, and 12 raspberries proved to be a very large one.  This year, I kept my order much more reasonable, narrowing down my selection to a mere six trees, five fruiting and/or flowering bushes, and a few dozen berries (yikes!). This post will give you a checklist of considerations for selecting fruit trees for your homestead.
How to Select Fruit Trees for your Homestead
1. What are your growing conditions like?

Most fruit trees like 1/2 day to a full day of sun, well-drained soil, and a pH of 6.5. – 6.8.  Often, home orchard resources will recommend planting on high ground, or on a south/southwest facing slope, where cold air will flow downhill and will not settle in frost pockets in your orchard.  Consider also, your regional climate: If you live in zone 3, and have long, cold winters, you will likely be disappointed when you choose cultivars that are better suited to a more mild climate.  Read the growing specifications carefully, and select appropriate trees for your zone.
2. How much space do you have available? 
Trees take up space, which is fantastic for shade, swings, or hammocks, but not so great if you have limited growing area. Luckily, there is a wide selection of semi-dwarf or dwarf trees to choose from, or you might even grow a few fruiting trees, bushes or berries, such as lemons, blueberries, or strawberries in containers on your porch. Since our homestead is relatively large – 10 acres – I did select some standard sized trees, in addition to a few semi-dwarf.
3. What are the pollination needs of the fruit?
While some fruit trees are self-pollinating, for instance, many citrus and sweet cherries, and do not need another tree to produce fruit, many fruit trees either require cross-pollination, that is, another cultivar of the same fruit tree, to bear fruit, or will produce a larger yield of fruit with a cross-pollinator. Check the individual requirements of each variety before purchasing.
4. Which pests and diseases are a problem?
In our region, pears are very susceptible to fireblight, and apples often succumb to cedar apple rust.  Before ordering fruit trees, I consulted the MO extension service website, and downloaded their guide for home orchardists.  It provided me, a Midwest newbie, with excellent information about which trees to avoid, and which specific cultivars to consider.  Of course, if you have access to a network of local orchardists, you might seek their advice about recommended cultivars.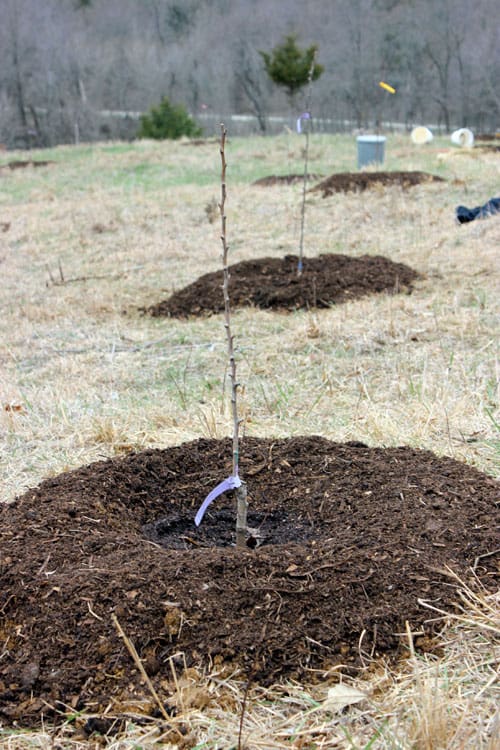 Eating ripe, unbelievably delicious fruit straight off the tree is one of the most rewarding experiences I've had as a homesteader, and since fruit trees take years to get established and bear fruit, why not put some fruit trees in the ground this spring!
Pin it for Later: