The past three weeks on our homestead have been all about fruit trees. When I placed my orders in February, perhaps I was a wee bit overzealous, and I ordered a lot of trees (18 to be exact), fruiting bushes (a modest 6), and raspberries (only 12!) Planting fruit trees is like a celebration of finally owning our little piece of land and an investment in the future, so the more the merrier, right?
Well, sort of right. The thing about fruit trees is that you really need to take care siting and planting them. 
All winter long I've been placing markers at potential sites, reading books about orchard management (The Holistic Orchard is my favorite), and drooling over fruit tree catalogs (I ordered from One Green World and St. Lawrence Nurseries).
Yet somehow, with all that dreaming and planning, I kind of neglected to think about how much time it takes to properly prepare a hole to plant a fruit tree. There is a popular saying in the orchard world, "Buy a $5 tree, but dig a $50 hole," so here are our best tips on how to create a $50 hole for the best planting success.
How to Plant Fruit Trees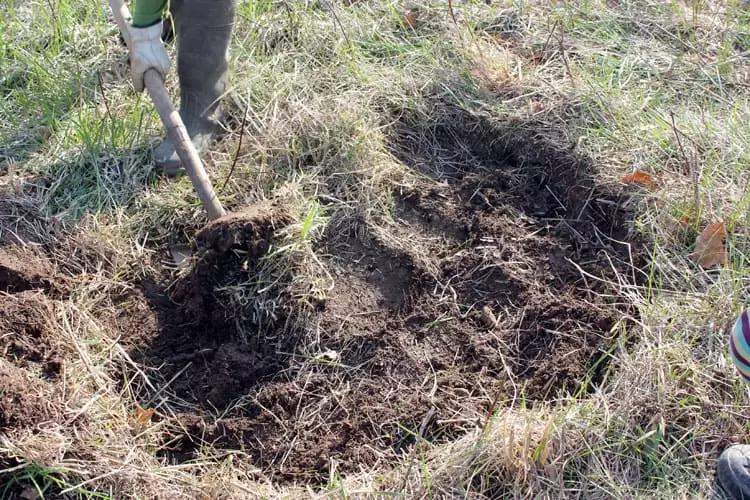 1) Prep Time!
First, prepare the fruit tree planting site by first scraping and removing the sod in a 2-3 foot diameter circle.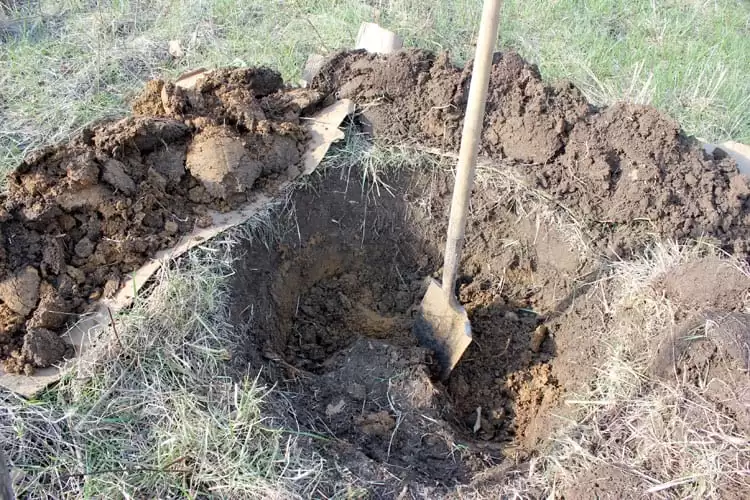 2) Dig deep!
As you excavate your hole, move soil to piles; topsoil is moved to one pile, and subsoil to another. In our holes, the topsoil was rich and brown, while the subsoil was heavy reddish clay.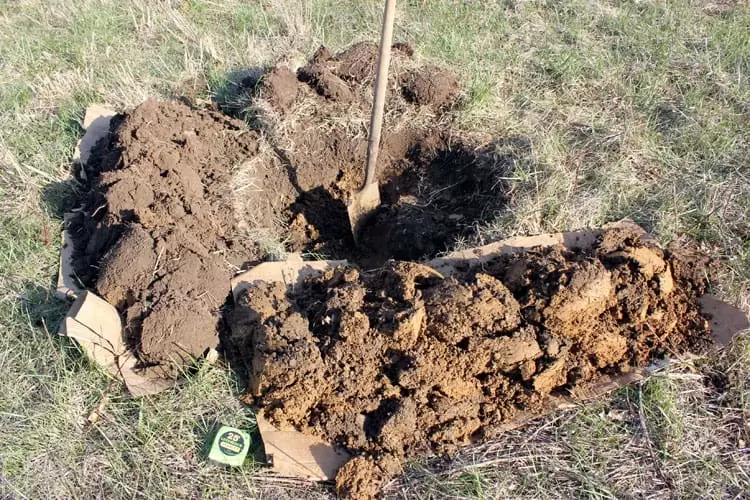 We found it easiest to lay cardboard down next to the hole and place the soil upon the cardboard, making it really easy to lift and shake the last bits of dirt into the hole.
Three piles: sod, subsoil, and topsoil.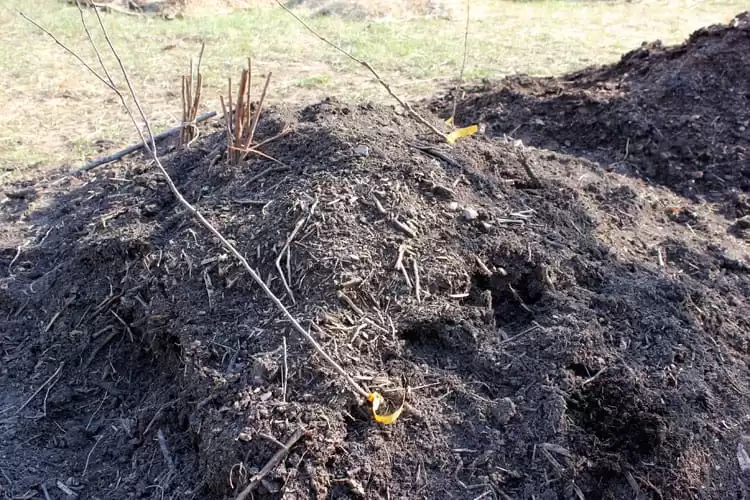 3) Rough up the hole.
After digging to a depth of 1 1/2 – 2ft, rough up the bottoms and sides of the hole, which makes it easier for roots to penetrate the heavy clay.
Trees and bushes were kept heeled into our big compost pile until we were ready to plant.
4) Determine the proper depth for planting the fruit tree.
We used a long stick across the hole so it was easy to determine the proper level at which to plant the fruit tree.
5) Refill.
Now it's time to place the contents of the hole back in the opposite order: sod first, topsoil around the roots of the tree, and subsoil last. While it's important to treat the roots with care, you can gently tamp the soil into place.
6) Water and mulch.
After planting fruit trees, I like to heap a large wheelbarrow load of composted horse manure in a bowl shape around the tree. Then the tree gets a nice big drink of water now, and once a week during the first year (unless the tree receives an inch of rain).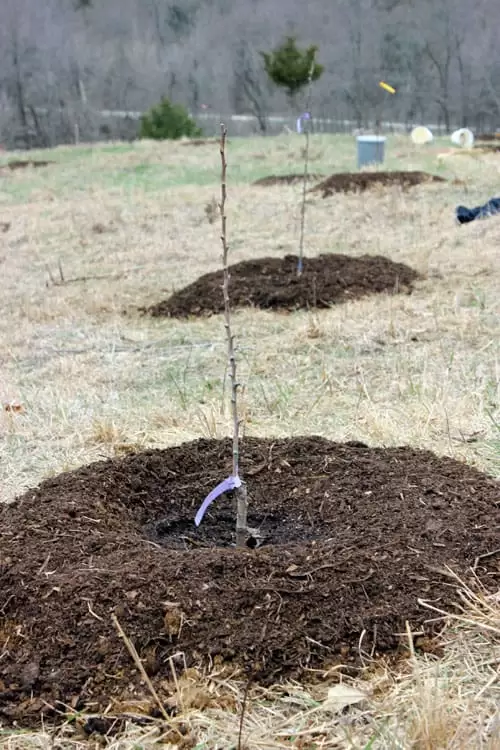 7) Protect your newly planted fruit trees!
If your orchard is not fenced in, you may want to take the time right now to consider fencing. We experience rabbit damage if we leave our fruit tree trunks un-fenced, so now, as we plant, we wrap a 12-18″ wire fence in a circle at a 6″ distance from the trunk.
Learn more about Fruit Trees