This post may contain affiliate links. Please read my Privacy Policy & Disclosures for more information.
If you are serious about foraging for wild edibles, you've probably wondered how to add more starch, fats, and proteins to your foraged diet. After all, berries and wild greens are delicious, but they don't fill your belly.
Acorns and other wild nuts and seeds can help round out your foraged diet and are abundant and easy to harvest. Plus, they can be used in a delicious acorn pancake recipe!
How to Process Acorns for Eating
Acorns can be fine ground into flour, or coarse ground into a polenta-like meal, but first you need to leach out the tannins that make the acorn taste bitter. This can be done in a stream of running water, a toilet tank (Seriously! Check out directions, here), or by changing out water every twenty-four hours until the bitter taste is gone. I'll teach you how to leach acorns, but first, let's get harvesting!
Bur oak and other white oaks are admired by many foragers because they are among the least bitter, while red oaks have more bitter tasting tannins. Acorns can be collected off the ground and stored in a rodent-proof location until you are ready to use them.
Although I have not had any problems storing acorns in food-grade plastic buckets, if you live in a more humid climate, you may find that a burlap bag allows for better air flow, thus reducing the likelihood of molding.
If you notice a small, round hole in your acorn, there is likely an accompanying worm inside, and depending on how long the acorn has been stored, the nut is probably unusable.
The next step is to remove the outer shell of the acorn. Our neighbors have a tool designed specifically for this task, which means that they are able to process enough acorns to eat each morning at breakfast. However, most of us lack that kind of specialized tool, so a good nutcracker or hammer will work as well.
Winter is a lovely time to sit around a warm fire and crack acorns while chatting about the day. Toasting the acorns first may make the shells easier to remove, but it is not necessary.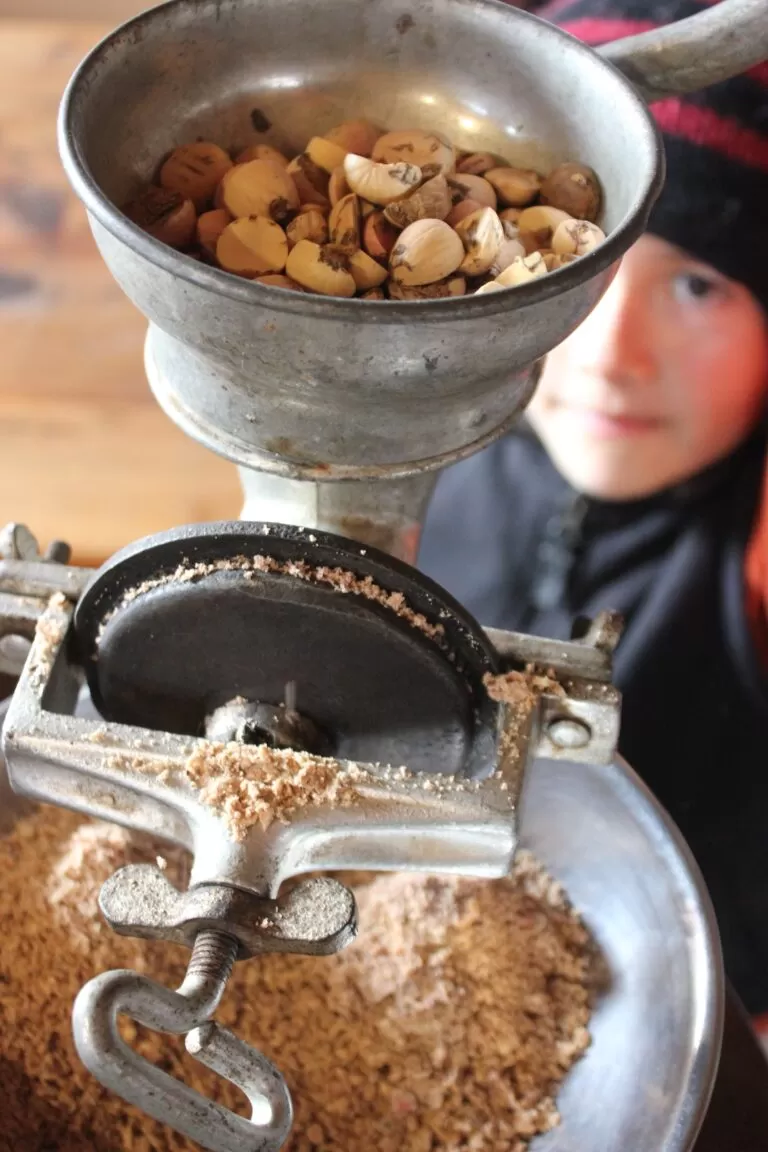 Next, it's time to grind the acorns into coarse flour. I have read that you can use a blender with a very strong motor for this purpose (a Vitamix, for instance), but we used our trusty metal Corona grinder, which worked perfectly.
Now it's time to use water to cold leach out the bitter tannins in the acorns. Place your acorn meal into a large glass mason jar, filling it no more than halfway, and top the jar off with water. Cover the jar, give it a shake, and then place it in the refrigerator, basement, or root cellar.
After twenty-four hours, carefully pour off the water—which should have turned a bit reddish brown—and refill with fresh clear water. Again, shake and return to the cold storage for another twenty-four hours.
Repeat this process for three or four days and then taste the acorn meal. You want to remove all traces of bitterness; if the meal remains bitter and astringent, continue with the rinsing process until the acorn meal is no longer bitter tasting.
Once the leaching process is complete, if you intend to use the acorn meal right away, you can drain the liquid by pouring the acorn meal into a large piece of cheesecloth or a cheese bag, twisting and squeezing to remove as much water as possible from the meal.
If you plan to keep the acorn meal and use it at a later time, you will want to dry it, either in an oven at the lowest temperature, or in a food dehydrator at no higher than 150°F, checking after twelve and twenty-four hours.
Acorn Pancake Recipe
Your acorn flour can now be used in a variety of recipes such as the following pancake recipe, which uses wheat flour and acorn flour in equal measure to ensure proper fluffiness. If you substitute acorn flour in a recipe that doesn't require a lot of rise, like polenta or cookies, you can try 100 percent acorn flour.
When you enjoy these acorn pancakes, top them with homemade butter and homemade syrup!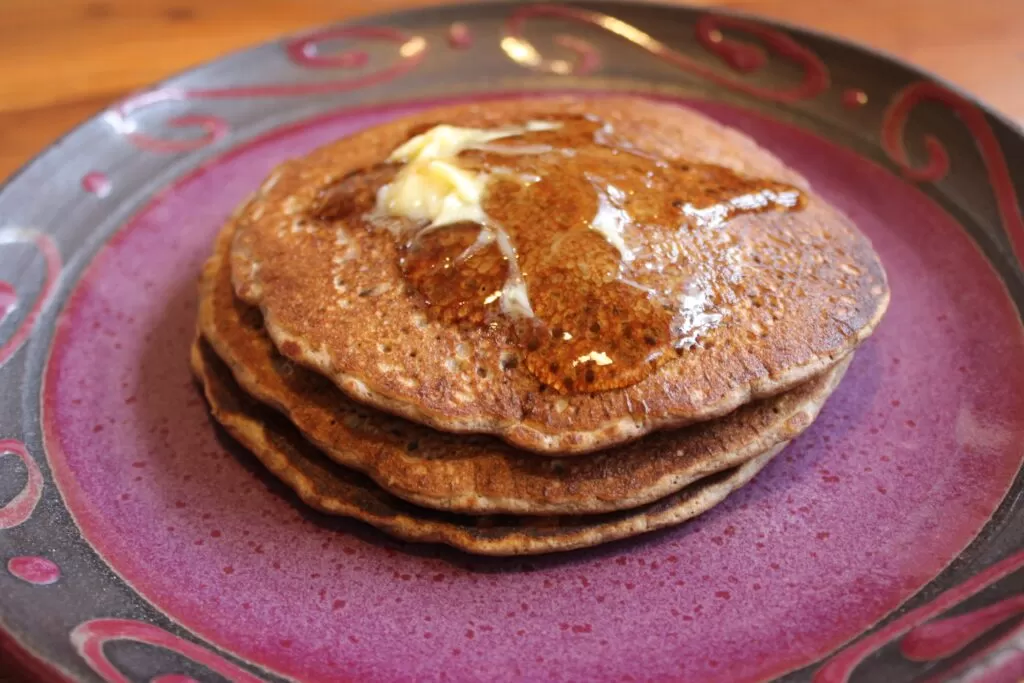 Acorn Pancake Recipe
Ingredients
Ingredients:
1 cup wheat flour
2 teaspoon baking powder
1 teaspoon baking soda
½ teaspoon salt
2 tablespoon sugar
2 eggs
4 tablespoon butter, melted
1½ cups buttermilk
1 cup strained acorn meal
Instructions
1) Mix the dry ingredients (flour, baking powder, baking soda, salt, and sugar) with a whisk to combine.

2) In a separate bowl, whisk the two eggs, melted butter, and buttermilk. Add the acorn meal and whisk to combine.

3) Add the wet ingredients to the dry and stir gently, just to combine.

4) Cook your pancakes on a hot griddle until they are golden brown on both sides, then top them with homemade butter and homemade syrup!
Notes
I used strained acorn meal in this recipe, which meant that it was still fairly moist. If you are using dried acorn flour, you will need to increase the amount of liquid by adding more buttermilk.