Before we even moved onto our land, when our tiny house, garden, and orchard were just plans on scraps of paper, we planted over 100 fruiting bushes, trees, and shrubs to create a native edibles food forest. Inspired by the quote, "The best time to plant a tree was 20 years ago. The second best time is now," we decided it was best to get our food forest started before our shelter was complete.
Living in Missouri, we have access to an amazing resource, the George O. White State Nursery, which sells bare root trees and shrubs to Missouri residents to plant as wind breaks, erosion control, soil improvement, and wildlife habitat and food sources. Many of the plants offered by the nursery are also edible by humans, or have other desirable qualities, such as being medicinal, ornamental, or fast growing. A quick Google search reveals that many other states have similar nursery programs, so it's definitely worth checking in with your local extension service or state agency for trees adapted to your local ecosystem.
Collaborating with our neighbors, we ordered plants in bundles of 25, which brought the price per plant down significantly. For instance, blackberries are currently offered at the following prices (copied from the nursery's website):
| Quantity | Price Per Seedling |
| --- | --- |
| 10 | $0.80 |
| 25 | $0.40 |
| 100 | $0.32 |
With such an incredible price, we were able to buy a large quantity of plants to begin our food forest and add diversity to our homestead.
Planning our Native Edibles Food Forest
Because our homestead is a lovely mix of meadow and forest, with plenty of wildlife habitat and windbreak, our primary interest was in finding species that were edible by humans and/or had medicinal qualities. Lucky for us, the options provided by the Missouri Department of Conservation are plentiful, and we were able to find many trees and shrubs that met our criteria.
We began our native edibles food forest with the following plants:
Chokeberry (Aronia)
Serviceberry
Elderberry
Native plum
American Persimmon
Mulberry (native)
Nannyberry
Paw Paw
Redbud
Planting our Native Edibles Food Forest
The first step in planting our food forest was to figure out a placement for each and every tree. We had arranged for a work party for planting, and had 10 people ready to assist. To make their job easier, we labeled dozens of small red flags with the name of the plant, and stuck it in the ground exactly where we wanted it planted.
We decided to plant most of our food forest around the edges of our forest, where trees meet meadow. The majority of the plantings were around our house or on the path to our pond. A few species, like the paw paw, had very specific requirements for planting, and we tried to meet their growing needs as best as possible.
Because we had such a large quantity of plants to get in the ground, we used a slightly different technique than the one I recommend for planting fruit trees. When we purchase our orchard trees, we paid $20-$25 per tree, and spent time and care making sure their hole was a "$100 hole."
With these native trees and bushes, our goal was to get them in the ground. Planting 100 trees is a daunting task, so we quickly scalped a small circle to remove grass, excavated just enough soil to root the tree, and then placed it in the hole, covering it with soil and gently stamping the soil around the roots. Each tree got an initial watering to ensure that its roots were making contact with the soil, but after that we relied on rainfall to water the plantings.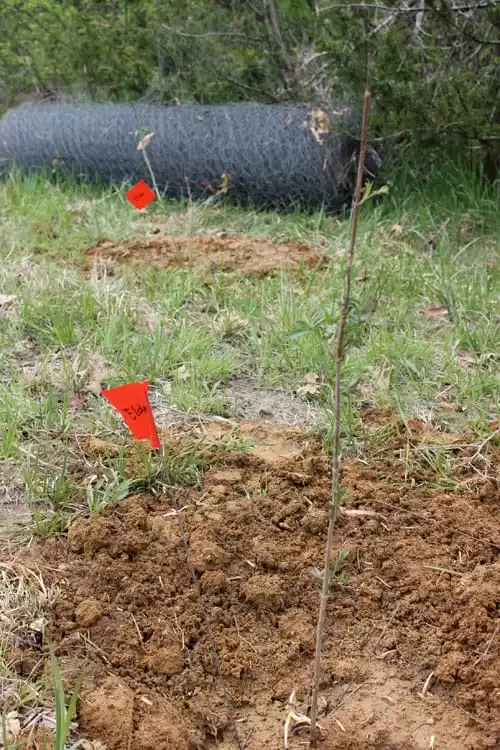 The first year, in the midst of house-building, we did not have time to fence the plantings from rabbits or rodents, and we lost some trees. Later, we went back to the remaining trees and built a small cage around their trunk.
The trees that were planted in our Zone 1 (the area closest to our home that we interact with on a daily basis) have gotten additional care. Some have been incorporated into fruit tree guilds, some have become part of our perennial flower landscape. All have received extra fertilization in the form of urine or other organic fertilizers.

Enjoying the Fruits of our Labor!
Almost five years later, our plantings are bearing fruit, providing shade for our home, and creating beauty on our homestead. We have already harvested elderberries for syrup, chokeberries for making shrubs, and mulberries for eating! We enjoyed one ripe persimmon from our tree and look forward to the day when we can harvest enough to make persimmon cake!
In subsequent years, we added a few more elderberries because they are so useful and fast growing. Compared to planting 100 trees in one day, planting 10 elderberries was a breeze. If I had to change anything about our planting experience, it would be to have started with 40-50 plants, and added another 50 the next year, stretching our efforts out over time.
Planting a native edibles food forest is an inexpensive and enjoyable way to diversify the food on your homestead. Yes, the wildlife may also enjoy eating what you plant, so be sure to put a few extra trees or shrubs in the ground!
If you know of a resource in your state, please feel free to add it to the comments, so we can create a resource for others who may want to plant a native edibles food forest.
Pin it for Later: