Stocking up on storage crops in the late summer and early fall, and storing them for winter eating is a great way to get local, organic food at a lower cost and higher quality than what you might find in supermarkets. In addition to growing many storage crops in our garden, we like to visit our CSA farmer and local orchards in October or November and come home with enough vegetables and fruit to last us through much of the early winter.
In the Autumn months, food becomes our primary home interior decoration! Squash sits on top of any available surface, garlic and onions hang from the wall in long chains or braids, and sweet potatoes are piled in boxes under our bed (the coolest spot in our house). It is so reminiscent of Little House on the Prairie!
This year we are building a homestead root cellar, but even without a traditional root cellar, you can store foods in a basement, in the coolest area of your home, or even buried underground in a trash can! My favorite storage crops are not fussy, and they will store well for months.
Here are my Top Five Foods to Store for Winter:
Winter Squash
Growing winter squash can be challenging here in NE Missouri, and I have had two years of crop failures and one year of success.  Pests such as squash bugs and squash vine borers can decimate a squash crop. But, a few varieties seem to do better than others, most notably those of the species C. moschata. Butternut seems to fare best of all, and will keep in dry, room temperature storage through the spring, and into the summer.  This year I had an incredible squash crop and harvested over a hundred pounds of Butternut, Buttercup, Hubbard, Sweet Meat, Acorn, and Trombocino squash. What I can't grow myself, I buy in bulk from our local CSA farmer or from Amish neighbors.
When storing squash, it's important to only attempt to store fully ripened squash. I harvest them very carefully, and then inspect the squash to ensure that they are blemish free. Squash with any sort of nick, bruise, or otherwise marred surface will go on shelves for early use. Otherwise, I pack several banana boxes full of squash, and for lack of other storage facilities, place them under my bed – the coolest area of the house that maintains around a 58 degree temperature.
Try: Winter Squash Cheesecake Recipe
Sweet Potatoes
We first grew sweet potatoes two summers ago, and quickly learned that they thrive in Missouri summers. Thus far, we've had no pest problems, and our crops have been delightfully abundant.  Sweet potatoes need to be cured before storage (for more information about this process, check out my ultimate guide to growing, harvesting, and storing sweet potatoes).
After harvest, I divide our sweet potatoes into two piles: Those that are free of blemishes or nicks, and those that are small or blemished.  We used the small, blemished sweet potatoes first, enjoying them in stews, roasts, and pancakes.  The other pile of large, beautiful sweet potatoes was placed in dry, room temperature storage, with dirt still on the skin.  In mid-March, I grabbed some to chop into pieces, and was amazed that they were still mold-free, firm, crisp, and juicy as the day they were harvested.
Garlic
If the amazing flavor that garlic brings to food isn't enough, I also grow garlic as a medicine, feeding it to humans and livestock alike. I grow two types of garlic, hard neck and soft neck. The hardneck, I simply store as bulbs.  The soft neck garlic I like to braid into long chains and hang in the kitchen. All garlic is not created equal, so when you're selecting seed garlic, be sure to look for ones that have good storage properties; I've found that soft neck garlic, while not quite as flavorful, is the best for long-term storage.
Apples
In our neck of the woods, the deep red apple, Arkansas Black is renowned for its storage qualities. In all honesty, it's not the best eating apple upon harvest, but in mid-March, when the only other options are highly priced apples flown in from Chile, the Arkansas Black is a mighty fine apple!  Particularly in baked dishes like cobbler, or even coarsely chopped and stewed, this storage apple cooks up amazingly well and keeps for MONTHS in cool storage.
Try: Braised Turnips and Apples Recipe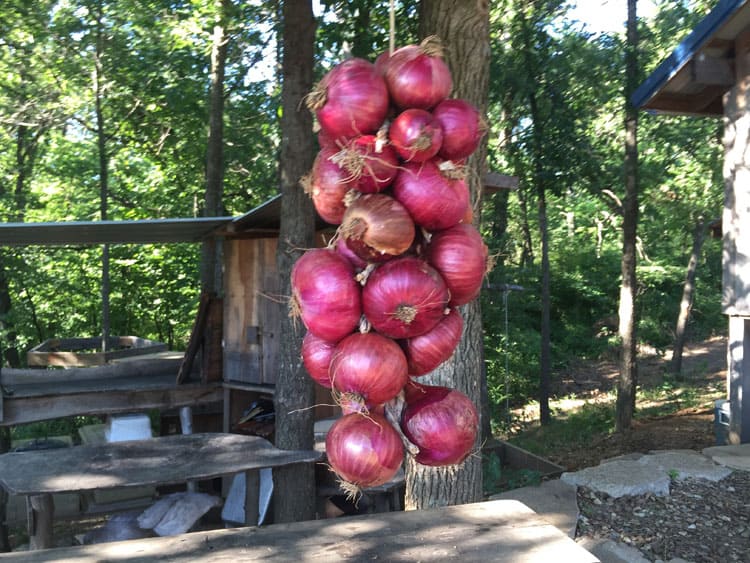 Onions
There are some good storage onions that will last for a few months, especially if hung and stored in a cool, dry, and dark location. I love to hang my onions using the method I demonstrate in this video. Hanging onions is not only a beautiful method of storage, but it also encourages air flow between the onions, and it's very easy to detect any rotting onions.
If you are lucky enough to have a root cellar or basement, then definitely consider expanding your storage to potatoes, cabbages, and root vegetables such as turnips, beets, parsnips, and carrots. A root cellar will provide the proper balance of high humidity and cool temperature to keep crops for months, and is a wonderful DIY project to put on your to-build list.
If you don't have one, go ahead and experiment with the coolest conditions you have available to you. Although buckets of vegetables in our mudroom will not store well for long periods of time, they have still allowed me to enjoy a fresh beet and carrot salad in January!
Read More: Vegetable Storage in a Root Cellar
What are your favorite foods to store for winter eating? I'd love to hear from you in the comments!
Pin it for Later: