Root cellaring is one of my favorite methods of food preservation. Once you have a root cellar, and have learned more about ideal conditions for root cellaring, the next step is to grow or source fruits and vegetables that will store well in a root cellar.
In this extensive guide, I share some of the best storage varieties for root cellaring. Many I have used myself in my cellar, some I look forward to trying!
If you don't see your favorite storage variety, I'd love to hear what it is. Leave a comment below!
This post may contain affiliate links. Please read my Privacy Policy & Disclosures for more information.
Best Vegetable Varieties for Storage
Carrots
One of the easiest vegetables to store in a root cellar is carrots. Carrots last between four and six months if properly stored. They can be stored in a container with sand and dirt; moist sawdust works as well.
Storage varieties stay crisp for months; no one wants a soggy, limp carrot! Here are a few of my favorite varieties of storage carrots.
One of the most reliable carrot varieties is Danvers 126, known for being bright orange with rugged tops. These carrots are excellent for everything – juicing, freezing, canning, and all sorts of food preservation.
They also score the highest when storing in a root cellar; expect crisp carrots for months.
Bolero carrots are reliable storage carrots with medium to long roots and a uniform shape. They hold their flavor and texture well throughout long-term storage, so they're perfect for a fall and winter harvest.
Dulcinea is said to be one of the sweetest carrots you can grow in your garden, and it gets even sweeter in storage. This variety grows well in all soil types and lasts for months in a root cellar.
If you want a juicing carrot that also stores well, Bangor F1 is an excellent option. These carrots produce tons of juice and resist splitting in the summer, so they're ideal for commercial growers. In addition, they store well; the flavor even improves in storage!
Beets
Beets are another root crop that store well in a root cellar, so long as the temperatures are kept between 32 and 40℉ with 90 to 95% humidity. Make sure you keep the root tip intact and store them in layers with damp sand, sawdust, or peat moss between layers.
Formanova is one of the best storage varieties of beets. These beet plants produce large, cylindrical, uniform roots and are ideal for cooking and canning. In addition, they're considered an abundant storage variety that lasts several months in the root cellar.
Red Ace F1 is great for fresh markets and storage. This variety is known for good disease tolerance and growing quickly, producing three-inch roots.
Kestrel is an F1 hybrid with a tender, deep-red interior, and a sweet flavor. These beets develop a sweeter taste in the fall, and they handle long storage well. They hold their firmness and flavor well, even in a root cellar for several months.
Another one of the best storage varieties is Lutz Green Leaf beets. This variety is like a blend of chard-like greens and red beetroots. They're known for having exceptional winter storage; you can store the last fall harvest all winter long.
Brussels Sprouts
Brussels sprouts are best harvested after several touches of frost; the flavor becomes sweeter and better. 
Storing sprouts in the root cellar is a great idea, but they only keep well for up to six weeks. After that, you'll need to put them into another form of long-term storage.
Another idea is to leave them in your garden for as long as possible, and some varieties are better suited for that. 
Divino F1 sprouts hold well in the field if left on the stalks, producing dark green sprouts. The stalks are firm, and Divino is one of the most productive and reliable Brussels sprout varieties to grow. 
In fact, even in Vermont, I have enjoyed Divino Brussel sprouts fresh from the garden in November and December!
Roodnerf is an open-pollinated variety that retains its uniformity well. It's quite a cold-hardy variety with plump sprouts on tall plants. Expect them to score well on their plants in the fall and into the winter.
Gladius produces blue-green sprouts that hold their flavor and color well on their stalks. You can leave these stalks in the field, and the sprouts will handle the cold temperatures fine.
Cabbage
Many people have no idea that cabbages store so well in a root cellar, but an average head of cabbage stores for three to four months. It's best to wrap each head individually, leaving a few inches between each one.
Cabbages need cold storage, around 32 to 40℉ with high humidity, approximately 90%. Both red and green cabbage store well in a root cellar but go for a late variety that you will harvest in the fall.
Here are some storage varieties of cabbages for your root cellar.
Brunswick produces large drumhead cabbages and is known for being exceptionally cold hardy. It's a fall to winter type cabbage that stores well in a root cellar.
Here is another one of the storage varieties of cabbage that produces 10 to 15-pound heads. The leaves have a delicious flavor. Premium Late Flat Dutch cabbage is an heirloom variety with well over 140 years of history.
Mammoth Red Rock is a late storage cabbage variety, forming five to eight-pound heads. They're red-purple to the core and have a sweet, crispy taste when kept in storage. 
I'm very partial to High Mowing Seeds, which is based a half hour away from my home in Vermont. So when their catalog makes a recommendation, I pay attention. Expect F1 plants produce dense heads that are perfectly round and uniform. 
Expect F1 plants to have notable heat tolerance and produce consistent heads of cabbage between 5 and 9lbs each.
Rutabaga
Another great root crop for root cellaring is rutabagas. They store similar to carrots and parsnips in damp sand or sawdust. The average storage life for rutabagas is two to four months. 
Here are some of the best storage varieties of rutabagas.
American Purple Top is a tasty, mild rutabaga variety with bright yellow flesh. It's a well-known heirloom that harvests in the fall. Make sure you store it in cold temperatures for extended storage.
Check out the Joan rutabagas with a smooth, round, dense, cream-colored flesh and a mild, sweet flavor. They're perfect for roasted dishes and store well into the winter months when kept in a root cellar.
Here is a productive rutabaga variety with uniform roots and a bicolor purple top. The flesh has a great texture and a sweet flavor, plus it's known for having a long shelf life so that you can enjoy it all winter long.
Laurentian is a Canadian variety of rutabagas with purple crowns and a creamy-yellow base. They're suitable for long-term winter storage. If you're looking for the sweetest variety, this is the one for you.
Kohlrabi
Kohlrabi are a versatile and delicious storage crop. We enjoy eating them cooked and topped with butter and salt, and also raw, sliced thin.
Instead of using a refrigerator, you can store kohlrabi in a root cellar, so long as the temperature is cold, around 32 to 40℉. The roots need to be placed in a container and stored in moist sand, peat moss, or sawdust. 
Make sure the roots aren't touching, or it encourages rotting. You should keep the lid on loosely to allow for proper air circulation.
Here is an old German heirloom kohlrabi variety with gorgeous blue and buttery-flavored stems. These flattened stems have a great storage life, perfect for using root cellars to keep them. Blauer Speck is a popular choice for backyard gardeners and small farmers.
This late-season plant produces giant kohlrabi with tender flesh. The bulbs have thin skin that tastes great in salads. 
Superschmelz is also a storage variety, and the sweet flavor develops better in cold storage.
If you want kohlrabi that looks like it's big enough to feed your entire neighborhood, Kossak is the one for you. These large, white-skinned roots grow to enormous sizes yet remain juicy and sweet in the root cellar for several months. They are the perfect mid-winter dose of crisp, raw veggie!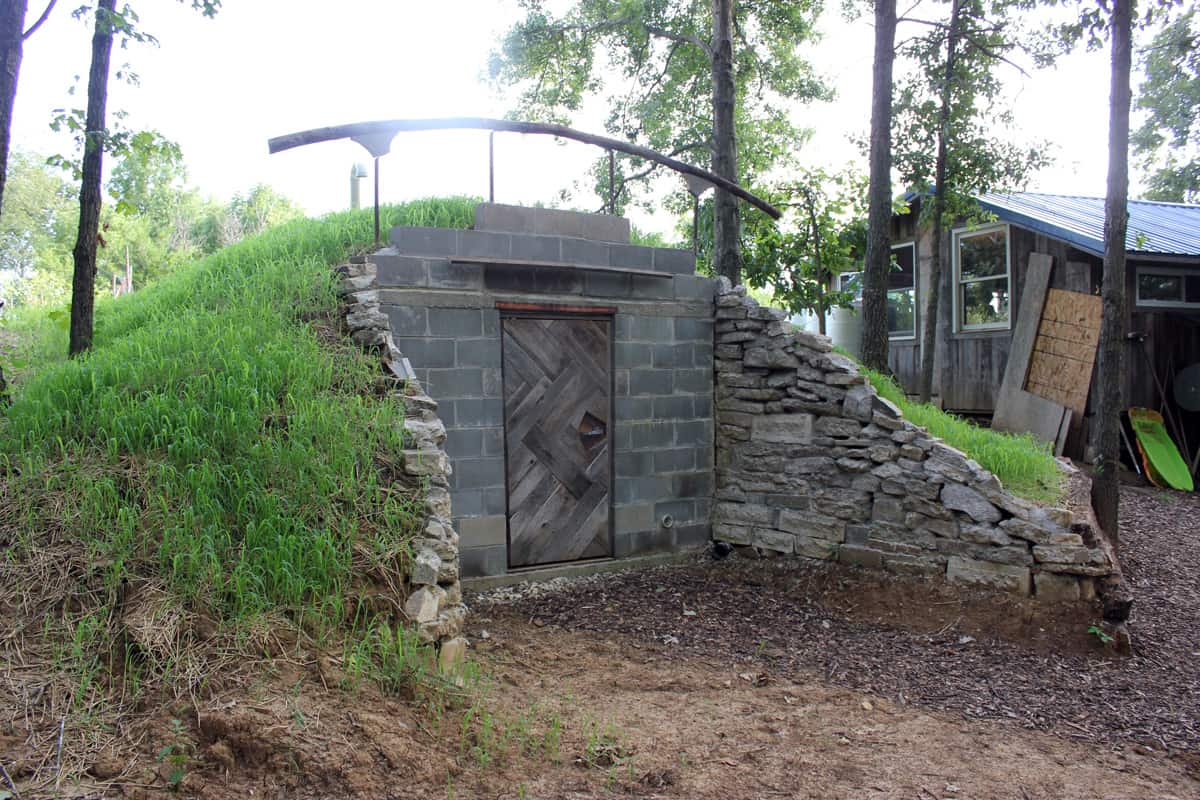 Winter Radishes
Winter radishes are some of my favorite storage vegetables. Because they have a high water content, they bring a juicy crispness that is sometimes lacking in winter meals.
Winter radishes store well in root cellars and basements for several weeks to months if you keep the temperature low and humidity levels high.
The best way to store winter radishes is in a wooden crate or other container filled with damp sand or sawdust. Make sure to leave the roots well-spaced and not touching. 
Daikon is one of the best storage varieties of radishes for root cellaring, but they don't look like most radishes you find in stores. These are large, white roots with pale green tops. They are perfect for pickling, fermenting, and root cellaring.
Daikon radishes grow up to two to six pounds each! 
KN-Bravo is a gorgeous purple daikon radish whose appearance is as unique and wonderful as its flavor. My family adores this radish for winter salads and crudité plates.
Many gardeners simply call this winter radish variety the Black Winter radish. It has a unique, jet-black skin with a spicy flavor, perfect for salads.
Unlike other radishes, Schwarzer has a coarse outer skin that makes it perfect for long-term storage in the root cellar.
Celeriac
Have you ever heard of celeriac? If not, you aren't alone; this isn't a hugely common veggie in most gardens. It's a type of celery grown for its roots, typically reaching up to softball size.
Make sure you harvest celeriac before a hard freeze and store it intact with the soil and roots. They should be packed in damp sand in a sealed container for long-term storage.
Diamant celeriac is one of the best storage varieties of celeriac. The seeds produce large, uniform roots that taste delicious in soups and roasted dishes. You'll be surprised by the delicate celery flavor when you taste the interior!
Here is a type of celeriac known for maturing earlier, and most plants are uniform in size and nearly fiberless. The roots are three to five inches in diameter, and they store well in a root cellar.
Potatoes
One of the most common veggies stored in root cellars is potatoes, keeping well for four to six months. They need to be kept in a dark area between 38 and 45℉ with 80 to 90% humidity.
Typically, when storing potatoes for the winter, you want mid to late-season potatoes that harvest closer to your first frost date. Enjoy the early potatoes for summer dishes unless you live somewhere with a short growing season.
Adirondack is known for producing ruby-red tubers in uniform shapes and sizes. These potatoes are ideal for roasting, turning a light shade of pink when boiled. They store well but also taste great fresh.
This is one of the most widely grown potatoes in the US with the perfect flaky, white flesh, perfect for baked potatoes or French fries. They store for months in a root cellar and are resistant to many common potato diseases like fusarium and blight.
Kennebec is an excellent, all-purpose potato cultivar that produces round to oblong tubers with white flesh. It's known for scoring well in cold storage, and Kennebec is resistant to many common viruses, like Potato Virus A and blackleg.
Sweet Potatoes
Typically, sweet potatoes don't store as well as regular potatoes in a root cellar, but as long as you properly cure them, you can keep sweet potatoes in a dry storage area for two to three months.
Sweet potatoes require higher temperatures than other veggies in storage; 55℉ is ideal with 60-70% humidity.
Bonita is one of the sweetest sweet potatoes for gardeners and known for giving an early-than-average harvest. This variety has an excellent shape for storage and resists soil rot, making it a perfect choice for those with a wetter climate.
Here is a unique sweet potato variety with pink skins and deep-orange flesh. Mahon consistently scores well, with an extra sweet flavor – no sugar needed when baking these potatoes.
So long as you cure them adequately, they also have excellent storage potential, keeping well for months in cool (not cold!) root cellar. 
Winter Squash
Homesteaders and gardeners have often relied on winter squash for long-term storage. These veggies store for anywhere from four to eight months, depending on the variety chosen.
Ensure your winter squash is well cured before putting them into the root cellar. Most prefer to be stored in temperatures between 40 to 50℉ and 60% humidity. 
It's almost impossible to select just a few winter squash varieties for root cellaring – they all have such unique flavors and qualities and most store quite well.
If you want a winter squash that is an absolute beauty, go for the black Futsu. These have a smooth texture and a sweet, nutty flavor. Over time, the black fruits turn a chestnut color in storage.
Brulee Butternut is a prolific winter squash plant that produces personal-sized squashes. These fruits have a rich flavor with just the right amount of sweetness. They store well, typically for several months.
This variety of winter squash is incredibly sweet and creamy; you can use them as a substitute in pumpkin pie!. Burgess Buttercup is a prolific variety that stores for many months.
Onions
With proper curing, onions store for five to eight months in a cool (not very cold) cellar. Store onions hanging, in grocery sacks, or net bags; they need ventilation! 
Amber onions are an open-pollinated yellow onion that matures early and has the perfect global shape. Once cured, the bulbs have a lovely yellowish-brown color.
Amber onions are a beloved storage variety because the onions stay firm for months in storage.
Cortland onions have thick, copper-colored skin and a uniform, round shape. These are considered a standard for gardeners, known for adapting to many different growing conditions and having a long storage life.
An heirloom onion variety known for its long storage life, New York Early onions stay rock hard throughout the winter, measuring 2.5 to 3 inches in diameter.
Here is a gorgeous red onion variety known for being a great storage onion variety. Red Carpet is a long day onion with beautiful coloring and storing exceptionally well in cold storage.
Garlic
Depending on the variety you grow, garlic stores anywhere from five to 12 months in proper conditions. Garlic bulbs prefer to be stored in dry environments, in temperatures between 40 and 50℉.
Chesnok produces beautiful, purple-striped garlic bulbs with a mild flavor. This garlic variety adapts well to different regions and stores in a root cellar for six to seven months.
German Extra Hardy is one of my reliable garlic varieties you can grow in your garden. It's an exceptionally cold-hardy garlic cultivar – a hardneck variety – that produces four to seven cloves per bulb. Once cured, these bulbs store for months in a root cellar.
Try growing this late-maturing storage variety of garlic called Nootka Rose. These bulbs have some of the best aromas, but they also are known for long-term storage potential.
Turnips
Turnips store as well as most root crops, lasting an average of four to six months. The good news is that they require the same temperatures and humidity as carrots and other root veggies.
Here are a few options for storage turnips.
Golden Globe is a specialty variety of turnips with a delicate flavor and gorgeous golden color. They grow best in the early spring or late fall, known for being a storage variety and excellent for roasted dishes.
These turnips have smooth white globes with magenta above the ground. Purple Tops are a widely grown turnip variety dating back to the 1880s. They're an excellent storage turnip, best harvest when three to four inches long.
Celery
Celery isn't a commonly chosen root cellar vegetable, but it is possible to store celery for several months. 
It's best to dig up the entire plant and store the whole plant in the root cellar, keeping the roots moderately moist.
Harvest as you need!
If you want a different type of celery to grow, try this traditional red celery variety, well-known throughout England. The stalks are a gorgeous purple color that turns pink when cooked.
Giant Red celery is a superbly cold-hardy variety with your expected cellar flavor. The flavor improves as the weather gets cold and in cold storage.
Kelvin is a farmer's favorite type of celery to grow, producing dark greens. The stalks hold well in the field for months, so instead of storing them in a root cellar, keep the Kelvin celery plants in your garden.
Pumpkins
Pumpkins store for six to eight months in a root cellar, similar to winter squash. Most people think of keeping pumpkins for decorations, but you can turn that huge crop into some delicious pies and dinners as long as you cure them adequately.
Crown pumpkins have hard, blue-grey skin and orange flesh. These fruits have a sweet, nutty flavor, and the pumpkins tend to weigh 6 to 10 lbs each. They store well in a root cellar.
It's believed that this is a Native American heirloom, known excellent eating and storing. The fruits are three to five pounds each, looking like overgrown orange zucchini. These deserve a spot in your cold storage! 
If you want to store pumpkins away for pie, you need to try the Long Island Cheese pumpkins. These are flat, lightly ribbed pumpkins that look like wheels of cheese. Long Island Cheeses are good keepers, weighing six to ten pounds each.
Parsnips
Parsnips are very cold hardy, and some gardeners prefer to keep them in the ground, under a thick layer of straw and harvest as needed throughout the winter. But if that is not feasible in your climate, then make sure to store parsnips in cool temperatures and high humidity in conditions similar to carrots and other root veggies. 
Lancer parsnips produce uniform, long-season roots with creamy, white flesh and a sweet flavor. These roots produce a sweeter taste in cold temperatures, so they're perfect for root cellar storage, lasting up to five months in cold storage. 
Shallots
Shallots belong in the same family as onions, so it's no surprise that they store exceedingly well. They also prefer dry conditions, around 60% humidity, and lower temperatures. Adding these to your long-term storage gives you diversity in your dishes!
Ambition is a traditional shallot variety with reddish-copper skin and white flesh. It's known for being firm and having long-term storage capabilities, keeping the firmness well into the spring.
Conservator are tear-drop-shaped shallot bulbs with easy-to-peel skin. They have great flavor and store well. Expect the bulbs to measure two to three inches in diameter.
These are long, tapered shallots, prized in France and known for having a savory sweetness that gets richer as they store in a root cellar. Expect these shallots to store all winter long in your cellar.
Leeks
Leeks also belong in the onion family and handle long-term storage in a root cellar. It's possible to leave the leeks in the garden well into cold weather, but they also keep in long-term storage, stored in deep buckets, so long as the temperature is around 32 to 40℉.
These are fall and winter leeks that develop thick stays with little bulbing. Those in northern regions can mulch well for the leeks to overwinter in the garden, but they also store well in the root cellar if kept cold.
Oslo leeks have thick, stocky shafts with pretty blue leaves. This late mature variety comes to maturity in the late fall and early winter.
Try this type of leek – Surfer F1. It's an upright leek with blue-green foliage that is easy to clean. They're cold-hardy, ideal for fall harvest and stored well in a root cellar.
Jerusalem Artichokes
These tubers have a crisp, watery texture, similar to water chestnuts. They are a perennial vegetable that produces tall, beautiful sunflower-like plants.
Jerusalem artichoke tubers are stored – and used – similar to potatoes, and typically last around 2-3 months in cold storage.
Salsify
This is a classic salsify cultivar that many grow in their garden. The roots are long and tapered, like a carrot, with off-white flesh. Mammoth Sandwich Island has excellent storage capabilities, and in some climates it's possible to overwinter them in your garden for a spring harvest.
Endive
This endive variety produces large heads with leaves with frilly edges and a delicious flavor. Pancalieri gets sweeter in cold temperatures, and the cold weather causes them to partially self blanch. Plan to harvest throughout the fall and winter for salads.
Capellini is a unique and hardy variety of endive that produces large mounds of frilly pointed leaves; it will make quite a statement in your garden. If you add some row cover protection, Capellini grows well into frigid weather! 
Best Fruit Varieties for Storage
Apples
Not many fruits store well for long, but apples are an exception. Some varieties store over six months in the storage, keeping the crispy texture you want when biting into a juicy apple.
Keep the apples in cold storage, around 32 to 40℉ and have 90% humidity. Always remember to store unblemished apples, as the old adage, "one rotten apple spoils the bunch" is true!
Enterprise apples are sweet, melting in your mild. This variety is resistant to many common apple tree diseases, and they're among the best storage varieties of apples, lasting six months in cold storage with full flavor.
Goldrush is a delicious winter apple with a deep sweetness and the crunch you crave. It's one of the latest apples you'll harvest in your orchard, and they get sweeter as the temperatures dip colder. Expect these apples to store well in the root cellar, lasting until the coming spring!
Golden Russet is a winter apple that stores well all winter into the spring. It's an excellent cider apple, perfect for a sweet and smooth cider. Give this heirloom apple tree a try!
If you want one of the best storage varieties of apples, Keepsake is an excellent choice. These apples are juicy, sweet, and crispy, and they get even better in storage. Believe it or not, these store well into the spring or even summer of the coming year! 
Arkansas Black apples were one of the first true storage varieties that I was introduced to. A deep red, almost black color, these apples will store for months, and will develop their full flavor a month or two after harvest.
Newtown Pippin is a true storage apple whose flavor doesn't fully develop until several months after harvest! I know some locals who have kept this apple in storage for over a year.
European Pears
Pears won't store as long as apples in storage, lasting two to three months at most. They need an environment similar to apples, and they're best stored individually wrapped.
Here are a few storage varieties of pears to try.
Kaspar has tough skin, making it an ideal storage pear. It's one of the longest storage varieties of pears, storing well into the following spring. These pears have green-mottled skin and a good flavor. 
A variety similar to the sweet, small Seckel, Dana Hovey has better storage qualities, remaining flavorful for up to three to four months.
Asian Pears
Asian pears are round, crisp, sweet, and juicy fruits of the genus Pyrus. They are more watery textured than European pears, and are terrifically satisfying for a snack food! Because they taste best when ripened on the tree, handle them gently to prevent bruising.
A variety known as a keeper, with storage qualities of up to three months, and a crisp, sweet flavor.
Another option is the Shinko Asian pear. It has juicy flesh and a pleasant flavor, storing for up to three months in ideal conditions.
Root cellaring is truly my favorite way to preserve food because it is so easy. Try to find a variety that is suitable for storage and you will have the most success! And when you're ready to learn more about root cellaring, check out these articles!