I don't know about you, but by the time September and October roll around, I am ready to put down my canning pot and take a break from food preservation. Luckily, there is a method of food preservation that requires very little effort: Root cellaring.
A garden full of vegetables can be enjoyed all winter long, if stored properly. While in mild climates, you can store many vegetables just by leaving them in the ground, in our colder climate, we lift our veggies before the first hard frost and store them in our root cellar.
What is a Root Cellar?
A root cellar is a traditional food storage method that preserves food by controlling temperature, humidity, and light. While today's modern "root cellar" is your home refrigerator, traditionally, root cellars were built into the ground, often into the side of a hill, and covered with earth.
A few years ago we built our own root cellar and it become one of the most essential tools on our Missouri homestead. A few features that we considered necessary when we built our homestead root cellar were:
A sturdy structure that allowed our cellar to double as a storm shelter in tornado season
A design that featured an ante-chamber to allow for better temperature control
Wiring for lighting (you want your root cellar to be dark, but it's much easier to find the vegetables you want when you can see!)
Adequate vents built into the cellar, and covered in mesh to make them pest/rodent proof
It's also possible to retrofit an existing basement to use as a root cellar, or to use other creative methods of root cellaring, such as burying a chest freezer or garbage can underground.
READ: How to Store Vegetables without a Root Cellar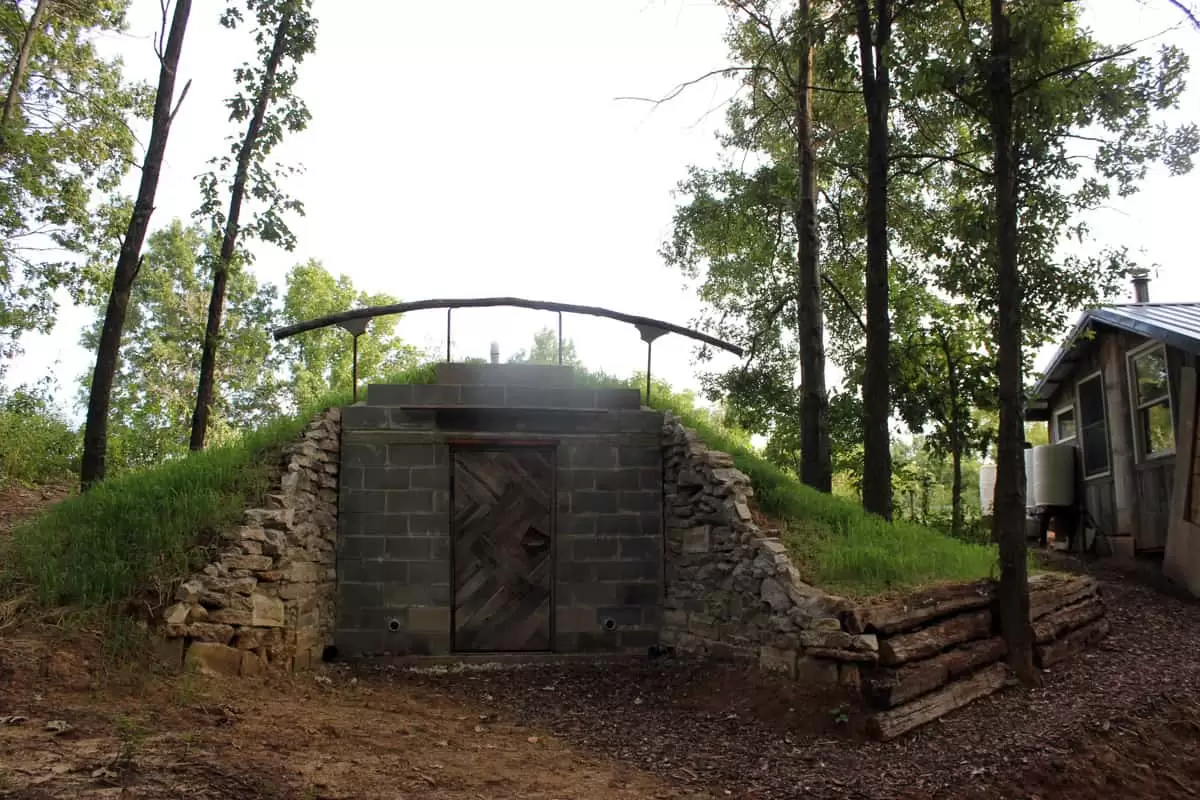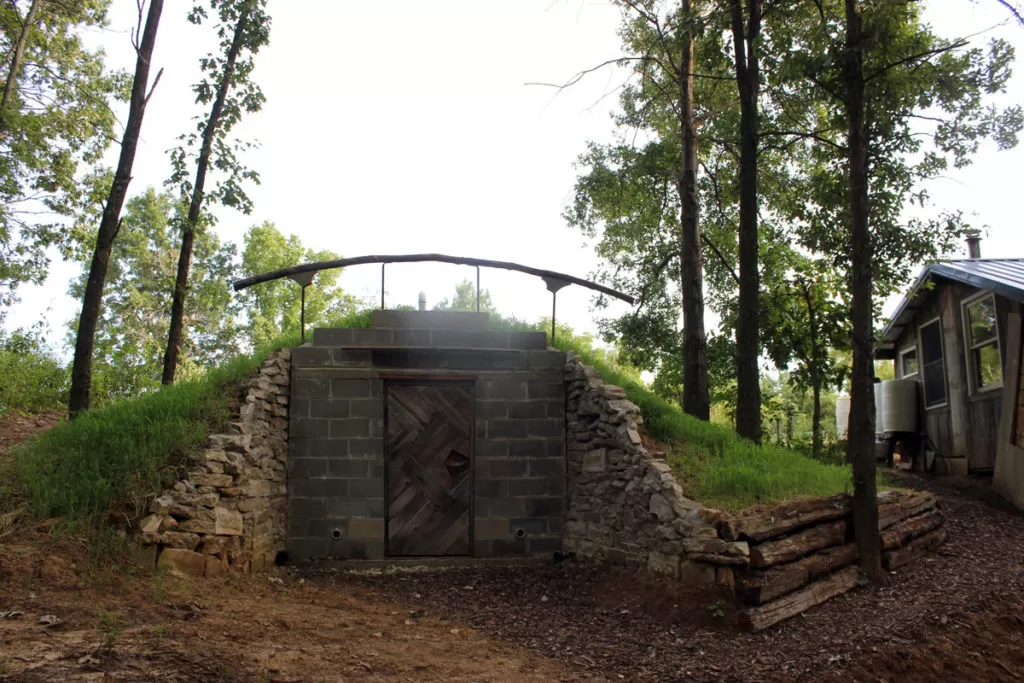 What are the Ideal Conditions for Root Cellaring?
Root cellars are designed to provide dark, cool, moist environments in which vegetables and other foods can be stored without electricity. But to store food for a long period of time, very specific conditions are required. Let's look at the requirements of a root cellar in more detail:
Temperature – The ideal root cellaring temperature is between 32 and 40 degrees F. Certain foods store better in cold temperatures, others in slightly warmer temperatures. For specific instructions on how to store many common vegetables in a root cellar, check out this article.
Humidity – A very high (90-95%) humidity environment will provide the best storage environment for most leafy vegetables and root crops. A small digital thermometer that gives a humidity reading, or a hygrometer, which measures relative humidity, are great tools to have on hand for root cellaring.
Ventilation – Good ventilation is important in your root cellar, as it helps prevent mold growth and moves ethylene gas out of the cellar.
Each fruit or vegetable will have its own particular temperature and humidity needs. Of course in one root cellar, it is hard to please all the vegetables!
Our rule of thumb is to try for an average of the optimal temperatures and humidity. Food may not store as long in non-optimal conditions, but it will still keep for months.
Preparing Food for Storage in your Root Cellar
Successful root cellaring requires a bit of extra care to ensure that the food will remain fresh for months. Here are some guidelines for preparing to store food in a root cellar:
Grow varieties that are ideal for root cellaring and storage. Here is a comprehensive list of over 70 vegetable and fruit varieties with outstanding storage qualities!
Better yet, plan an entire root cellar garden!
Pick at the peak of freshness. Fruits and vegetables are ripe when they have fully developed their color, flavor and texture. Ripe produce is best for storing, as well as for other forms of preservation.
Choose late-maturing crops over early-maturing ones for best storage. This is where seed catalogs are going to be very helpful. Seek out varieties that are late-maturing or specifically designated as keepers.
Harvest as late in the season as possible, but before the first hard frost. Hard frosts will damage certain crops, so be sure to watch the weather forecast!
Handle food very gently to avoid bruising. This is very important, as fruits and vegetables with bruises, cuts, or nicks will not store well.
Properly cure food according to their specific needs.
Store only the best fruit and vegetables; if you see any signs of rot or bruising, eat them fresh or can them instead.
The good news is that you can save yourself work by not washing the fruits and vegetables that you plan to cellar. Instead, simply brush off extra dirt and store the produce in crates, mesh bags, baskets, or any other container that allows for ample air circulation.
Carrots, beets and other root vegetables may benefit from being stored in buckets with layers of sawdust or sand sandwiching layers of vegetables.

How to Build a Homestead Root Cellar
Building a homestead root cellar is an investment of time and money, but, particularly if you live in a colder climate, a worthwhile one. We saved hundreds, if not thousands of dollars by planning and planting a root cellar garden and storing food for the winter, rather than purchasing it from the grocery store.
If you are ready to dive into building your own root cellar, my husband Brian and I have written an eBook that will teach you how. Building a Homestead Root Cellar offers step-by-step instruction so you can build your own root cellar and enjoy the benefits of storing food!

Pin it for later!