Over the past few years, my gardening efforts have shifted from growing a bit of everything to growing what does best in my climate and what actually fills the bellies of my family. That has meant fewer melons and more potatoes; only one trellis of cucumbers and three beds of winter squash. And because they are incredibly easy to grow in our zone 5b garden, lots and lots of sweet potatoes. In this post I'll share how to grow, harvest, cure and store sweet potatoes to enjoy all winter long!
How to Grow Sweet Potatoes
Sweet potatoes mature in 90-170 days, so a long growing season is essential to your crop's success. Sweet potatoes are planted using sprouts called "slips" which you can either sprout yourself from stored sweet potatoes, or purchase (we get ours from the local Amish store, but you can also source them here.)
I prepare garden beds for sweet potato slips by using a digging fork and gently aerating the soil. I then add some compost, manure, and any other amendments I have on hand (wood ash, for instance). and gently turn over the soil. It is important to add fertility without adding too much nitrogen, otherwise your sweet potatoes will vine forever without producing abundant tubers. You also want the soil to be nice and "fluffy" so your tubers can grow freely.
Sweet potato slips are planted every 12″ at a depth of roughly 6″.  As you can see in the photo above, they start out looking like scraggly weeds! But before long, your sweet potato plants will grow to cover the entire bed… and then some!
How to Harvest Sweet Potatoes
Sweet potatoes form a lush mat of vining growth, and their tubers form underground, so it can be hard to know when to harvest sweet potatoes. About 4 months after planting sweet potato slips, you can dig up a few and see how large they've grown. Or you can wait until just before your first frost and harvest them then.
I have read that it is okay to wait to harvest sweet potatoes until after the first frost, when the vines turn black. However, I do not like this approach because it increases your risk of the tubers rotting in storage. Instead, I just watch the weather and make sure I lift the tubers out of the ground before a frost.
When we are ready to harvest the sweet potatoes, we roll the mat of vines down the bed, almost like rolling up a sleeping bag – it's really that easy! You can see the technique in the photo below.
Once the bed has been cleared of vines, we use a digging fork to gently loosen the soil around each cluster of tubers. You'll want to be careful and gentle here so you do not puncture the tubers. The kids love this part of the harvest, as it's like a treasure hunt to dig down and discover all of the hidden tubers!
How to Cure Sweet Potatoes
I recently cooked up some sweet potatoes from the Farmer's market and discovered that they were tasteless and certainly not sweet. It was because they were not cured before sale. To cure sweet potatoes you will store them in a temperature of 80-85 degrees F with a humidity of 80-90% for a period of 5-10 days. This process begins to trigger the development of sugar-creating enzymes and converts starches to sugars. If you cannot achieve those exact conditions, don't worry, but do your best to provide a warm and humid environment for the curing process.
How to Store Sweet Potatoes
Once cured, sweet potatoes will store for months in a cool and dry location. Strive for a temperature range of 55 – 60 degrees F, and definitely do not store sweet potatoes in your refrigerator, as they are susceptible to cold injury.
I have read of people storing sweet potatoes wrapped in newspaper or layered in sand or straw, but I have not found this necessary. We have successfully kept our sweet potatoes in the coolest part of our home in a simple "banana" box (the kind that produce comes in in your grocery store). I brush excess dirt off the tubers, check them carefully for any nicks or cuts – these go in a separate box to use first – and place them in a box to store under our bed (the coolest part of our house).
Be sure to check on your sweet potatoes occasionally to remove any tubers that show signs of rot or mildew/fungus. When stored properly, sweet potatoes can last well into the next summer!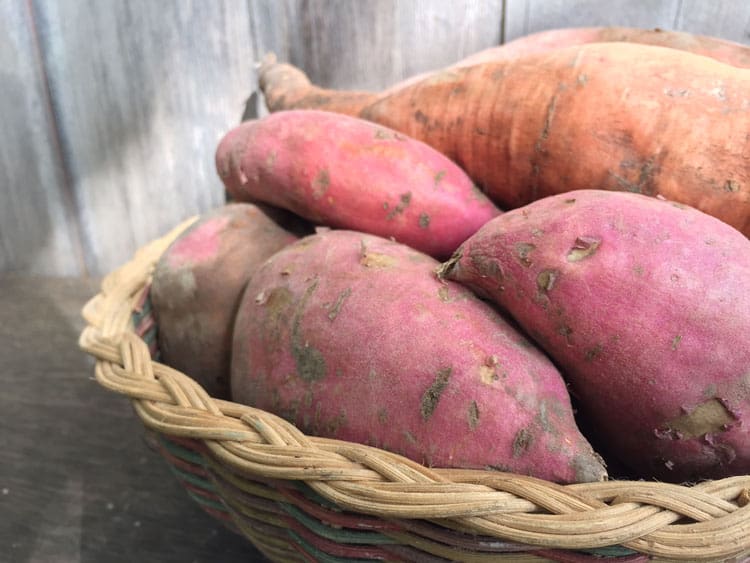 Sweet Potato Recipes
When you're ready to enjoy your homegrown sweet potatoes, here are a few recipes to try:
Sweet Potato Pie (with Natural Sweeteners)
Spiced Sweet Potato Souffles with Roasted Walnuts
Roast Chicken with Sweet Potato, Apple and Cranberry Stuffing
If your growing season will support sweet potatoes' long maturity, they will be a fantastic addition to your garden and food storage plan. Learning how to grow, harvest, cure, and store sweet potatoes is a lot easier than you may anticipate, and the rewards are great!
Pin it for Later: