We have enjoyed our solar electric (photovoltaic) system for over a year now; long enough to have seen how it performs on a daily basis, and to note what demands we can place upon the system.
The system we installed in November of 2014 is an off-grid system with a battery bank for storage. We designed the system with, and purchased it from Backwoods Solar, an Idaho company that specializes in off-grid systems. Taking into account our budget and intended use, we decided to purchase three 290 watt solar panels, eight Trojan 6V batteries, and a high quality inverter that will allow us to expand our system as needed.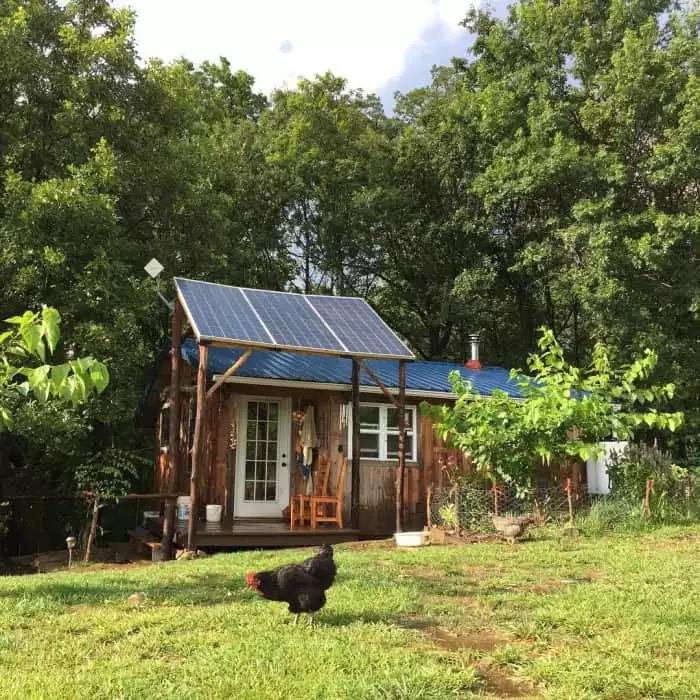 My husband Brian and my father-in-law started the installation, and my father, a mechanic and electric whiz, came out to help with the final wiring. You can read more about our experience installing our solar electric system here.
The system we purchased was intended to meet all of our needs most of the time. We knew from the start that there might be times that we would need to supplement with our generator (a Honda EU2000i). And that has proved to be the case on a few occasions.
What we've noticed is that there are two situations that have led to inadequate power: The first is when it is very hot and overcast (for instance, late June in the Midwest). Because our chest freezer is the biggest load on our PV system, and because the freezer is located in an un-insulated shed on the north side of our house, it demands a lot of power on hot days. If it is cloudy for days at a time, the freezer continues to draw power, and the panels cannot charge the batteries fast enough to keep up.
The second situation is on overcast days in December. Short day length and cloudy weather, again over the course of a few days to a week, are a bad combination for a PV system. Because the weather is generally quite cold, we are able to turn the chest freezer off at night, and back on during the day. Our food remains frozen, and we save battery power. On a couple of occasions, we have used our generator to charge our battery bank.
The remaining 95% of the time, our solar electric system is more than adequate for our needs. Most of the time our battery levels barely dip below 90% and we create ways to take advantage of all of the "extra" electricity! We use our waffle iron, toast bread, make smoothies, operate power tools, and run a fan to keep cool!
Living with Solar Electricity
As for life in a solar-powered home, it is wonderful. I love that we are meeting our family's electricity needs with power from the sun, and have no monthly electricity bills. After living without any electricity for a year and a half, flipping a switch on power felt like an incredible luxury! We are able to store food in our chest freezer, work from home on our computer, and operate small appliances such as a blender, food processor, and sewing machine.
That said, there are some comforts that we do without. We do not have a washing machine or clothes dryer. We do not have a dishwasher. We do not have a refrigerator. Living with solar electricity requires a constant attentiveness to our electric consumption: We use lights sparingly, turn off our computer when it's not needed, and always unplug appliances. We cook on a two burner propane stove, and do not have an oven.
It is heartening to me that friends and family members are investigating solar electricity for their home. Grid-tied solar electricity is a great alternative for those with higher electricity needs or who are already connected to the grid. Off-grid systems have the added investment of a battery bank for storage, but they offer the advantages of energy independence, and the opportunity to create electricity in remote locations.
Solar electricity is not perfect – there is still an industrial manufacturing chain of materials and process that has its own set of environmental and social impacts – but it is one of the more accessible green energy options that truly has the potential to shift power generation away from corporations, and into the hands of people and communities. It's an opportunity to elevate your homestead's capacity to produce.
For more information about living off the grid, solar electricity, and starting a homestead from scratch on raw land, check out my eBook, Creating Your Off-Grid Homestead, available for instant download!
Pin it for Later: