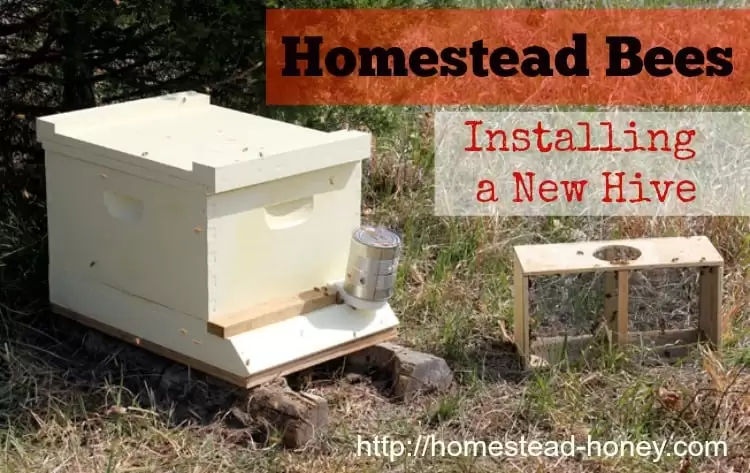 After a fun-filled camping trip in Southern Missouri, we stopped at the regional beekeepers' meeting last Monday night to pick up a 3lb package of bees to start a new hive on our homestead.  Although we had kept bees for several years on our Oregon homestead, we ended up selling the hives and most of our equipment before we moved, so essentially, we are starting from scratch.
In some ways, this has been a blessing, as it's given us the opportunity to really think about what kind of hive we wanted, and how many hives we felt capable of tending at this time. While I am excited about looking into top bar hives as a future opportunity, at this point we went with what we were already familiar and comfortable with – Langstroth hives.  We ordered supplies from a company we knew and trusted, Glory Bee, and bees from a regional beekeeping supply company, Crooked Hill. We decided to start with one hive, and add more in future years. Here is the process of installing a new beehive, from start to finish.

The hive came to us unassembled, so after assembling the supers, the kids helped paint the exterior.
Here is the package of bees, buzzing and ready to hive!
Spraying bees with a sugar-water syrup.
The Queen cage has been set aside, and the bees are gently shaken into the hive.
The queen cage is tucked between two frames, and ready for a slow release.
Happily in their new home.  After 5 days, we checked to ensure that the queen had been released from her cage, which she was, and that the bees were building comb.  While we did see quite a bit of pollen, we did not notice any eggs laid in the comb.  I plan to check on the hive again in a week to make sure the queen is indeed laying.
I am a very beginning beekeeper, and I learn so much from the many wise people who are generous with their knowledge.  I've enjoyed reading the following beginning beekeeping posts:
Getting Started
How to Get Started Keeping Bees :: Runamuk Acres
How to Prepare for Beekeeping :: Homestead Lady
Hiving
Hiving Bees in a Langstroth Box :: Montana Homesteader
Hiving Honeybees :: Better Hens and Gardens
How to Set up your First Beehive :: Runamuk Acres
Inspiration
The Beekeeping Adventure Begins :: Northern Homestead
Backyard Beekeeping – A Beginner's Journey :: J&JAcres
Keeping Bees : A Honey of a Hobby :: MomPrepares
Your Dream of Becoming a Beekeeper is Closer Than You Think :: MomPrepares
Tips for Helping Bees :: Herbal Academy of New England
Starting your First Beehive :: Untrained Housewife
Tips and Tricks
8 Honeybee Hive Inspection Tips :: Better Hens and Gardens
How to Keep City Bees Without Making Your Neighbors Angry :: Untrained Housewife
6 Tips for Handling Bees :: Runamuk Acres
Do you keep bees?  How did your bee installation go this spring?
Pin it for Later: