As we set out to expand our gardening space this spring, I assumed that I would continue creating a sheet mulch or lasagna garden, slowing adding layers of organic material to build soil without disturbing its layers.  You see, as someone who studied and taught ecology for many years, I know that organisms live where they live for specific reasons.  Soil is really a complex habitat for billions of organisms that thrive in their unique layers.  Turn over or till those layers, and you run the risk of disturbing these organisms, and they cannot do their work of building soil quite as effectively.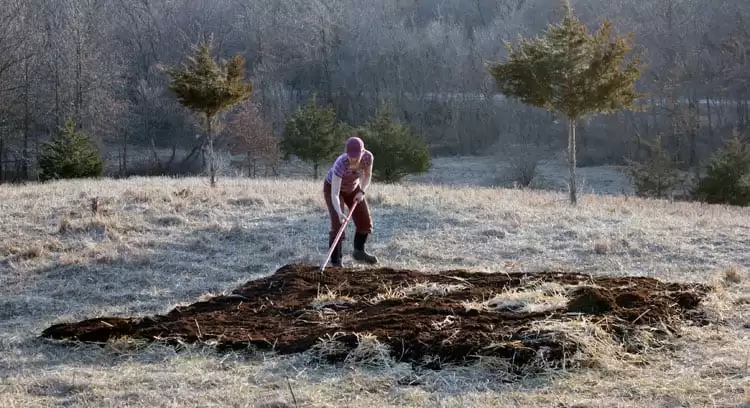 But the reality is that I ran out of steam layering cardboard, straw and manure. Spring is always the busiest time on our homestead, and this spring with its addition of bees, chicks, ducks, a new tool shed, a blacksmith shop, and the usual homeschooling and part-time employment just took the layering wind out of my sheet mulch sails.
I'm still creating new garden space with the sheet mulch method, but it's just happening VERY slowly.  I realized that I would not have enough space to plant both a spring and summer garden unless I created new beds quickly.
Enter our Amish neighbor and his team of horses.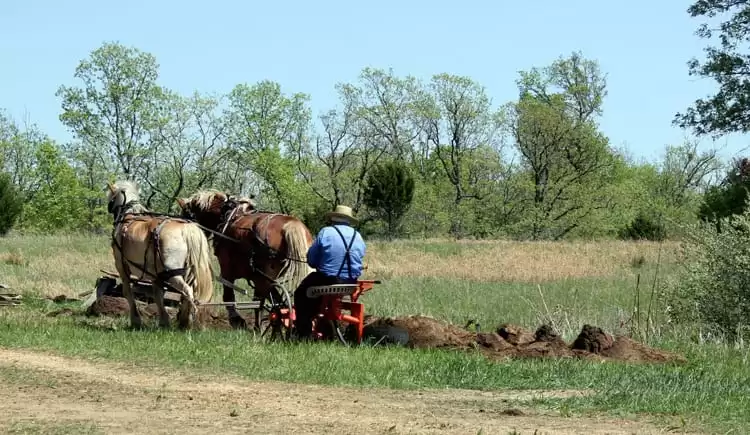 We decided to create a new 20 x 50 foot gardening space and hired our neighbor to plow the space. He arrived on a sunny Friday afternoon, and within a half hour, his work was done.
We then spread aged horse manure over the entire area, and borrowed our friend's rototiller to till up the entire space.
The garden was then shaped into 2 foot wide beds with 8″ paths between them.  As soon as we erect fencing, we'll plant into it. I plan to distribute my planting evenly between the two garden spaces, so if one crop fails, I'll still have some plants growing in the other garden.
In my entire 15 years of gardening, I've only used a rototiller one other time, and that was in a space that had already grown food for a few years. I'm so curious to see how this brand new garden space will perform, and I'm honestly excited to compare the results to my first year sheet mulched garden.  A homestead research project, if you will!
If you'd like to read more about building soil, here is an excellent eBook that I recommend, and if you'd like to learn more about how tilling may change soil, check out this post and this one!

Till or No-Till Gardens: What I learned, four years later
(Updated in April 2018) I wanted to come back to this post and share my findings, four years later.
My biggest takeaway is that tilling with machinery such as a tractor, small rototiller, or horse drawn implements is the fastest way to get a garden started and can be the least labor intensive. If you are short on time and want to grow a large amount of food, this may be your best choice.
However, based on my observation of various crops and how they performed in both the no-till (sheet mulched) garden and the tilled garden, the tilled garden space did not perform as well as our lasagna garden over time.  The first two years, crops produced almost as well in the newly tilled upper garden as they did in the lower garden. However, the following two years, I experienced a significant amount of disease and pest pressure in the upper garden that I have not experienced at the same level in the lower garden.
Of course, my observations are anecdotal, and not based on any scientific or statistical analysis, but a gardener's best tool is her sense of observation and I rely on it and years of experience to help me grow the best garden possible.
If you have the time, organic matter, and a strong back, I recommend creating raised beds with a sheet mulch method. If you lack any of these, till away, but be prepared to add fertility over the years with any or all of these organic methods.
What has your experience been with sheet mulched or tilled gardens? Do you agree with my assessment or disagree? 
Pin it for Later: