Today I thought I'd dip into the archives to share some of my favorite Homestead Honey posts about starting a homestead from scratch and off-grid living. Many of these posts were written when we were new to Missouri, or had just settled onto our land.  What an amazing time – so ripe with new possibility, and yet also overwhelming with the reality of building a brand new homestead! It's really fun for me to look back and see how far we've come.  I hope you enjoy them!
Touring the Tri Communities:  An inspirational tour of the "Tri-Communities" of Dancing Rabbit, Sandhill, and Red Earth Farms, which are all located in NE Missouri.  Touring these communities gave us a new appreciation for what is possible in off-grid living.
Create an Instant Garden with Sheet Mulching: Starting our garden from scratch on grass. With lots of help from my kids, and many piles of organic matter, we created a lovely garden space.
Planting Down Memory Lane:  In which I wax poetic about my perennial flower garden, and the memories it holds.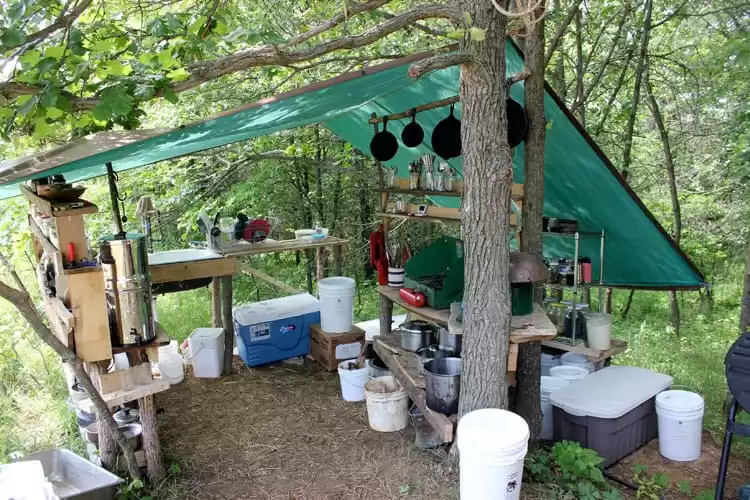 Setting Up An Outdoor Kitchen: Proof that creating a totally functional and wonderful kitchen outdoors with just some scraps of wood, Rubbermaid containers, coolers, and a tarp is possible (and really ideal for a hot, humid summer climate)!
Piles:  The work of a homestead begins with piles.  And piles. And more piles.  Of all sorts of materials!
Living Outdoors – A Day in the Life:  A peek into how we lived last summer as we were building our tiny house.  Tent trailer, outdoor kitchen, solar lamps, and more!
Living Without Electricity:  One of my favorite (and most controversial posts). I share the full scoop of how we live (almost) without electricity and running water, which wouldn't be possible without the full support of friends and neighbors.
The Poop Scoop – Composting Toilets for the Homestead:  How we do our business in these parts!
The Financial Hurdles of Homesteading: Getting real about the true costs of homesteading, and getting a debt-free start.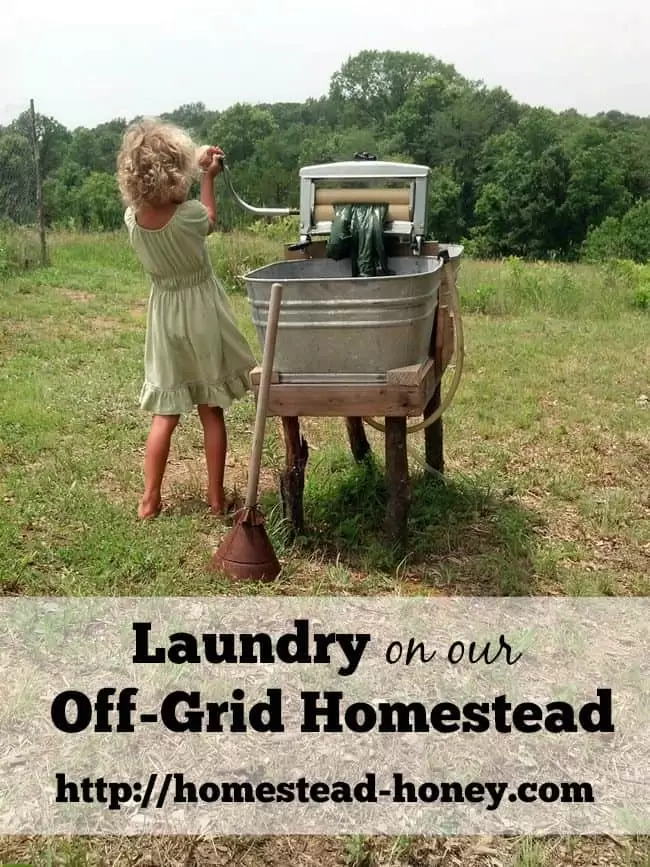 Laundry on our Off-Grid Homestead – keeping a family of four looking sharp!
5 Ways to Keep Cool Without Air Conditioning – (Yes, one of them is a fan) Low-no tech options for keeping cool in a hot summer climate.