Many years ago, a friend taught me her method of how to store onions by hanging them. I tried it right away, and was hooked! Hanging is one of the easiest, quickest, and best ways to store onions because it only uses a rope, and the onions themselves.
Why Store Onions by Hanging Them?
What I love most about this method is that you can easily see each and every onion, so you can keep track of any that are rotting. That is much more difficult when you store onions several layers deep in a basket or bag!
This is the best way to store onions in a way that is space-saving too. It's a great way to save and use your onion harvest throughout the year.
When to Store Onions
Before hanging, you'll want to make sure your onions are fully cured – I like to lay mine out in a shaded, covered, but the well-ventilated location for two weeks or so, until the outer skins are papery and the stalks are fully dry.
When you're ready to use an onion, simply cut it off the rope.
Where to Keep Hanging Onions
It's best to store onions in a cool dry place, like a shed or a root cellar. Read my Building a Homestead Root Cellar Ebook to get started!
How Long do Hanging Onions Last?
After curing and hanging to store onions, they should last for at least up to 6 months or more. This is a great way to keep fresh onions in your mix all year long!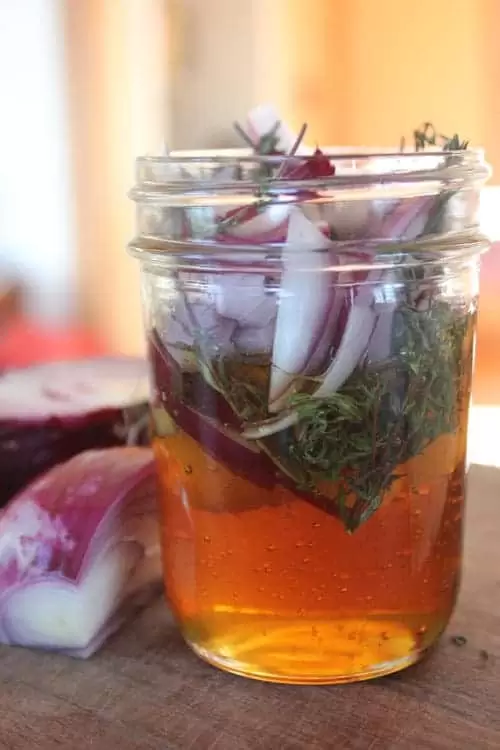 Try this recipe for fermented honey with red onions and thyme for a delicious way to preserve some of your onions!
Another great preservation recipe is this quick and easy refrigerator pickled onions!
How to Hang Onions
Check out this video tutorial below, and give it a try with this year's onion crop!