Sharing the homesteading lifestyle with the kids in your life can be incredibly rewarding. But sometimes it's hard to get past the question of "How do I teach my kids how to homestead?"
Having homesteaded throughout my entire experience of being a parent (my daughter's first experience out of the house was a trip to the goat barn!), I could share lots of advice on this topic! In fact, I wrote an entire book about how to homestead with kids, Family Homesteading.
The most important part of homesteading with kids is making it about experience and connection. Pick a hands-on activity to tackle together – preferably a kid-friendly project that develops a homesteading skill set. Focus on the process, rather than the product, and have fun while you build homesteading skills with your kids.
To get you started, I've assembled 30+ homesteading activities, projects, and how-to's. From foraging and gardening to food preservation and DIY projects, you'll grow your self-sufficiency, develop resilience, and expand those homesteading skills.

Foraging with Kids
Getting outdoors every day is a great way to reduce stress, get exercise, connect with nature, and learn more about the plants in our backyard that can be used for food and medicine.
Foraging and wildcrafting, or searching for, and harvesting wild plants, are fun and educational for kids because they require learning about the plants, and engaging in a sort of hide-and-seek activity to find them!
It's important to forage in ways that are safe and ethical. Establish safety ground rules when foraging with kids, such as, small children do not eat anything until without a parent present, and reinforce identification skills by making your own Plant Identification Notebook, or by making botanical prints from foraged plants.
Or introduce younger kids to five backyard plants that can be used for herbal medicine with these free coloring pages.
One of my kids' favorite foraged treat is homemade syrup made from maple, walnut, birch, and other tree sap. Making syrup in your backyard is a fun and inexpensive family activity. With just a few taps and some buckets, you can get started!
And when you've returned home from a foraging outing, bring your wild harvests into the kitchen and get cooking! Kids love to make a spring foraged salad out of chickweed, Miner's lettuce, purslane, and other wild greens, and drink a fizzy homemade (and all-natural!) dandelion soda!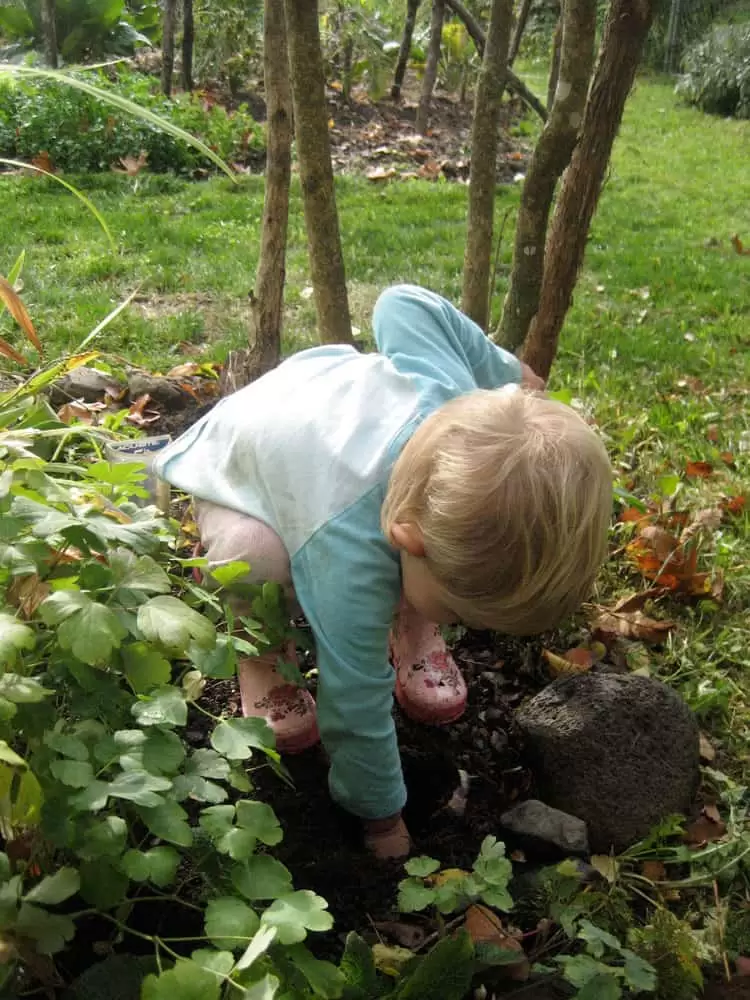 Gardening with Kids
Gardening with children teaches valuable self-sufficiency skills, creates a connection to food and nature, and often encourages kids to expand their palette by eating tasty, garden-fresh food.
Even toddlers can help in the garden with seed starting, planting, weeding, and watering. Yes, you may have to redo a few rows of planting, but the joy your little one experiences while digging their hands into the soil is the foundation of a lifetime of loving to grow (and eat!) good food!
One of the best parts of gardening is the harvest. Kids are great helpers when it comes to harvest time. Find a few baskets at your local thrift shop, and make a morning ritual of heading out into the garden to harvest the day's meal! Better yet, make meal planning a family affair and center your diet around seasonally available produce.
Elementary school-aged kids will enjoy participating in hands-on aspects of gardening, like making their own pots for seed starting out of newspaper, building a bluebird house to learn simple construction skills and reduce insect pests in your garden, or making seed "bombs" out of recycled paper. Each of these projects has practical applications: Learning how to reuse materials that are lying around the house in creative ways; learning natural ways to reduce pests; learning about seed dispersal and growing food and medicine from seed.
If you have older kids, enlist their help in project planning and design. For instance, make a list of fruit to plant in a special children's garden, or take on some easy backyard permaculture projects. The effort put into these projects will pay off in years of harvests and enjoyment!
And for the whole family, check out this collection of 30+ Garden Projects Using Sticks & Twigs!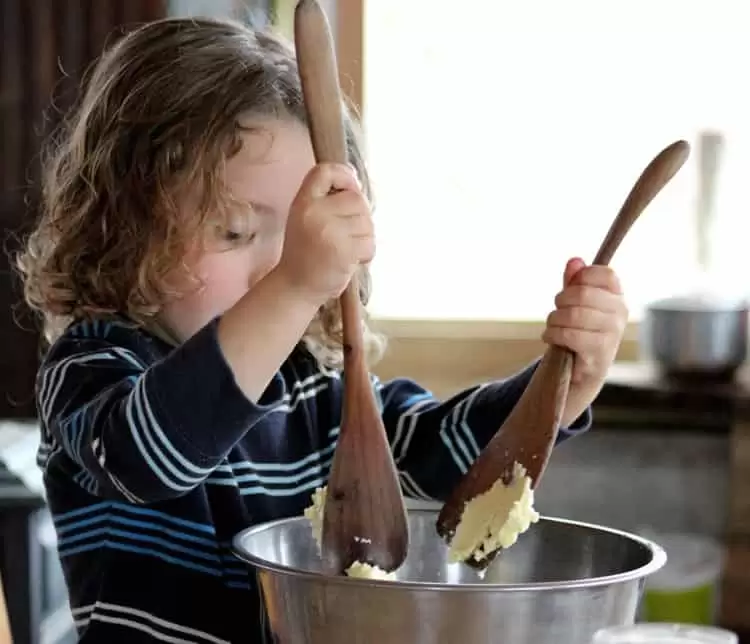 Cooking and Food Preservation
Learning to cook from scratch is a foundation of healthy eating. Even the youngest of toddlers are naturals in the kitchen because they love the tactile experience of measuring, pouring, stirring, dipping, and tasting. When kids start learning in the kitchen at an early age, by the time they are 9 or 10, they can make meals on their own!
Try taking a walk in the garden with your kids to see what is ready to harvest, then work together to create a garden-inspired meal plan.
For a delicious experience of the magic of fermentation, bake sourdough bread together, using this recipe to make your own sourdough starter. And while the bread is baking, grab some cream, and make homemade butter in a jar!
Older kids can learn the basics of food preservation such as dehydrating and canning. Here's a great list of canning equipment for beginners to get you started.
My personal favorite food preservation is fermentation, which is a great one to do with kids. Vegetable ferments allow kids to practice knife skills while making beautiful, rainbow colored dishes. Learn how to make sauerkraut with this video tutorial.
Or tackle some fermented beverages together, such as kombucha or homemade (all natural!) sodas.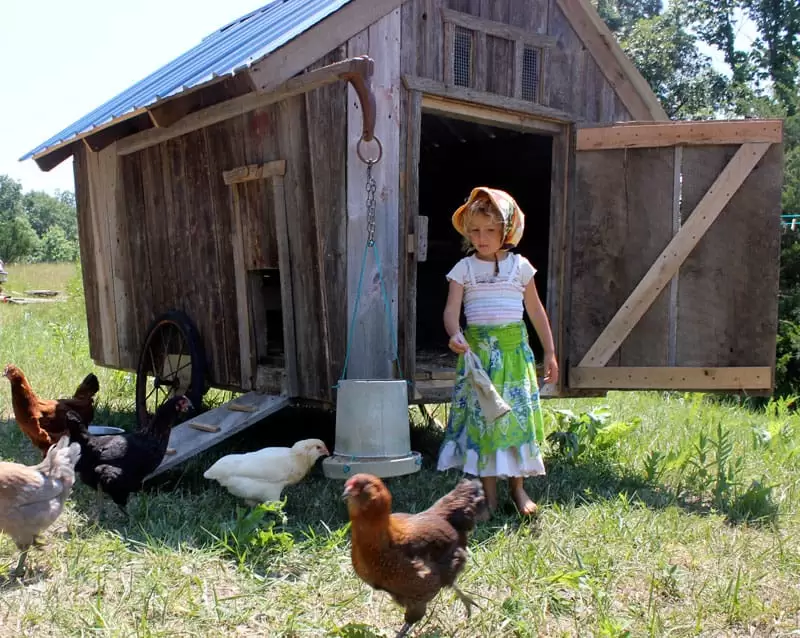 DIY Homesteading Projects to Make with Kids
One thing I love about homesteading is that it encompasses so many skills and areas of knowledge that it is impossible to be bored or ever run out of things to learn! Here are some more DIY projects that are perfect for learning homesteading skills alongside your kids.
Herbal Wellness
I love to tackle projects that teach kids about plants and herbs that we can use as medicine. For instance, we make homemade salve from plants that we grow in a salve garden, and make herbal remedies such as elderberry syrup or herb-infused fermented honey. Here are 10 more herbal projects that would be great as DIY gifts.
Worm Composting
Vermicomposting, or making compost with the help of worms, is something that can be done even in a city apartment. Learn how to make a worm bin for composting, then source some worms and let them eat your table scraps! Beautiful soil amendment in the making!
Making Soap
Soapmaking is a fun and creative activity that is perhaps better for older kids, as most recipes involve the use of lye. Here are 3 easy soap recipes for beginners, and tips on natural soapmaking for beginners. If you like learning with video courses, my kids and I love this soapmaking success course.
Natural Dyes
Did you know that many of the plants and trees in your backyard, and some of the ingredients sitting in your kitchen can be used to dye fabric?
Making natural dyes is such a fun process to share with kids. It can be as simple as boiling up some onion skins in water and vinegar to make a yellow-brown color, or as complex as adding various pre- and post- mordants to roots, bark, leaves, or plants that you've grown in a dye garden to create a broad spectrum of natural palettes.
Sewing 101
Sewing skills can be used in so many situations, from mending and upcycling, to fashioning new clothing and goods. Learn the basics of sewing, including how to hand stitch, sew for the kitchen, and sew a canvas tote bag in this pay-what-you-can collection of courses.
Making Beeswax Candles
One of my favorite projects to share with kids is making beeswax candles. There are many ways to make candles, from dipping tapers to pouring wax into a jar, to rolling sheets of beeswax. Why not make an event out of it and offer candle making at your next kids party!
Chickens and Kids!
And finally, if you have the space and time, consider getting yourself some chicks to raise! Chickens provide meat, manure, eggs, and unlimited entertainment, and letting kids clean the chicken coop is a great way to build homesteading skills and responsibility :).
I'd love to hear about your favorite way to homestead with kids. And don't forget to check out Family Homesteading for dozens more ideas on how to build homesteading skills with kids!