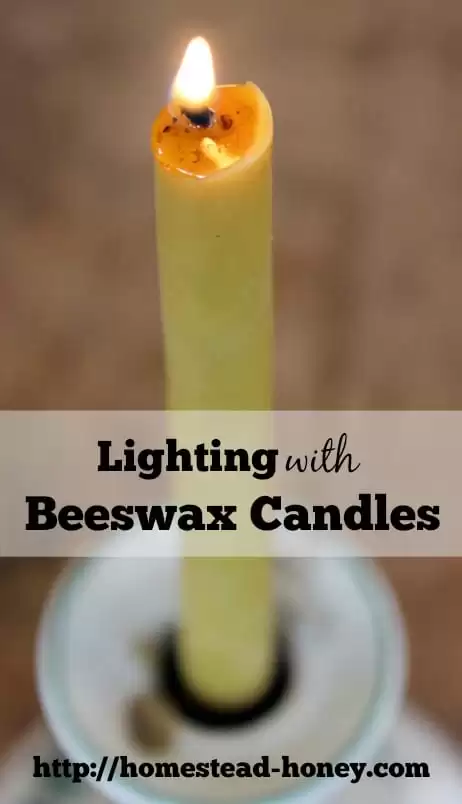 For well over a year, while building our tiny house, we lit our home with beeswax candles. Although our home is now equipped with solar electricity and LED lights, we still occasionally enjoy using beeswax candles for their warm glowing light and amazing scent. In the process of becoming so intimate with candlelight, and living next door to several electricity-free homesteads that also use candlelight, we've collected a few tips and tricks for lighting a home with beeswax candles.
Use Tapers
We found that taper candles gave off the best light. Votives, tea lights, and pillars are beautiful to behold, but we have found that the strongest, clearest light comes from a taper candle.  We purchase beeswax from a local honey farm, and make dozens of taper candles at a time using these dippers. (This blog post shows the beautiful process of making the candles.)
Freeze them first
I had never heard of this trick until I started mentioning candles on the Homestead Honey Facebook page, and then got the same advice over and over again: to prolong a candle's life, freeze it for at least 3 hours prior to lighting. It will burn better and last longer. While we have never tried freezing our candles, we do keep them in a very cold place!
Trim your wick!
Keeping your wick trimmed to 1/4″ and centered in the taper will result in the best burn and the least amount of dripping. Dripping may look cool, but it's not the most efficient use of beeswax.

Use mirrors
Placing a mirror behind your candlelight will help create more light. This is because the light is reflected out into the room by the mirror, rather than absorbed by the wall behind.
Light the task, not the space
We typically burn 3-4 beeswax candles at a time, and find that while the light is sufficient to cast a warm glow over our entire 350 square foot home, it may not be bright enough to read or write.  For closer tasks, it really is important to place a candle right where you need it, and close at hand.
Keep away from drafts!
Cross winds and drafts can cause your candle to burn unevenly, resulting in dripping.
Use a snuffer
One thing I really dislike is the smoke and soot that is caused when blowing out a candle. We've found a few ways to prevent this:  One is by using a candle snuffer, allowing the candle to extinguish completely before removing the snuffer.  The other is using your good old fashioned spit!  Simply spit on your fingers and quickly place your wet fingers on the wick.
Blow them out!
This is probably the most important tip.  Blow those candles out before you go to bed!  It can be so very relaxing to live in a house with candlelight, but it's also very dangerous to let them burn down while you sleep!  We like to use Ikea solar lamps in tandem with candles.  When we climb into bed to read or put the kids to sleep, we'll blow out all the candles and use the solar lamps in bed.