Snapshots and snippets of the beautiful, crazy world right out our front door.
If you'd like to share some of your own photos or a blog post, please leave a link in the comments!
My husband Brian has an affinity for earth-moving.  He loves to create terraces, sod mounds, trenches, and earth berms.  His latest project was to dig a small pond for the four ducks (two Khaki Campbells and two Cayugas) that joined our homestead a month ago.  Early each morning, I'd find him digging, moving topsoil, packing down clay, and creating a beautiful semi-circular pond. The only thing missing was water.
For the past few weeks, we've had a lot of sun and dry weather.  Approaching rain clouds fizzled away to nothing and only a few drips of water landed on our property.  Then, this week, two major storms came through – one producing strong wind and quarter sized hail in addition to torrential rain, the other just heavy rain. Within a few days, over 4 inches of rain filled our water barrels and ponds.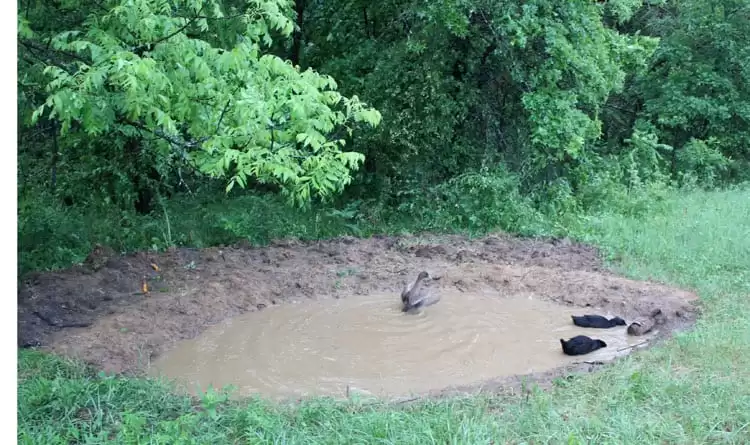 Happy, happy ducks enjoying their new pond!  The first time we herded the ducks into the pond, they hesitantly approached the edge, then cautiously went in the water.  From that point on, it was as if they had a Eureka! moment, and realized what fun was to be had in their new digs!
The kids also had a great time in the rain and mud!  Nothing like making mud slurry and then pouring it all over yourself!
The garden had slightly less fun in the storm. Most of the plant damage came from strong winds snapping young plants in half, but some hail balls managed to rip right through leaves. Luckily, most of the damage was cosmetic, and the plants have seemed to bounce back pretty strongly. We badly needed the rain, so I'm very grateful for these spring storms.
What's happening out your front door?