One year ago, my garden looked like this:

And with a lot of moving and shaping and layering, it became this: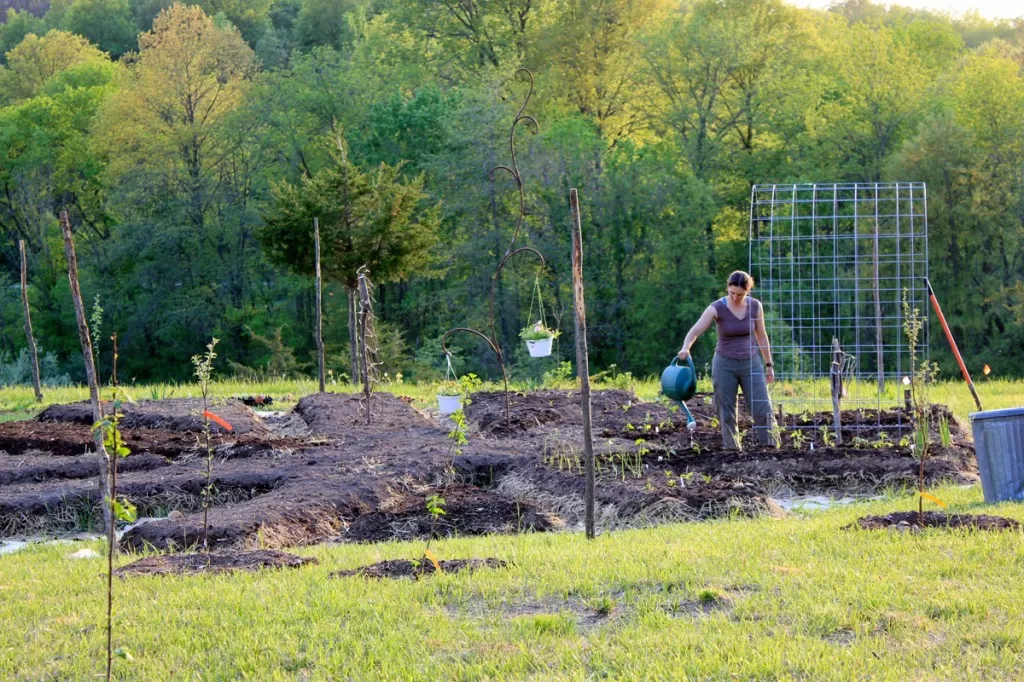 Our land is steeply sloped, and when we began to plant into it, we noticed that much of the topsoil from the hilltop had washed down to the lowlands due to poor agricultural practices.  Our house and garden are situated near the top of the hill, and as such, the soil quality is poor.  To create a healthy, resilient garden with few pests and disease, I knew I had to greatly improve my soil.
Building Soil with Lasagna Gardening
Building soil is the key to growing nutrient dense food in your garden, and it is the subject of Susan Vinskofski's new eBook, The Art of Gardening: Building your Soil.  For those of you active on the Homestead Honey Facebook page, you've seen my frequent shares from Susan's blog Learning and Yearning.  I love her approach to gardening, and I was eager to read her new eBook to see how it might inform my own gardening.  She and I share similar philosophies of building up the soil without disturbing its layers.
Susan discusses several great ways to build soil, including the strategy that I used to create a new garden without tilling or plowing: Sheet Mulching or Lasagna Gardening.  Essentially, a lasagna garden is made up of layers and layers of organic material that compost in place to create rich garden beds. I wrote about the process of creating the beds in some detail here, and in even more detail here, but to summarize, I layered straw and composted horse manure in multiple layers, and then topped the garden with some top soil and compost.  I began the sheet mulch process in the early spring, and planted into it for a summer harvest.
As you can see, the results were pretty impressive!  Although I created a garden directly on top of a mat of invasive fescue, I had virtually no problems with weeds, and thanks to a heavy mulch, the garden thrived even in a two month drought.
As I put the garden to bed in the late Fall, I covered the entire garden with a layer of composted horse manure and then a thick layer of straw. It looked like this:
I anticipated great future success, and wrote, "Next spring, we will have a garden replete with rich soil, earthworms, and microbial life, ready for another year's bounty."
Did it work?  Well, one year after creating my lasagna garden,  I have not examined the soil on a microbial level, but I can tell you that the soil quality is amazing!
When I pull back the layer of straw, and dig into the soil, here's what it looks like:
A bit of almost-composted straw still remains in the deeper layers, but the rest of the raised bed is beautiful, fluffy, dark and rich soil that works up for planting effortlessly.
For ultimate lasagna gardening success:
Let it compost for a long time!  While I did plant into my garden last summer, it would have been even better for me to have started my sheet mulching project in the fall, and then planted in the spring.  If you need to plant right away, consider topping the beds with top soil and compost.
Add mulch each year.  At the end of the growing season, add a layer of organic material – manure, leaves, or straw. These days, I do a lazy version of lasagna gardening, and start a new compost pile right where I'd like my next bed. I start with cardboard to suppress weeds, and then layer food scraps, leaves, grass clippings and manure right in the new bed space!
Water occasionally!  I found that the beds in which I was direct sowing seeds (beans, corn, sunflowers, etc.) and thus kept them watered throughout the germination period, composted more rapidly.
If you are interested in learning more ways to build your soil using organic, non-disturbance techniques, I highly recommend Susan's eBook, The Art of Gardening: Building your Soil. She also covers seed selection, starting, and saving, choosing a garden site, and has an entire A-Z Alphabetical guide to vegetables that features seasonal recipes. Plus, the book is downright gorgeous, featuring original paintings and illustrations.  You will love it.
Pin it for Later: