Driving around rural Missouri in mid-June, it's impossible to miss the glorious clusters of white flowers that crown large bushes on the sides of roads, in pastures, and along creeks: Elderflowers. On our homestead, in addition to the wild bushes on our land, we also planted 20+ Sambucus canadensis, the American elder, so we have abundant berries for canning and making elderberry syrup, and also plenty of flowers to use in these creative elderflower recipes.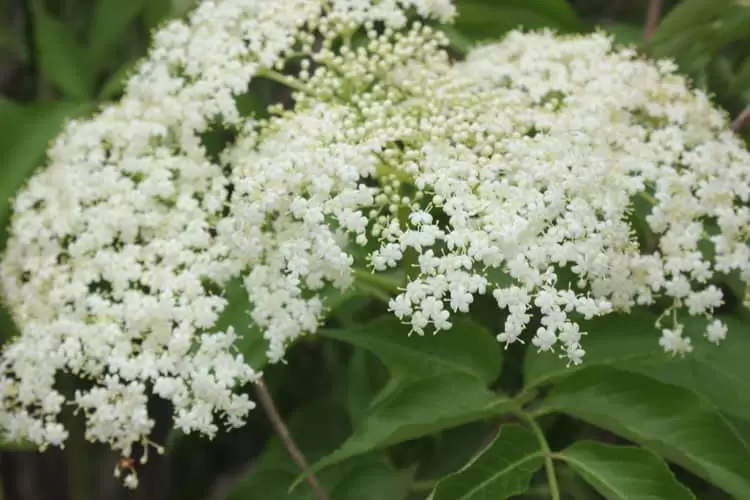 Of course, when foraging any wild foods, it is important to make sure you are safely and ethically harvesting wild foods. In particular, because elderflowers do resemble some other common wild plants (some of which are inedible, and one is deadly poisonous), make sure you are positive of your identification before harvesting. Here are a few guides to help with identification:
Foraging for Elderberries
Distinguishing Elderberry from Silky and Red Osier Dogwood
Poison Hemlock: How to Identify and Potential Lookalikes
Elderflower is a subtle yet distinct flavor that pairs well with citrus and other acidic fruits. Of course recently the world got re-introduced to elderflower with the royal Lemon and Elderflower wedding cake (which my neighbor re-created a few nights ago – it was delicious!).
To use elderflowers, simply harvest a cluster of fruits from the elder bush, remove excess stem by snipping with a pair of scissors, and turn upside down on a piece of cloth to allow any bugs to crawl away.
Now onto the fun part: Deciding which of these delicious and creative elderflower recipes to try first! I've broken them down into three categories – fermented beverages and cocktails, edible elderflowers, and elderflower remedies and body care.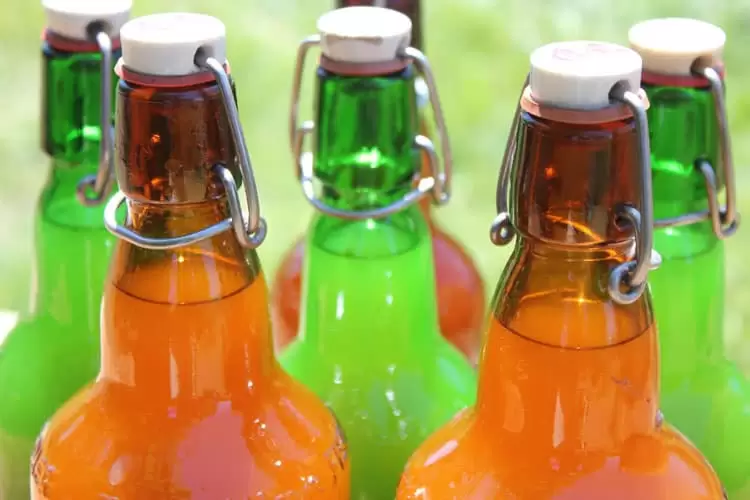 Elderflower Soda, Meads, Champagne, and Cocktails
Elderflower soda may be one of my favorite naturally fermented sodas because the flavor is subtle and sweet. My elderflower kombucha recipe runs a close second. These are the only non-alcoholic beverages listed below, so feel free to share them with children. For the adults, enjoy a cocktail made with an elderflower simple syrup, or ferment a batch of wine, mead, or champagne.
Elder Flower Simple Syrup and Cocktail Recipes
Sweet and Summery Elderflower Champagne Recipe 
Strawberry Elderflower Sparkling Mead
Chokecherry Elderflower Mead Recipe
Turn These 7 Herbs and Flowers into Country Wine
Elderflower Liqueur Recipe (Homemade St. Germain)
Edible Elderflowers
Elderflowers are not just for drinking! Enjoy them deep-fried, in jellies, honey, or tea, or even turned into fairy-worthy marshmallows!
Elderflower & Vanilla Jelly Recipe
Elderflower Remedies & Body Care Recipes
Elderflowers are perfect for herbal remedies and natural body care because they are filled with anti-oxidants and anti-inflammatory properties. If your recipe calls for dry elderflowers, read through the tips in this post:  How to Harvest and Dry Flowers & Herbs From Your Garden
Elderflower Anti-aging Serum for Older Complexions
Elderflower Eye Cream for Women of a Certain Age 
Elderflower & Lavender Soap Recipe
Supercharge your Elderberry Syrup
If you haven't yet had enough elderflower magic, feel free to check out these other recipe collections.
10 Elderflower Recipes & Remedies to Enjoy 
5 Delicious Elder Flower Recipes
9 Elderflower Recipes Inspired by Harry and Meghan's Royal Wedding Cake Flavor
I'd love to hear which recipes you loved or if there are any elderflower recipes I've missed!
Pin these Recipes for Later: