For the past 5 years, our family has been living without running water. Instead, we live with what I have heard referred to as "walking water." In our case, the walking part has been quite literal – walking hundreds of gallons of water in buckets from one place to another.
This post may contain affiliate links. Please read my Privacy Policy & Disclosures for more information.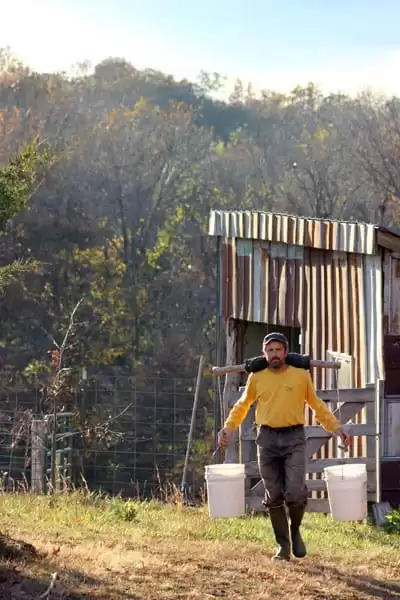 I admit, living without running water has been one of the bigger challenges of developing a homestead from scratch, particularly when our dreams, plans, and actions include planting hundreds of fruit trees and two large gardens, raising chickens, ducks, lambs, bees, dairy cows, and keeping a family of four clean, fed, and hydrated.
Why Live Without Running Water?
Honestly, when we moved to NE Missouri, we didn't set out to live without running water, but we were very excited to try water catchment.
We had a well at our Oregon homestead, and several of our friends and neighbors here in Missouri have city water. But we chose to build a home at the end of a 1/4 mile gravel dead-end road, atop a hill.
The logistics and expense of piping in water or digging a well were overwhelming to our budget. We decided to start with water catchment and see how it went.
We learned that it is a viable option for us if we continue to add to our water storage capacity, preferably with an underground cistern.
How Do We Collect and Store Rainwater?
In practical terms, what does living without running water look like? First, and most importantly, it involves catching water and storing it.
We collect water from two sources:
Every metal roof of our homestead
A homestead pond
We were so fortunate to move onto a piece of property that already had a large, deep pond within close distance to our home site. The pond is ringed by willows and cattails, is remarkably clear and cold, is fed from a watershed completely housed on our land, and is incredibly private. We use pond water for animals, gardens, bathing, and some household use.
We also collect rainwater from the metal roofs of our house, toolshed, cow barn, and chicken coop. Water is collected via gutters into 50-gallon food-grade barrels (which we purchased at our local Pepsi Co. distributor for about $10 per barrel).
We have a total of 550 gallons of water storage, as well as a 50-gallon stock tank. In the winter months, freezing is an issue, so we take our barrels "offline" but do collect snowmelt and rainwater into open buckets and containers that we store indoors or in our homestead root cellar.
How Do We Collect and Filter Water for Drinking and Cooking?
We have a Berkey Water Filter that we use to render our cooking and drinking water potable. We use rain and snowmelt exclusively in our Berkey, although in an emergency situation, we could filter pond water.
Our Berkey is one of my favorite homestead tools. Not only does it make it possible for us to continue living without running water, but it makes the water taste delicious. I highly recommend it for any homesteader, as you can use it for emergency filtration as well as day to day use.
Water for drinking and cooking represents a mere fraction of our overall water use; I'd estimate we use about 2 gallons per day. We have the Big Berkey model that filters 3.75 gallons of water per hour, and it is more than adequate for our family of four's needs. If we host guests, we try to get ahead of our water filtration and set some aside to meet the needs of more people.
Collecting Water for Animals, Plants, and Household Use
Because this is the bulk of our water usage, we end up fetching most of the water we need for plants, animals, and house from the pond, carrying five-gallon buckets by hand.
We have thought about purchasing a solar water pump to move water from the pond to our home site, but we're still debating over the investment. Our neighbors' topography has enabled them to build a pond at an elevation higher than their garden; with a freeze-proof hydrant, they have a year-round source of water for gardens and animals.
The chicken coop and cow barn both have barrels/stock tanks to meet their water needs, so in the summer months, watering our animals is quite simple. Keeping the animals watered in winter is more difficult, as our winter water protocol at this time is rather rustic.
How to Water the Garden without Running Water
That leaves the following:
Garden
Dishes
Fruit Trees
Bathing/Showers
Miscellaneous water use
The fruit trees have been the easiest to keep watered because we use greywater from our dishwashing. We collect our greywater in five-gallon buckets and water our trees in rotation.
We are committed to very clean dishes (no greasy residue), so that means heating water on the woodstove, rocket stove, propane stove, or in the Sun Oven for each and every batch of dishes. We've found that washing dishes with cold water just does not cut it. We pour hot water and biodegradable dish soap into a plastic bin for washing and simply pour clean water over dishes to rinse.
The garden's water needs largely depend on rainfall. I've gotten very good at following the forecast, anticipating the rain, and sowing seeds accordingly.
When we are blessed with rain every 1-2 weeks, the garden needs very little irrigation. However, in a drought situation, we have to hand water, and this involves many, many trips to the pond.
This summer's two-month drought meant that some plants just didn't make it. I ended up with a much smaller fall/winter garden than I had planned.
Bathing Without Running Water

I know you're all thinking – How do we stay clean living without running water?
In the summer months, we swim daily in our homestead pond. This keeps us all pretty clean, and we also take showers in the super-awesome outdoor shower that my husband built this spring.
In the winter months, we keep things very simple. Every Sunday is "Bath Sunday" and we each have a turn taking a bucket shower in front of the woodstove. It's so very Little House on the Prairie! We also have a YMCA membership, and workout time leads nicely into hot shower time.
Future Plans for Water Catchment and Water Storage
We seem to be able to tackle one large homestead project every six months. First, our house, then a tool shed. Next, our solar electric system, followed by a cow and cow barn, and finally, a homestead root cellar.
We were able to watch our neighbors construct a concrete water cistern this summer, and learned much from their experience, and also from our experience constructing a root cellar. Next summer, I imagine we'll install an underground cistern for house water, and perhaps a solar water pump for our gardens.
In some ways, it's ironic, and perhaps a sign of our times, that we have high-speed Internet, but are living without running water! And some days there is a lot of stress involved with not having a faucet that turns on and off. But most of the time, I feel a huge sense of relief that we are able to provide our family with amazing tasting, clean, and non-treated water.
All in all, having no running water has become part of our lives and we have found ways to bathe, cook, and water the plants that work for us as a family with young children. For tips on how to survive temporarily without running water, check out this post or head over to this article!
---
Interested in learning more about how we created an off-grid homestead on raw land? Check out my eBook, Creating Your Off-Grid Homestead. This 95-page downloadable eBook is packed with practical advice, encouragement, and information to help you create your own off-grid homestead.
Pin it for Later: