When will my cow calve?? That's the question we asked each day for the past two weeks! Since Creme Brûlée had been impregnated through the use of Artificial Insemination (AI), we had a "due date" pinned down and in the calendar. Unfortunately, like humans, the due date doesn't tell you exactly when your cow will give birth. But, by paying attention to a few signs, we could anticipate when Creme Brûlée would calve, and were able to be home and waiting to greet her calf, and help if needed.
How Long is a Cow Gestation?
Like humans, cows are pregnant for about 9 months. According to most charts, the average gestation period is 283 days. However, smaller breeds, like Jerseys, tend to give birth a bit earlier, closer to 279 days. We used a gestation calculator like this one, and came up with a due date of May 13.
Come May 10, we cleared our calendars and began to keep close watch over Creme Brûlée. I was eager to watch her give birth, and we wanted to make sure we were close at hand in case any problems arose like last year. May 13 came and went, but I was not seeing any signs of imminent calving.
When Will my Cow Calve?
Here are some of the signs we were looking for:
Mucus coming out of the vulva
Her udder filling with milk
Loosening of the tail ligaments
Any changes in behavior, like restlessness, pawing at the ground, or going off feed
Mucus: While we only noticed mucus about 5 days before the birth, it is sometimes seen a week or two before birth. It's a good "get ready" sign, but not a "calf is coming" sign.
Udder filling: Again, not a "calf is coming" sign, but a sharp increase in udder size before birth is common, and we definitely noticed it this season. Each day we'd check on Creme and say, "Her udder is huge!" and each day it would get more huge, filling with the colostrum her baby would need.
Tail Ligaments: The ligaments on either side of the cows tail will loosen and sort of "disappear" when calving is about 12-24 hours away. You can see this very clearly in the photo above – notice the sunken area under her tail. I noticed this change on Saturday night, and expected to find a calf Sunday morning or afternoon.
Changes in Behavior: We spend a lot of time with our cows – loving them, petting them, and brushing them – so something very minor, like Creme not wriggling her head around when I was brushing her, was a big tip-off for me. Usually she is very energetic when I brush her, but Sunday morning, she was in a ooey-gooey-lovey sort of mood and really zoned out, as you can see in the photo! I also noticed her pawing at the ground, although it was interesting to me that she never lost interest in eating!
While I knew that Creme was in active labor by 3pm on Sunday – I could even see her having contractions (very subtle, but she would pause, stick her head out, and slightly arch her back and lift her tail for 30 seconds at a time) – I figured it was still a few hours away. While I was in the house, and the kids were at the pond with Brian (a period of maybe 45 minutes), Creme gave birth! We came out to check on her and found this little wet creature on the ground.
He was strong and healthy from the get-go, walking around and eagerly sucking on Creme's teats. A beautiful, healthy boy that will grow up to become nourishing food for our family. We named him Osage, after the Osage Orange tree under which he was born.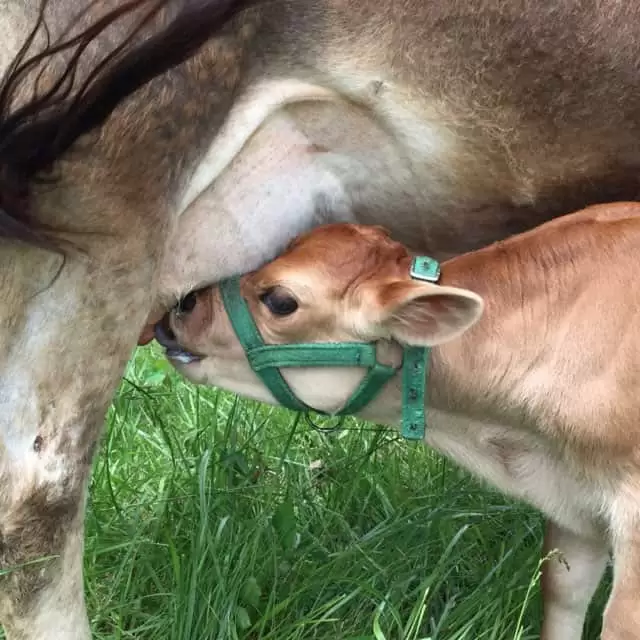 And now the real fun (and work) begins! Getting back into a milking routine, making cheese, butter, and yogurt. The rhythmic life of caring for homestead dairy animals.
Pin this post for later: