Beet greens are edible and extremely delicious and nutritious. There are many ways to cook them, but if you find yourself with an abundance of beets to pull at once you might be wondering what on earth to do with all of their greens. Learn how to preserve beet greens by freezing them!
With a hard freeze on the horizon, I spent much of the weekend preparing the garden for the cold and harvesting vegetables for the root cellar. Although my beets may have survived the freeze, I opted to lift them out of the ground – after all, the sooner I prepare my garden for winter, the sooner I can move on to my favorite winter activity: knitting.
When you pull 70 or so beets out of the ground, you end up with a LOT of beet greens. I have written previously about vegetable storage in a root cellar, and intend to store my beets with these methods. This blog post will show you how to preserve beet greens for winter eating.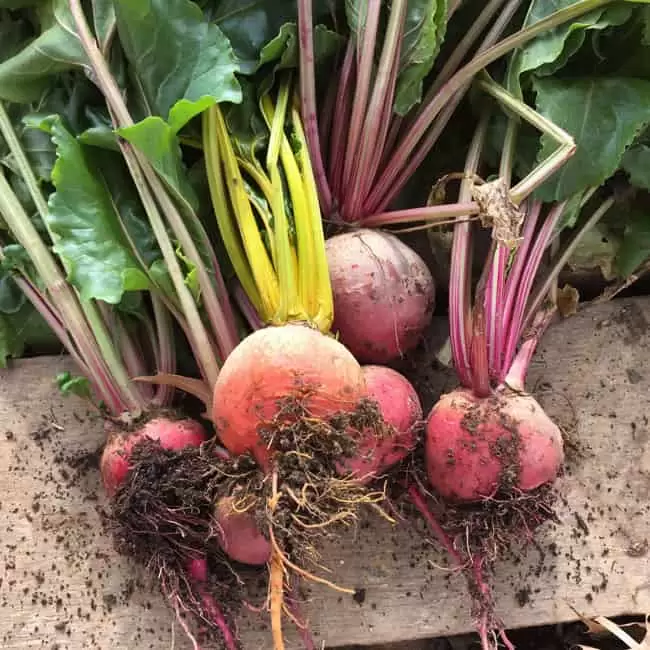 How to Preserve Beet Greens
The first step in preserving beet greens is separating the greens from the beets and "high grading" the greens. I cut the greens about an inch above the beetroot. Then I sort the greens into piles – the very best greens will get preserved. The substandard greens will be shared with the cows or chickens, and I also set aside a large pile to sauté for dinner.
An Unexpected Side Note: Blister Beetles
I should note that I had a "lemons make lemonade" situation this summer. I returned from a week-long vacation to find that my beet crop had been decimated by Blister Beetles. (As an aside, we experienced the "blister" part first hand. Somehow a Blister Beetle had hitchhiked its way into our bed. My daughter woke in the middle of the night and felt the beetle walking across her neck. The next morning, she woke up with enormous blisters on her skin. So, if you do have them in your garden, take caution and wear gloves!)
I had never encountered Blister Beetles until this summer, but they are voracious eaters and had gnawed the greens of my young beets down to stubs. Fortunately, the beets recovered and grew new tops. While my beetroots suffered (they were much smaller than usual), the tops produced healthy, gorgeous greens. I filled an entire banana box with greens to preserve.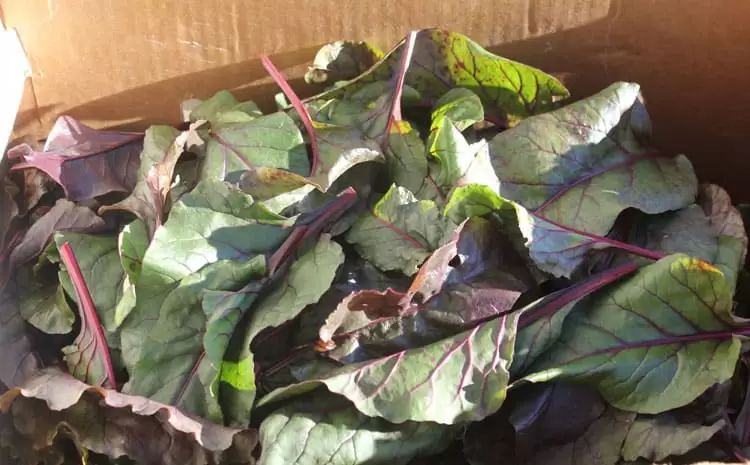 Prepare Greens for Freezing
The method I used to preserve beet greens is blanching and freezing. You can use the same technique with other leafy greens such as spinach and kale. Here's how to preserve beet greens for freezing:
First, set a pot of water on the stove to boil and fill a large bowl with icy water.
Next, cut your beet greens into smaller pieces. I like to make a big pile of greens, laying the leaves one on top of the other, and cutting them into 1″ strips.
Blanch the Beet Greens
When the water begins to boil, toss a handful of greens into the water (or use a blanching basket if you have one handy) and set a timer for two minutes.
When the timer goes off, immediately remove the greens from the boiling water with a strainer or slotted spoon, and plunge them into the icy water to cool. I let the greens sit in the icy water for about a minute before squeezing out the excess moisture and transferring them to a towel to continue cooling and drying.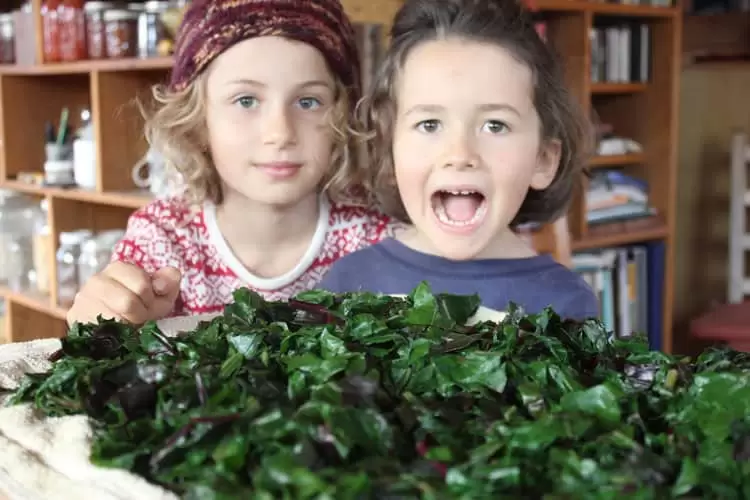 (The kids asked me why I never take pictures of them for the blog anymore. So here they are, sharing their enthusiasm for beet greens!!)
Dry the Greens
To assist the greens in drying you can roll them in your towel. The important thing is to make sure the greens are not dripping with water, or else they will get freezer burn.
Finally, pack your blanched beet greens into a freezer-safe container of choice. I opted to measure out 2 cup servings of beet greens and pack them into quart-sized freezer bags.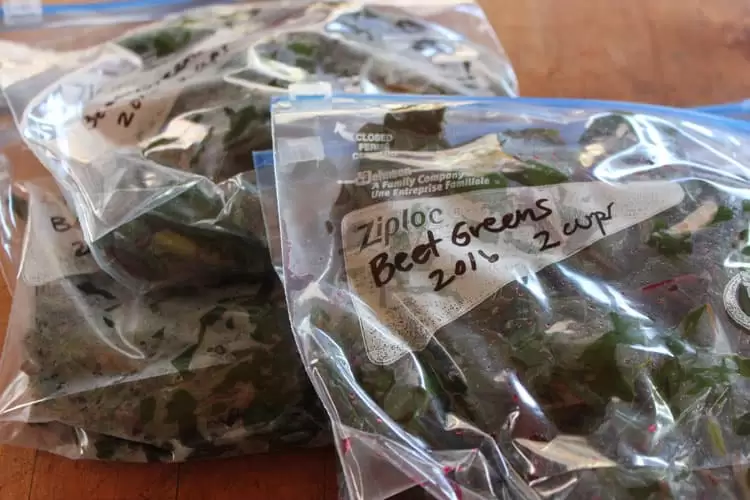 How to Use Frozen Winter Greens
I was able to preserve 10 cups of beet greens to freeze for winter eating. These will be such a welcome addition to soups, stews, frittatas, enchiladas, or lasagnas. You might also enjoy putting them into smoothies! The fresh, bright green flavor of your preserved beet greens will bring a bit of summer into your winter dishes.
Ready to preserve more garden goodness?