When it's hot and we've been working in the garden or barn, the most thirst quenching drink we can imagine is something cold, sweet, and fizzy. A soda. Occasionally we find organic, all-natural sodas at the Amish bent and dent store and enjoy them as a treat, but in general we find them to be too sweet. Recently we've gotten in the routine of creating something even better: homemade sodas infused with herbs and flowers. They are among the most delicious beverages I've ever tasted, so today I'm going to share how to make your own homemade soda from herbs and edible flowers you might already have in your garden.
How to Make Homemade Soda
First off: there are naturally fermented sodas that use only the live culture of whey, sauerkraut juice, or a ginger bug to generate a bit of fizz, and there are also recipes for sodas made with packets of yeast. I'll be sharing both techniques here, so you can take your pick! If you do opt for the naturally fermented ginger bug recipe, be sure to start your ginger bug well in advance using this recipe:
>> How to Make a Ginger Bug for Homemade Soda
Either way, it's the action of the yeast that carbonates the soda: as they eat a small amount of the sugar, they make carbon dioxide gas, which is trapped in the bottle, builds up pressure, and forms the carbonation.
Making soda is not an exact science. You'll want to get the proportions and timing pretty close to the recipe below, but don't worry if you wiggle on quantities or ingredients. The point is to have fun and be creative! We harvested sage, anise hyssop and elderflowers from our garden and used these as flavorings, but you could also use strawberries, calendula, chamomile, rhubarb, lavender, lemon juice, and so on! You might also want to try my Dandelion Soda recipe.
Ingredients
A large handful of herbs or edible flowers of choice (We have used anise hyssop, sage, and elderflowers in three different batches, and all three have been delicious!)
One gallon of water
1 1/2 – 2 cups organic sugar (Or honey or other real sweetener.)
4 TBSP lemon juice
1/2 cup ginger bug starter
OR 1/4 tsp yeast (you can use champagne or ale yeast, or even bread yeast)
To Make the Soda
1) Place your large handful of herbs in one gallon of water. Bring to a boil, and then allow to cool slightly before adding sugar. Stir to dissolve the sugar completely.
2) When the liquid has cooled to room temperature, stir the lemon juice, and either your ginger bug starter or the yeast into the "tea." Mix well.
3) Using a funnel for spill-proof pouring, and a strainer to catch plant material, pour the soda into bottles. You can use flip top bottles designed for brewing, like these ones, or you can use food grade plastic soda bottles.
4) Set the bottles in a room temperature location for around 48 hours (36 in warmer summer weather) to develop carbonation.
IMPORTANT SAFETY NOTE: This is when you need to be most attentive to your soda. If you leave it in a warm environment for too long, the CO2 gas pressure can become so great that the bottles can explode, with potentially injurious results. Even though these glass bottles are designed for brewing, you will want to pay close attention to your ferments.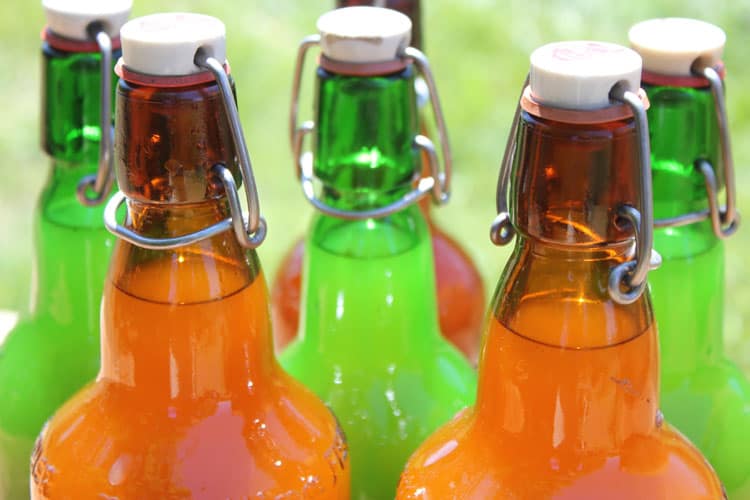 5) If you want to check for fizz, you can slightly crack open one of the bottles to see how fizzy it is, then recap it quickly. After carbonation, move the bottles to your refrigerator, or another cold location.  Although the cold slows the activity of the yeast, it doesn't stop it altogether, so plan on drinking it within the week.
6) Open carefully, cracking the seal slowly to monitor how much carbonation has occurred. Sometimes, it may foam out a bit like champagne, so hold the bottle over a bowl to capture any spill.  Serve cold, or over ice, and enjoy!
Resources:
Pin it for Later: