Building a homestead from scratch. For many, it's the ultimate homestead dream. It certainly was ours when we moved to Missouri 6 years ago and built an off the grid homestead on raw land – but is it really the best path forward?
Yes, it can be enormously appealing to design, plan, and implement your own homestead vision. I still remember the late night conversations and countless sketches as we hashed out plans for gardens, orchards, a barn, a root cellar, and a beautiful off-grid home. For those that love to dream and do, creating a homestead from scratch can be a very energizing process.
Starting from scratch also means that you do not have to undo decisions that previous owners made. As Quinn Veon offers, "The established homestead we bought was more difficult to manage holistically because of the previous owners differing ideologies."
And in some cases, starting from scratch on raw land can be a more affordable entry to homesteading.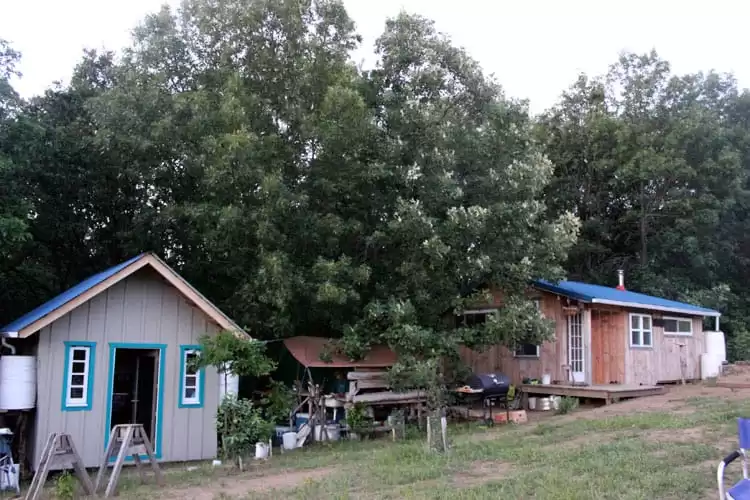 We've been living in Vermont for almost 9 months now, and watching the local real estate market for over two years. We've had countless conversations with friends and professionals about the pros and cons of building vs. buying. And our mind is still not made up.
We viscerally know the reasons to purchase raw land and start from scratch, but what are the compelling reasons to purchase a homestead that is already established? Or to buy a house that has a bit of land, and spend time converting that home to a multi-faceted homestead?
I connected with several homesteaders who decided that, for their families, the best path forward was to purchase a home on acreage, rather than building a homestead from scratch on raw land. I think you'll find their reasons diverse, and well worth considering.
9 Reasons to Buy a Homestead and NOT Build a Homestead From Scratch
You're Not 100% All-In
Building a homestead from scratch is hard work, period. Unless you come to the project with a sizable amount of cash, you'll either be working hard to pay others to build for you, or you'll be extremely busy planning, designing, and building.
Taking on a project of this size and scope requires 100% buy-in from all members of the family. When asked about her family's decision not to buy raw land YET, Tessa Zundel of Homestead Lady said,
I talked about it with my husband before our last move and while his mouth was saying, 'OK, let's seriously consider this,' his heart and mind were NOT in agreement. If it's going to be a family endeavor, we'll have to wait until all family members (or at least both parents) are on board … nothing is more important than the homestead family moving forward as a team.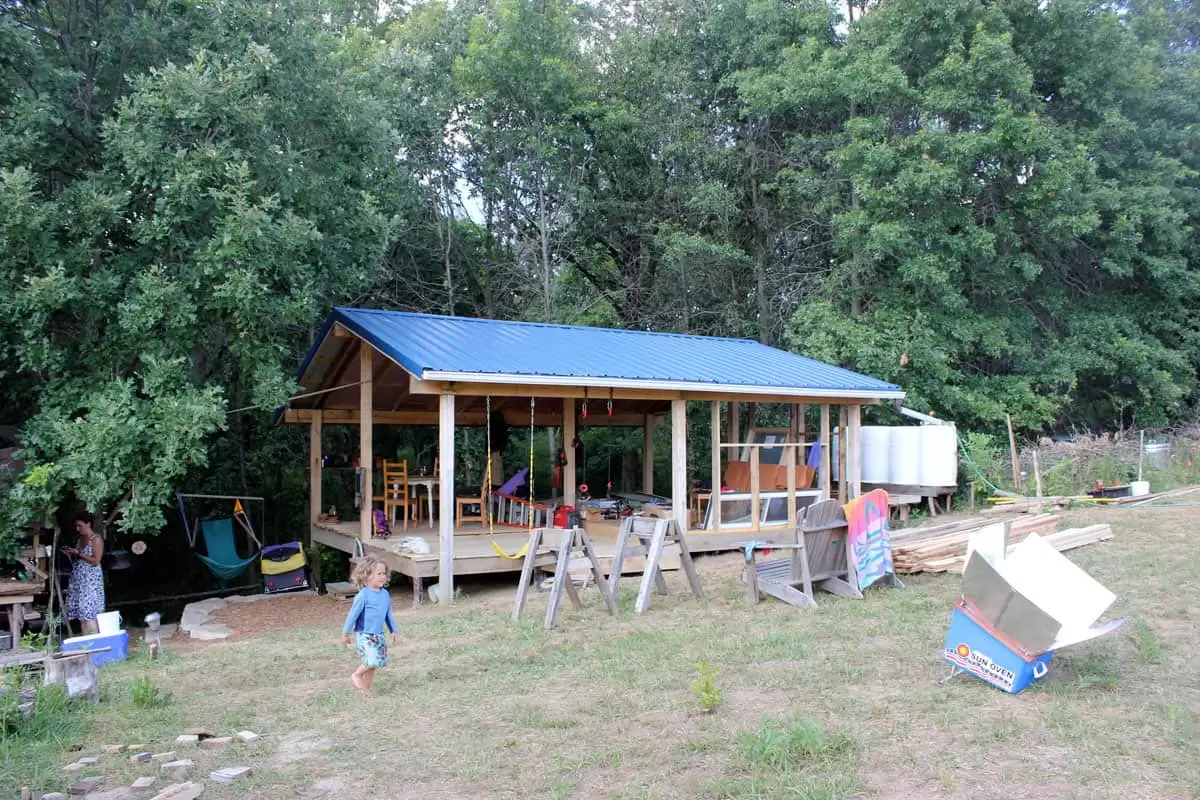 What is Your Skill Level?
I want you to answer this question as honestly as possible: If you intend to DIY your future home, do you have the skill set to see a homestead building project through to completion?
Let me say that I'm a huge fan of growth mindset. I believe that it is possible and wonderful to challenge yourself and learn new skills. But it's also important to complete an honest assessment of your skills and how they relate to your overall stress level, temperament, organizational abilities, budget, and available time.
Age is Everything
Age is something I think about a lot in relation to building or buying a homestead. I'm in my mid-40's and my husband a few years older. We do not want to be paying off a 30 year mortgage in our 70's and 80's. Purchasing within our current means or building a simple home will help us pay back any incurred debt in a reasonable time frame.
Similarly, the age of family members – parents, children, or relatives you care for – should also be factored in. We built our home in Missouri when our kids were 2 and 5 years old. They went along with the flow of every decision, and were happiest at home, playing alongside their working parents.
But Erin Perry reminds us to "consider individual resiliency, and factor in changing dynamics as kids grow. I am busier now than when my teens were toddlers!"
If this is true for you as well, you may want to head straight to home ownership.
A Bed Under Your Head
Practically speaking, you need a place to rest your head every night. Building a homestead from scratch could mean camping, constructing temporary shelter, or living in a mobile home while you build. Or it could mean paying rent or a mortgage for a living space and a mortgage on your land, the cost of which can add up very quickly!
Chris Dalziel's family was originally looking for raw land to build on, but found a piece of property whose character and location they really loved. It came with a house and 140 acres that were unused. She says,
We had to build animal shelters, do the fencing, create the gardens from scratch. It was a lot of work and we were grateful to have a bed to sleep in, in a house safe from bears and cougars and winter weather while we worked on the rest of the property.

Eliminate Overwhelm
Even if you purchase a property with a move-in ready home, creating homestead infrastructure such as coops, barns, gardens, and orchards, can take quite a bit of work!
You might want to adopt Ann Accetta-Scott's approach. Her family made an agreement, "we could only (emotionally and financially) work on one thing – property or house. If the house was livable we'd focus on the property. If the property was set up we'd work on the house. That was the best decision we could have made for ourselves. It's allowed us to not feel overwhelmed and enjoy the process."
The Right Property at the Right Price
If you're flexible, you may be able to find a home and property that has been overlooked by other buyers for reasons that you can live with. In this case, it makes a lot of sense to buy a home, rather than start from scratch.
Helene was able to make this work in her favor. "We we're blessed to find a home that was on the market for a year because the driveway needed some work. We got it for a great price. When looking think outside the box and what you can overlook that others cannot. We now have amazing views, of Mt Katahdin in beautiful Maine!"
Lower Your Impact
In our developing world, it's important to consider whether or not building on a piece of undeveloped land is a good thing. Will your building practices hurt or harm the earth? Is there locally available real estate that will suit your needs just as well?
Heather Bruggeman's family chose to purchase land with a home already built on it. They considered the following factors:
1) As much as we like the idea of starting from scratch and building a place to our specifications, we tend to get cold feet when it comes to developing virgin land when there are so many existing homes and homesteads in need of stewards.

2) The property (and house) we purchased is attached to raw land that we already owned and used as a simple camp. Buying the house and land next door allowed us to absorb four season living quarters without disrupting the landscape.

3) My husband's job requires him to travel out of state several days each week, which helped to simplify our decision making process. It just wasn't practical for him to be here for the time needed to pull off a build (which he would want to be a part of).
What Does Your Budget Tell You?
Ultimately, for some of us, the decision to buy or to build a homestead will come down to a financial one. What can you afford? What kind of labor can you provide? What financing do you have available?
I found Natalie Kalmeyer's advice valuable. She is not only a real estate agent but also weighed the pros and cons of buying vs. building in her own home ownership process. She shares,
We wanted something off the road surrounded by trees, which already narrowed down the properties we would consider. The infrastructure costs to build a driveway base, run electric, permit and design a septic system, develop a water source and the time to clear trees for a driveway/building site and garden were compelling considerations.

A vacant land loan usually comes with higher interest rates and shorter terms, so we would have opted for a combination construction and land acquisition loan. I was concerned about the uncertainty of cost overruns above the downpayment. For a construction/land loan, the building specs need to be provided to the lender at time of application, rushing decisions about our "forever home." We had several kids at home which made moving to temporary housing seem very impractical, so building would have required us to carry two mortgages for quite a while.

Finally, we found an 1800's farmhouse with "good bones," with existing land infrastructure and outbuildings. While we have uncovered various issues requiring repairs in the process of remodeling, the home was livable and we have been able to do one project at a time.
Keep Your Eyes Wide Open
Remember that any purchase – whether it be a home or raw land – requires a fairly staggering amount of due diligence before you can begin creating your dream homestead. Do your homework, make your budgets, read the fine print, arrange meetings to speak with professionals, and get quotes.
Devon Young's experience is a good reminder of the simultaneously challenging and magical situations you can find yourself in when purchasing a home or homestead.
Having purchased a poorly maintained homestead, I can attest to the sheer volume of work it takes to correct the neglect and poor decisions of previous owners. Buy with your eyes wide open and assume that nothing is going to work for your homestead needs. That being said, reclaiming an old homestead from the proverbial brink can be deeply rewarding with many surprising discoveries along the way.
Did you have to make a decision whether to buy or build a homestead? What were the factors that you considered? Please share your experience in the comments below!
Pin it for Later: