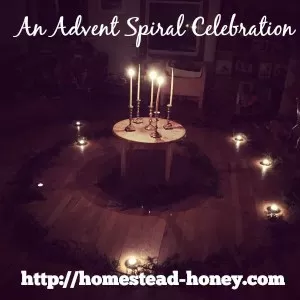 One of the sweetest yearly rituals that our family enjoys is an Advent spiral in the weeks leading up to Christmas.  Although we do not practice a particular religion at home, I find that the Advent spiral encompasses all of the many festivals of light in a beautiful, introspective, and peace-filled way.
Our Waldorf homeschool cooperative group has come together to celebrate this festival for the past three years.  The details have changed from year to year, but the essence remains the same: the spiral, songs, a story, and a shared meal.
The Spiral
The Advent spiral is really at the heart of our festival. It is not possible to describe how precious it is to watch each child walk slowly into the center of the spiral, carefully carrying his or her candle.  When they finally make their way to the very center, they "kiss" the candle of Peace, Love, Hope, or Joy, and then unwind the spiral to the next candle that needs lighting.  They walk with such care and peace and intention that the beauty of this ritual often brings me to tears.
Songs
We have a few favorite songs that we sing each year, and the kids now know them by heart.  This year we sang verses of the Advent Song (Candle, Candle burning bright…) in between each child's walk through the spiral, and it was quite beautiful.  This post has a complete list of all of our favorite December/Advent songs.
Story
In years past, we have read the book Holly and Ivy over the course of the four weeks of Advent.  This is  such a sweet and heartwarming book that is perfect for young children (our group ranges in age from 2.5 to 7 years old).  This year, we decided to take turns reading favorite holiday books aloud to begin our evening, as a quieting transition between arrival and the Advent spiral.
The evening typically ends with a shared meal, potluck style, and kid shenanigans!  The Advent spiral is something I look forward to each year as a grounding anchor to the otherwise overstimulating month of December.