Although tiny houses are often viewed as ideal dwellings for singles or couples, there are many families living in tiny houses with kids. Ours is one of them.
We have lived in a 350 square foot tiny house with two children, now ages 5 and 8, for three years.
Living in a tiny house with kids has its pros and cons, and I'll tell you honestly that there are days that I adore living in our tiny home, and days that I dream of the addition we may someday build.
Living in a tiny house with kids requires an extraordinary amount of creativity, patience, flexibility, and organization. Kids are natural collectors and love to display their collections prominently.
They are also blessed with incredible energy and enthusiasm for new projects (many of which involve paper and glue!). My husband and I don't fret over dust and spider webs, but we do love a neat and well-organized home.
I've found that a few general rules help us co-exist relatively peacefully with our kids in a tiny house:
Everything has a place, and at the end of the day, all items go back to their place.
Cleaning up, and regular purging of unwanted or unused items is just what we do as a family.
Loud voices and big movements go outside, where running, building forts, and mud play are all encouraged!
Living in a tiny house with kids also means that spaces have more than one purpose.
For instance, our kitchen table – the built-in bench seating that you see in the photo above – also acts as our homeschool desk, our dinner prep counter, our bill-paying center, etc.
And because we're sharing our tiny house with kids, we have gotten really creative about spaces that are uniquely theirs, such as this under-the-bed nook that we affectionately call the "Kid Cave."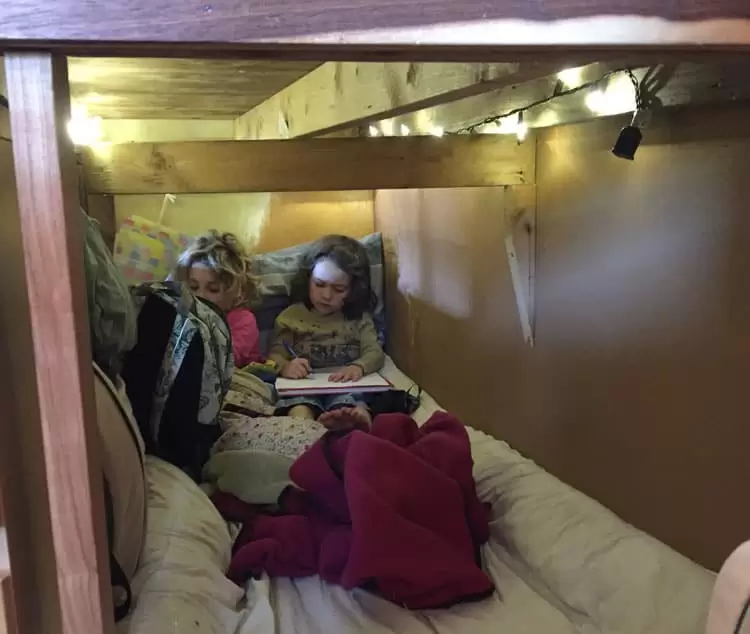 I will say one more thing before I share what I think are the benefits and challenges of living in a tiny house with kids:
My kids don't give tiny house living much thought. It is just what is.
Brian and I are the ones who ponder whether we should build an addition so the kids can have a room of their own. They rarely mention such a desire. Kids are flexible and resilient beings who tend to see the best in each situation!
The benefits of living in a tiny house with kids:
We have a lot of together-time. This has led to an incredibly strong connection between our two children, and an ease of interacting as a family.
Because we have to keep our tiny house neat in order to be able to move around in it, the kids have learned young the techniques and benefits of organizing and tidying. There is also much less house to clean!
Because our house is so small, we often send them outdoors to release energy and play. This has encouraged their nature-centric tendencies, and they opt to spend the majority of their free time engaging with the natural world.
Living in such a small space has encouraged downsizing. We say no to STUFF as often as possible, preferring to spend our money on experiences like traveling with our kids.

The challenges of living in a tiny house with kids:
There is little space for works-in-progress. Everything has to be put away at the end of the day, which makes larger or multi-step projects much more complicated. As a homeschooling family, this is very challenging because we don't have a dedicated school space.
When someone in our family needs alone time, we hope there is nice weather outside! There is very little indoor space to "get away." (If I have to do coaching calls or interviews, I sit in my car!)
It's challenging for my husband and I to have private time together or even private conversations. We have to steal our moments together after the kids are asleep, or have conversations in two to three sentence snippets!
When the kids get creative, their projects take over our entire living room! I find this particularly overwhelming, especially when I'm trying to work from home.
Like anything in life, living in a tiny house with kids has its pros and cons, but at the end of the day, being able to share our daily life so intimately with our children is a real gift.
If you would like to share the homesteading lifestyle with kids, you will love my book, Family Homesteading!
Pin it for Later: