When Autumn temperatures start to climb below freezing, I immediately think of all the beautiful kale still growing in the garden. Sure, I've eaten my fill over the spring and summer, but it feels horrible to imagine those abundant beds of kale turning into mush in freezing temperatures. It's time to get serious and preserve some kale.
Here I'll share my favorite ways to preserve, with specific instructions on how to freeze kale!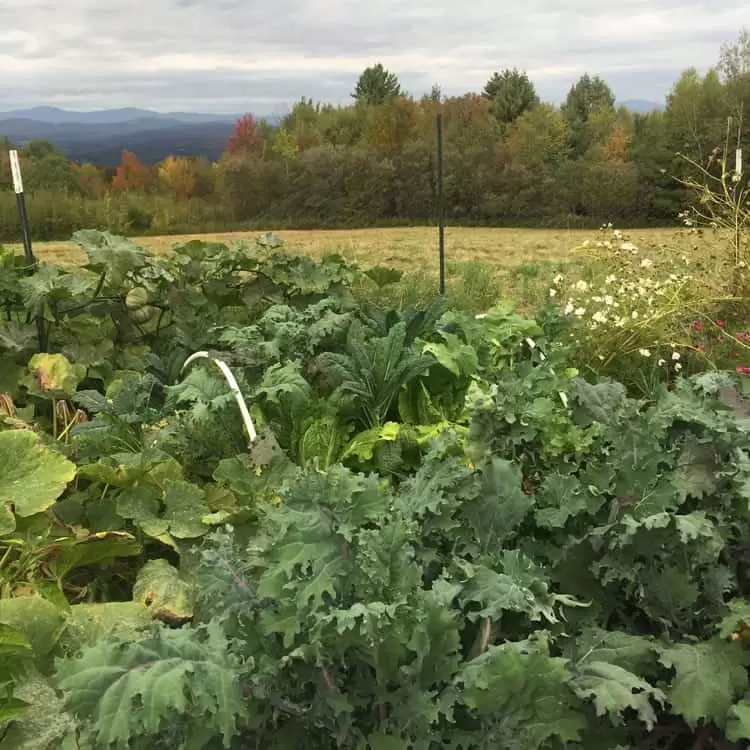 Overwinter Kale
The easiest way to preserve kale is to keep it growing in the garden! Although most northern latitudes will not have adequate sunlight for the kale to put on new growth in the winter months, many kale varieties will survive temperatures into the low 20's F without cover, and the addition of a high tunnel or low tunnel cover of plastic and row cover will allow the kale to survive even lower temperatures.
For more information about how to grow kale and other greens through the fall and winter, check out my Fall Gardening Guide.
Ferment Kale
I'm a huge fan of fermentation as a food preservation method, but fermented kale is not one of my favorites. In my experience, older kale leaves add a bitter flavor to ferments, whereas softer, younger leaves get a bit slimy and mushy (silage, anyone?).
However, the internet abounds with fermented kale recipes, so I think it's worth experimenting to see if fermented kale is your thing! I would suggest starting with my basic Sauerkraut recipe, adding an assortment of greens, including kale, and experimenting with the addition of spices and herbs.

Freeze Kale
Blanch Before Freezing Kale?
There's a big debate in the homesteading world: Do you have to blanch vegetables before freezing? Or can you get away with not blanching?
In case you're new to the idea of blanching, it is the act of plunging the vegetable into boiling water for a specified amount of time (see this table), and then rapidly cooling the vegetable in ice water. This treatment pauses the enzymatic activity that causes the vegetable to rot, enhances color, and helps slow the loss of vitamins.
I like to blanch and freeze kale into 1/2 – 1 cup portions that can be quickly and easily added to soups, stews, quiches, and more.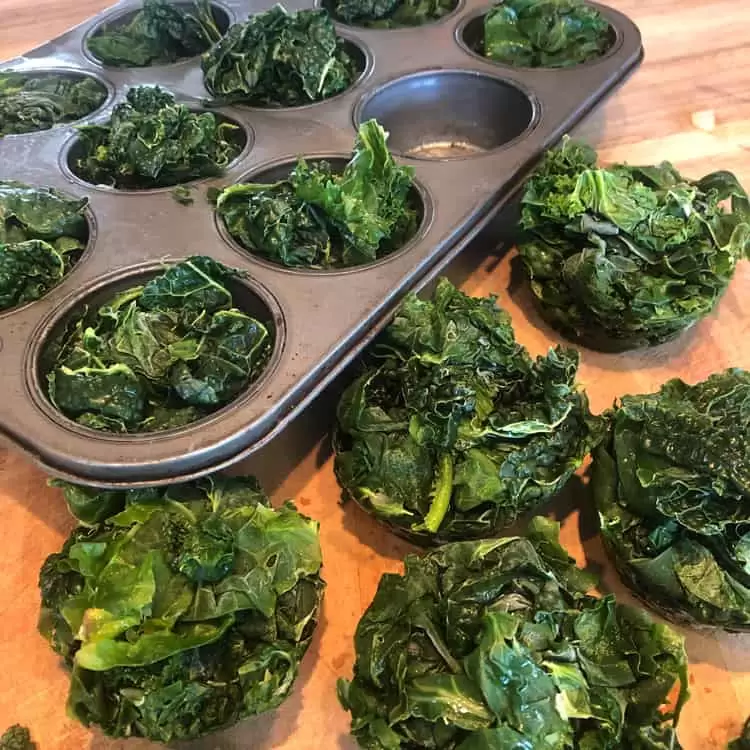 How to Freeze Kale Into 1/2 Cup and 1 Cup Portions
1) De-stem kale and tear it into small pieces.
2) Plunge small batches of kale into boiling water for 3 minutes, and immediately cool the kale in an ice water bath.
*Note: the NCHFP guidelines suggest blanching collards for 3 minutes and all other greens for 2 minutes. By late fall, my kale generally has the texture of collard greens. Whereas spring kale tends to be a bit softer.
3) Squeeze any excess moisture out of the kale, and press it into muffin tins. Jumbo muffin tins are roughly 7 oz, so if you pack the kale in tightly, you end up with about 1 cup portions. Standard muffin tins will give you roughly 1/2 cup portions.
4) Freeze kale in the muffin tins anywhere from 3 hours to overnight.
5) Pop the kale out of the muffin tins with a butter knife, and package them in plastic freezer bags for storage.
If you like to live on the edge and would rather freeze kale without blanching, check out this article. Those that suggest freezing without blanching generally advise using the frozen vegetable within six months.
Dehydrate Kale
Dehydration is perfect for condensing a lot of food into an itty bitty space. With even the most basic food dehydrator, you can turn an armful of kale into delicious kale chips. Or make a kale powder that you can add to baked goods or smoothies. (If you're serious about dehydration, I'd recommend upgrading to this model.)
To dehydrate kale, you will start with clean, de-stemmed kale cut into 2-3″ strips. Dehydrate at 100-125 degrees F for 4-6 hours, or until the kale is crisp. For more detailed instructions, check out these articles:
The Lazy Woman's Way of Drying Kale for the Winter
How to Make Homemade Green Powder
Canning Kale
Yes, it's true, you can can kale! If canning is your jam, check out the National Center for Home Food Preservation guidelines for pressure canning kale and other green leafy vegetables.
Turn Kale into Green Smoothie Cubes
I've gone through seasons where I can't seem to get enough green smoothie in my life. If you're a fan of green smoothies, here's an easy way to ensure a winter's worth of greens:
1) Place small pieces of fresh, washed kale into a high-powered blender, and cover with apple juice.
2) Blend until the kale-apple mix is smooth.
3) Pour this mixture into ice cube trays and freeze.
4) Store the green smoothie cubes in plastic bags in the freezer until you are ready to make a smoothie. Then add 2-3 cubes to your favorite smoothie recipe!
Other Creative Ways to Preserve Kale
Turn it into kale chips
Add copious amounts of kale to your favorite soup or stew, and then can or freeze the finished product!
What is your favorite way to preserve kale?