This winter our family has been hit by one cold after another. Perhaps it's the totally crazy NE Missouri winter weather this year – 75 degrees F one week, 20 degrees the next – or perhaps we're just hanging out with more kids than usual and sharing germs, but we've found ourselves with stuffy noses and coughs that last for weeks.
Everett and Brian seem particularly susceptible to long-lasting coughs and chest congestion. This is challenging because it keeps them awake at night, making it hard to get the restorative rest they need. I've been searching for an all-natural chest rub that might offer relief.
My friend Chris, of the blog Joybilee Farm recently authored the book, The Beeswax Workshop, published by Ulysses Press. The Beeswax Workshop is all about, you guessed it, beeswax, with dozens of DIY recipes with uses ranging from candles, soaps, natural cosmetics, salves, home care, garden care, and arts.
I flipped through and was instantly drawn to the chapter Beeswax in the Apothecary. Think herbal salves, ointments, and lotions and the recipe for this Cold Relief Chest Rub. Beeswax has naturally moisturizing, protective, and antimicrobial properties that make it a perfect addition to your natural medicine cabinet. In this chest rub, the beeswax also acts as a binding and thickening agent, holding the oils together so they can be applied to the skin.
Chris was kind enough to let me share her Cold Relief Chest Rub recipe with you today. I hope you enjoy making it as much as I did!
Herbal Cold Relief Chest Rub  (from The Beeswax Workshop by Chris Dalziel)
Ingredients
1 TBSP Eucalyptus leaves (crushed)
1 TBSP Peppermint leaves (crushed)
1 tsp Rosemary leaves
1 tsp Thyme leaves
4 TBSP jojoba oil
1 TBSP beeswax (about 1/2 ounce)
1/4 tsp Vitamin E oil
10 drops Eucalyptus radiata essential oil
3 drops Peppermint essential oil
To Make
1. Infuse the herbs in oil. The herbs in this recipe are infused in a double boiler on the stovetop, but I have also infused oils in a sunny window (this process takes two to four weeks, so you need to plan ahead). Create a double boiler by placing a glass measuring cup or mason jar in a pot filled with an inch or two of water. Add the eucalyptus, peppermint, rosemary and thyme leaves to the oil (I substituted olive oil) and simmer for one hour.
2. Allow the mixture to cool to touch and strain the herbs out of the oil. Place the oil back in the double boiler and add the beeswax. Stir until the beeswax has melted completely.
3. Stir in the Vitamin E oil and essential oils and mix thoroughly. Pour into your favorite container and label. Allow to cool completely.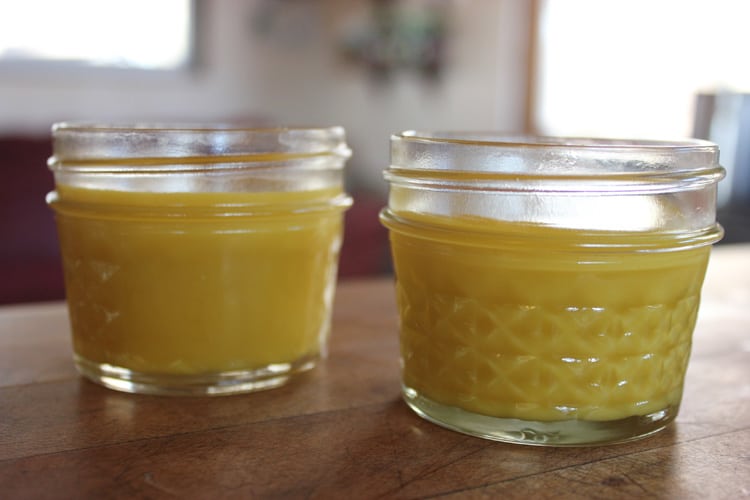 Notes
According to Chris's instructions, the Chest Relief Cold Rub will last for one year.
Chris also notes that if you are using this recipe for children under the age of 5, you should omit the essential oils.
Chapter 10 of the book is an ingredient guide that dives into the qualities and healing properties of each oil and herb so you can make appropriate substitutions if necessary. I substituted olive oil for the jojoba oil, and made a beautifully rich and smooth salve.
I have earmarked a number of additional projects from The Beeswax Workshop for future fun. While I have made beeswax candles several times (especially when we used to live without electricity and lit our house with beeswax candles), I am intrigued by her twisted candle projects and think it would be smart to have a dozen mason jar candles on hand for emergencies.
From the time our children were born, we've been Waldorf-inspired homeschoolers. Waldorf education puts great emphasis on natural, beautiful materials for children. Think silk scarves, woolen fibers, cloth dolls, wooden toys, and beeswax crayons, for instance. The Beeswax and the Arts chapter teaches you how to make your own Beeswax Crayons (with natural pigments), Beeswax Pastels, and even Beeswax Modeling Clay!
And the recipes for Garden Tool Handle Preservative, Grafting Wax, Cast-Iron Pan Conditioner, and Beeswax Food Wraps appeal to the practical minded homesteader and gardener in me.
There are also plenty of recipes that would make fantastic gifts. Beard Balm for your best guy, Lip Balm with Shimmer and Shine for your teen, and one of the many homemade soap recipes for just about anyone!
Honestly, I never knew how many products could be make with beeswax. The Beeswax Workshop makes me very excited for the 50 lbs of local beeswax sitting in my shed!
Pin it for Later: