Good tools make jobs faster, homesteading more enjoyable, and tasks easier. Sure, good homesteading tools cost more money, but they are usually well worth the investment, as a quality tool will last for years. We started collecting tools when we first moved onto a rental homestead in 1999, and still use many of those same tools today.
I asked some homesteading friends which tools they considered indispensable on their farm or homestead. Here are 17 essential tools for homesteading and gardening that we wouldn't want to live without.
Essential Tools for the Garden and Barn
Favorite Garden Tools
I bet if you surveyed 100 gardeners, each one would love a different garden tool. And when I asked my fellow homesteaders for their favorites, I got some passionate responses:
Amy from Tenth Acre Farm loves her soil knife, also known as a hori hori knife. "My old garden boss swore by it. I was skeptical, and now I can't imagine gardening without one. They don't wear out – I've had mine for nine years and it looks like new."
"For the garden it would be my diamond hoe" says Isis of Family Food Garden, whereas Quinn from Reformation Acres loves her hooke n crooke garden tool. Personally, I'm a big fan of a digging fork, and use it to gently prep my sheet mulch garden beds before planting.
Meredith of ImaginAcres has a fond attachment to her pitchfork. "I straight up could not live without my pitchfork. I would marry that thing." (Learn how she puts her pitchfork to work in this post!)
A Good Hose
Janet from Timber Creek Farm says, "For our set up, it's a garden hose. We have one pump for the whole farm so good hoses are how we get water to all the outbuildings. Someday when I get rich from all this homesteading and writing, I will install real electric and real water! (Don't laugh at me, miracles do happen!)"
Remote Control
Ashley Housley from Whistle Pig Hollow's investment in an electric fence remote control has made pastured pig care so much easier. "It lets us check the charge and turn off/on the fence right there wherever you are."
Tools for the Kitchen

Food Preservation Equipment
Melissa of Ever Growing Farm and Kathie of Homespun Seasonal Living both vote for their pressure canners. "Otherwise putting up that garden harvest for winter would be difficult," says Kathie, who shares her favorite canning tips to save time and money in this post.
Laurie of Common Sense Homesteading loves her water bath canner and dehydrators, and says that, "sharp knives are a must have inside and out."
Water Filter/Purifier
Because we catch rainwater for drinking and cooking, it is important that we have a fool-proof way to make our water potable and safe. I love our Berkey filter because it uses no electricity, takes up little space, and makes all water taste fabulous.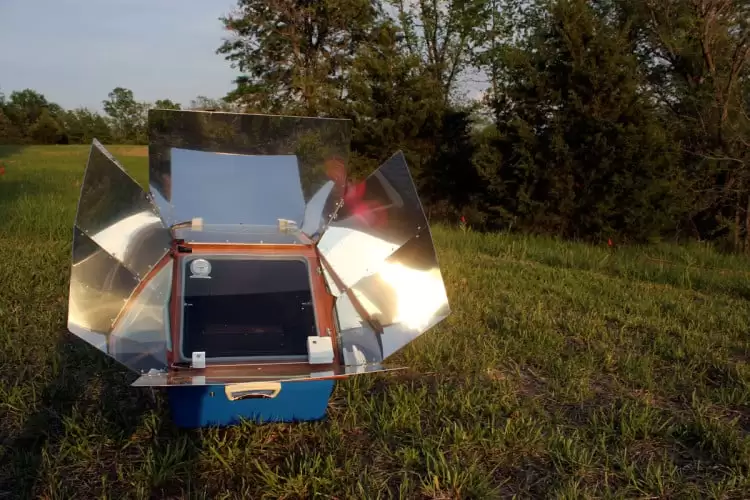 Solar Oven
We love our Sun Oven and use it throughout the year to cook anything that we might have normally cooked in a home oven. Learn more about how to cook or bake in a solar oven in this post.
Essential Tools for the Homestead
Solar Lamps and Headlamps
Before we installed our solar electricity system and lived with lights or electricity, we found solar lamps to be indispensable. Even now, we use them as reading lamps, charging them every few days on the porch. To do evening chores around the homestead, we agree with Kris, of Attainable Sustainable, that a good headlamp is a necessity!
A Good Pair of Boots
Melissa of Ever Growing Farm and I share a love for our Muck boots. I love that they are both great in mud and incredibly warm for winter chores. My kids also have a pair to keep them warm in winter.
Internet!
Chris at Joybilee Farm makes good use of her computer and internet connection. "It's a tool that let's me find the information that I need and connects me with homestead authors whose books are long out of print."
Are there homesteading tools you can't live without? Share them in the comments!
Pin it for Later: