Gathering in the Homestead Kitchen
Gathering in the Homestead Kitchen
Recipe: Bean Salad
Recipe: Red Cabbage and Gorgonzola Salad
Recipe: Peach Basil Salsa
Recipe: Winter Squash Cheesecake
Homestead Kitchen Recipes
Gathering in the Homestead Kitchen
Creating Community
One common misconception about homesteading is that it is an isolationist endeavor, and some think of it as synonymous with being a hermit. In fact, homesteading is about slowing down and going back to basics in order to build richer community relationships. One of the best ways to connect with people is through food and to end this course, we are going to spend a little time reflecting on the power of food to bring people together.
Farm Visits
One great way to nurture existing relationships and create new ones is to get a group of people together for a seasonal farm visit. When the days get cooler, folks in the northeast head out to pick apples. A day of apple picking is much more fun with a group of old and new friends. Strawberry picking happens in early summer, blueberry picking is usually in August. Did you know that there are summer and fall raspberry varieties?
Many small, sustainable farms will host farm tours throughout the growing season. Check into whether there are any farm tours happening in your region! If they are not advertised, consider asking a local farmer whether she (or he) would be willing to give a tour. It's a great way to learn more about how your food is produced.
Gleaning
Or, you could link up with a farm that has some extra food in the fields for a gleaning trip. Gleaning is when you collect excess food from a farm to keep it from going to waste. You can do this for yourself (for instance, talk to a neighbor who has fruit trees that aren't being harvested). You can also do this as part of a larger effort to address hunger in your community. The Vermont Food Bank organizes a gleaning program (https://www.vtfoodbank.org/gather-food/gleaning) where volunteers go to farms and harvest extra food, which is then donated to families in need.
Potlucks
Going out to dinner is expensive and planning and cooking for a bunch of people is exhausting. Potlucks are a great no-frills way to bring people together. One wonderful thing about a potluck is that it is less work than cooking by yourself. You only have to make one dish! If you are low on place settings, feel free to ask people to bring their own (and then you don't even have that many dishes to wash afterward). Some folks like to plan out what they are bringing beforehand, but it's also fun to leave it all to luck. After all, you and your friends will be able to look back and laugh about that time in the spring when everyone made salad or that fall day when half the food was cookies!
The following seasonal recipes make fabulous potluck dishes. Make extra so you have some waiting for you at home as well because I guarantee they will get eaten up!
Recipe: Bean Salad
Ingredients:
2 cups kidney beans or bean of choice (either canned or dried beans that have been soaked and cooked)
1 cup corn
4 leaves of kale, chopped into thin slivers
1 cucumber, chopped
½ cup crumbled feta cheese
½ red pepper, chopped
1 cup chopped herbs (options include cilantro, dill, chives, parsley, oregano)
2 gloves of garlic, pressed
¼ cup olive oil
1 lemon, juiced
salt and pepper
To Make:
Mix all ingredients in a bowl and leave in the refrigerator, covered for several hours of overnight.
Recipe: Red Cabbage and Gorgonzola Salad
Ingredients:
1 small red cabbage, chopped
2 carrots, thinly sliced
3 Tbs olive oil
¼ cup crumbled Gorgonzola cheese (or a local blue cheese)
salt and pepper
To Make:
Toss all ingredients. Serve immediately (this salad is equally good after several days in the fridge)
Recipe: Peach Basil Salsa
This easy salsa recipe captures the essence of summer perfectly! Serve with your favorite tortilla chips, on top of a bed of rice and beans, or on fish. It is a fabulous potluck dish and always gets rave reviews!
Ingredients:
4 ripe Peaches, pitted and diced
3 tbsp fresh Basil, minced
1/4 Red Onion, minced
A splash of Balsamic Vinegar (around 1 tsp)
Salt to taste
1 Jalapeno pepper, chopped very fine (optional)
To Make:
Combine ingredients and enjoy!
Recipe: Winter Squash Cheesecake
If you have an extra special gathering to host or attend, consider making this winter squash cheesecake.
This is an incredibly local recipe, and I don't necessarily expect everyone to have soft cow's cheese, or Sweet Meat squash, or sorghum sitting around (if you do, great!), so feel free to substitute as needed. Equal parts ricotta and cream cheese substitute nicely for the homemade cow's cheese, you can use any type of pumpkin or squash you like, and the sweetener is also switchable. I like to mix everything except the eggs in the food processor, taste it until I get the seasonings and sweetness right, and then add in the eggs.
The key to a delicious cheesecake is to let it cool thoroughly. The scent of this pumpkin-spicy cheesecake will make you want to cut into it immediate. But don't do it. Wait at least 4 hours, and preferably longer before eating. It will be so worth the wait!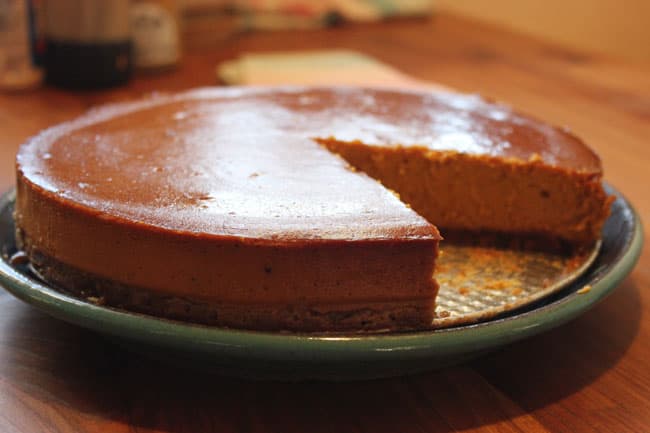 Ingredients:
CRUST
2 1/2 cups gingersnap cookies or graham crackers
2-3 TBSP butter or coconut oil, melted
FILLING
2 cups winter squash puree
2 cups soft cow cheese (like a fromage blanc, or sub in chevre, or half ricotta and half cream cheese)
3/4 cup sorghum (or your sweetener of choice. If using honey, start with 2/3 cups and taste for sweetness)
1 tsp cinnamon
1/4 tsp clove
1/4 tsp ground ginger
1/4 tsp freshly grated nutmeg
3 eggs
To Make:
Preheat your oven to 300 degrees F.
Place gingersnap cookies in a food processor to crush.
Combine cookies with butter, and press firmly into the bottom of a 9″ springform pan.
Place all filling ingredients (except the eggs) in a food processor, and blend until a smooth and creamy consistency. Taste the filling and adjust the sweet and spiciness.
Add the eggs and continue to food process until the entire mixture is blended and creamy.


Pour filling mixture into the springform pan

Bake in the oven for about 1 hour and 10 minutes, or until set
Remove from oven, place on a cooling rack and let cool completely for at least 4 hour
The Homestead Kitchen Recipes
Time to Celebrate!
The Homestead Kitchen is about self sufficiency and the confidence of knowing how to fill a larder (even if you don't always do it). Times when the budget is tight can be an invitation to make a little more from scratch and lean into foods preserved during abundant times. Handmade gifts spreads the joy of preserving the harvest, sometimes inspiring others to do the same.
A kitchen that celebrates local food is a kitchen in harmony with the world around it. It brings the community and the environment into your life through attentiveness to seasonal shifts and new connections with local farmers. Adults and children alike thrive on these rich relations.
Time to celebrate! How are you going to celebrate what you have learned in The Homestead Kitchen? A potluck dinner? A fancy local food cocktail? A chocolate beet cake (no joke- they are delicious)?
Do something spectacular to celebrate your journey and your bioregion!