Welcome!
Thanks so much for your interest in my mini guide, Simple Herbal Remedies to Make with Your Kids. It is on your way to your inbox right now!
In the meantime, to say thank you for joining the Homestead Honey community, I'd like to offer you the opportunity to get my book, Family Homesteading for a one-time price of $12.99 – a 25% savings! Plus, I'll ship to U.S. addresses for free!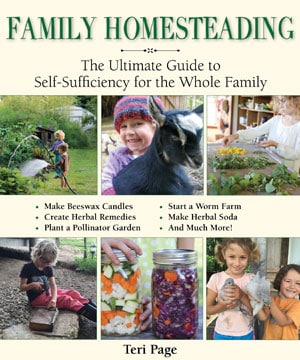 This beautiful full-color paperback book is your guide to self-sufficiency for the whole family. In addition to herbal wellness, you'll find chapters on gardening, foraging, fermentation, preparedness, handmade crafts, cooking with kids, and many seasonal recipes, how-to's and projects.
It is the perfect way to share homesteading, gardening, and growing and using herbs with the children you love.
Price:
Looks like you have entered a product ID (16) that doesn't exist in the product database. Please check your product ID value again!
Note: Free shipping is available to US addresses. If you are outside of the US, please contact me at [email protected] to arrange for shipping!